Catalogue
The Catalogue is a Habbo function that can be located on the task bar. Here you are able purchase furniture and effects from the many permanent and temporary categories, although not all furniture can be bought directly from the catalogue.
This feature has been around since Habbo began and has been through a number of changes throughout the years, although its structure has remained visually similar.
Original Catalogue
The original Habbo catalogue included 14 categories, with 3 additional seasonal ranges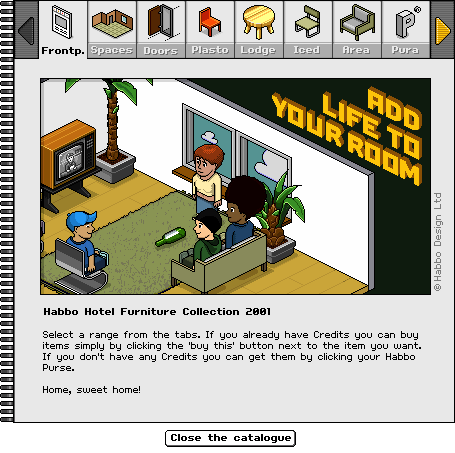 Permanent Categories
Seasonal Categories
Halloween - The first seasonal category, you could buy pumpkins, spider webs, skull candles and posters.
Christmas - Christmas trees, Christmas pudding, poinsettias - festive furniture!
Love - Arrived around February 2002, this category had love sofas, bunnies, and heart stickies.
Improved Catalogue
Over the years, the catalogue has received different designs and new features have been implemented.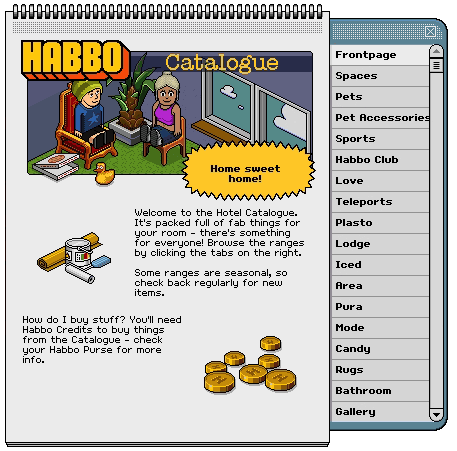 Current Categories
Along with the existing ones above, there are other categories that have been added over time.
Past Categories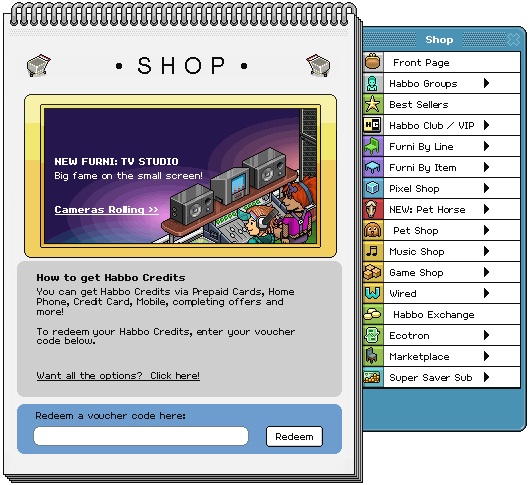 Rares - Original 25 credit rares, and then later collectibles.
Glass - Modern and transparent tables and chairs.
Gothic - Castle like furniture, selling portcullises, gothic tables and chairs and much more.
Grunge - Basement style furniture.
Romantique - Old fashioned French furniture.
SciFi - Sold spaceship parts and other futuristic items.
Waasa - Wooden tables and chairs.
Executive - This range sold office furniture mainly in black, but then in white for a limited time.
Habbowood - Hollywood style furniture including spotlights and red carpets.
Hospital - Self explanatory.
Runway - Brought in with a fashion campaign in 2010.
School - This category included school buses, chalkboards, lockers and much more!
Urban - Furniture designed to look like a street in a city. Here you could buy pavements, benches, walls, prison furniture in 2010, and also skateboard furniture later in 2011.
Asian - Chinese-style polished wooden furniture.
Alhambra - Arabian themed furniture.
Greek - Used for the HabbOlympics in 2008, includes gates, walls, pillars and trophies.
Shalimar - Bollywood inspired range of furniture released for valentines 2009.
Lost Tribe - Jungle and Aztec themed furniture range.
Bensalem - The theme: A lost city at the bottom of the sea.
Drago - Dungeon furniture with a dragon theme.
Pirate - Ship parts.
Easter - Seasonal category - sold egg baskets, hatchable eggs etc.
Other Features