Trophies
Jump to navigation
Jump to search
Trophies are a way of giving someone a message on Habbo. You may add Trophies to your room to make your room look more attractive. Trophies have been out for a while on Habbo now and lots of trophies get gifted to friends on Habbo everyday. Sulake normally make competitions on festive seasons (e.g. Christmas or Easter) and on special occasions (e.g. New furni range, New Years). Some of the Trophies you may only get for a limited time, or Habbo Staff will have to send you one themselves. You will find the normal trophy range in the shop, under 'Trophies'. Most of them will cost around 4 - 12 Credits, although some, such as the Justice Trophy, can cost up to 25 credits. There are also different kinds of gold, silver and bronze plated figures at the top to choose from when sending the trophy!
Categories of Habbo Trophies include the Duck and Classic Trophy with the most recent edition being a unique Flame of Faith Trophy that has never been released into the Catalogue; it's a staff given Trophy with no inscription!
Habbo Stories has also bought out a new trophy that you can gift to your mates! It costs 10 Habbo Credits and is purchasable by going through the catalouge >> Stories Trophies.
Giving A Trophy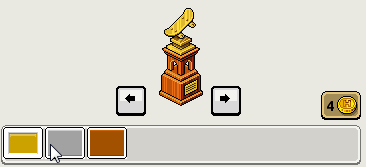 Giving a trophy is simple. All you need to do is go to the Trophies page in the Shop on Habbo and choose which trophy you would like by clicking the arrows next to the trophy. Then you are able to change the color of the figure on the top of the trophy to either gold, silver or bronze. If you choose bronze the price will drop and if you choose silver the price will rise, as the same with gold. Under the colours you will have to type a message to whom you are giving this trophy to. Once you have finished writing the message, click 'Buy as Gift' or you can also buy Trophies for yourself if you click buy.
Furniture
This is a list of all trophies released in habbo globally
 Hang on, we're still working on this one!

This page is currently under construction, so please don't panic while we write and update the content belonging to this part of the Wiki. 
Please don't accept this information as fully accurate until it has been completed. Thanks!
You can help by contributing the information you have on this Habbo topic, but please ensure the content is relevant and accurate. When you feel this page contains sufficient content, please remove the construction banner
(Super) Rare Trophies
(Super) Rare Trophies are/were given out during campaigns and/or events by habbo staff. Please note that certain colors are more valuable and rarer then others, some bronze ones were (super) easy to get but still they're given out during a campaign or event..
Name
gold
Silver
Bronze
HABBO Trophy
Throphy Set

(no text being displayed when double-clicked)

Justice Trophy
x
x
2009 Trophy
x
x
Solo Bubbles Trophy
x
x
Duo Bubbles Trophy
x
x
Man Eating Trophy
Hotel Prize
EMA Trophy
x
American Idol Trophy
x
x
Football Trophy

(Came from Habbo Palooza Baloons)

Twilight Trophy
x
x
Watering Can of (Semi) Greatness
Habbo Award Trophy
x
x
Niko Trophy
x
prizetrophy_room2
FRANK Trophy

(untradable)

x
x
prizetrophy_nrj

(Habbo.es Only)

x
x
prizetrophy_nrj_2011

(Habbo.es only)

x
x
Habbo Palooza 2013
Safer Internet Day 2018 Trophy
x
x
Other (Colored) Trophies
Name
Image
Emerald Trophy
Grefusa Trophy

(Habbo.es Only)
Available Trophies
The trophies listed here can still be bought in the catalogue. Prices are different with each color and trophy.
| Name | gold | Silver | Bronze |
| --- | --- | --- | --- |
| Habbo-Lympix Trophy | | | |
| Classic Trophy | | | |
| Globe Trophy | | | |
| Duck Trophy | | | |
| Walk-of-fame tile | | x | x |
| Oscar Trophy | | x | x |
| Grave Trophy | | x | x |
| Skateboard Trophy | | | |
Past Trophies
These were once buyable in the catalogue but they're simply discontinued.
| Name | gold | Silver | Bronze |
| --- | --- | --- | --- |
| Fish Trophy | | | |
| Duo Trophy | | | |
| Champion Trophy | | | |
| Greek Trophy | | | |
Other (Colored) Trophies
| Name | Image |
| --- | --- |
| Best Room Builder | |
| Hottest Guy | |
| Hottest Girl | |
| Best Friend of 2010 | |
| Most Fashionable Habbo | |
| Cool Trophy | |
| Hot Trophy | |
Free Awarded Trophies
Free Awarded trophies were given out to (every) players who joined a group or being online, like the torch trophy was handed out after the great mute.
| Name | gold | Silver | Bronze |
| --- | --- | --- | --- |
| Frank Thropy | x | x | |
| Torch Trophy | | x | x |
| Thumbs-Up Trophy | | x | x |
| Coolpolitics Trophy (Habbo.nl) Only | | x | x |
Unreleased Trophies
It is unknown where these trophies are used for, they've been found in the Habbo database but are yet to be released.
Name
gold
Silver
Bronze
prizetrophy_cake
Two gold and two silver trophy were seen in a room owned by Amaiazing during her 1st Habboversary. The gold ones were inscribed "Happy 1 year Habverary Amaiazing!" and "It's been an Amaiazing year!" while the silver versions were blank and they were all bought by HighSparrow.
Classic Trophy
x
x
Classic Trophy
x
x
Classic Trophy
x
x
Classic Trophy
x
x
prizetrophy_mastercard_name
x
x
Ads_spiderman_trophy
x
x
Race Trophy
x
x
Ads_mad3_edit_name
x
x