Groups
Jump to navigation
Jump to search
Groups

thumb

Release date:
2007
Rare Values
Category:
Groups
Groups were introduced in May of 2007, as of a way of letting Habbos associate with each other and show their love for various things. The first group ever created is called The Stalwart Defenders of Pie, and is owned by xXodekXx. Groups used to be able to have their own group homepage, and now only have a group room, group forum and group badge.
A group costs 8 Credits as well as an active Habbo Club subscription to create, you also need to have a personal room where the group will be created in.
2010 Merge
After the 2010 merge, groups from the merged hotels, Canada, Australia, United Kingdom, and Singapore were affected by the merge, however the US hotel was not affected by this as the hotels moved to habbo.com. Groups weren't immediately moved to Habbo.com (International). This delay caused criticism towards Sulake, it was announced on 29 July 2010 that groups were slowly returning to the hotel. This was completed through July 2010.
Introduction
At the end of 2011, Habbo redesigned the whole group system. Now, any new groups created must have a group homeroom. Groups can also be used to control rights in a room and allow more than one person to give/take away room rights from a user. The new groups also do not have pages and the colours set as the group's colours can be used to create customized furniture. Apart from this, the newer groups are very similar to the old groups, with group administrators being able to add and remove people from various groups. Group discussion forums also remained unaffected by the change until the Great Habbo Mute of 2012, when they were taken away and made invisible on current group pages.
Group Functions
Groups can be used for a variety of things, including designating personnel of a military, police force, or other organized group, promoting awareness for a cause such as LBGT, or just to have a badge for the sake of having a badge. A neat function of group badges is that the wearer can get into rooms designed as the homeroom for that badge if the room is locked or otherwise inaccessible. Habbo militaries use group badges to designate the personnel of that military. Entrance to the badge is governed by badge mods, who have the right to deny or admit someone onto the badge, thus giving that person the ability to wear that badge and gain access to the HQ. Other groups are very similar in that regard. They use it to mark winners of mazes, people who complete quests, as well as habbos who are part of special groups, such as the Habbo Council.
Admin Rights
The group owner can give players "admin rights", which are special privileges. With admin, the player can, kick other players out of the group, give other players admin, and manage the group homeroom by being able to move furniture. Group owners must give admin carefully and wisely, as some bad players can delete notes, pick up furni, and kick everyone out of the group, if given admin. This is known as "trashing".
Group Settings
Only group owners can change the group settings. In the settings window, players can change how members join the group, they can change the group name and description, edit the group badge, and control user rights within the group homeroom.
Players can also change the group type to regular, exclusive, private, or unlimited. Regular groups have a 5000-member limit. Exclusive groups are "locked" and the admins control who joins. Private groups are when no one can join the group until it's opened. When a regular player "requests membership", the admins can either accept them into the group or decline them. Private groups are basically closed groups, in which no one can join. Unlimited groups do not have a member limit and anyone can join.
Famous Groups
There are so many old groups that have forums. Here are some forums from older groups which are popular:

Answers
B4dge
Fierycold
Internet Safety
Most popular groups are from staff, who create them for causes, such as Earth Hour and Childline. Since Sulake introduced the new system, there are far fewer forums as the original appeal was group homepages. The new groups are also currently limited to users with an active Habbo Club subscription.
Badge Tools
Group Badge: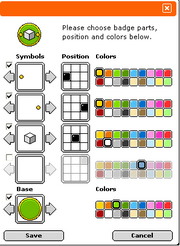 Group Badges is a small icon that symbolizes the group, to create a group badge, different images are placed in a specific order and position until the desired icon is made. Group owners can also change the group name and description, they can also customize the colours used for the badge. To create a group you must have a Habbo Club subscription, none Habbo Club members can only join a maximum of 50 groups. The maximum number of groups Habbo Club members can join is 100 groups.
Stickers:
Stickers can be placed in the group room. A player must have admin rights to place stickers if they are not the owner.
Forum:
Group Forums are very similar to other forums on the internet. Habbos are able to create threads, make posts and participate in events that the group leader or an admin hosts, those with group admin rights can sticky, delete, and close threads, as well as delete posts.
To set up and manage a group forum, the owner must purchase a piece of furniture called a Forum Terminal. Adjusting the settings of the forum using this terminal also counted towards gaining Achievements.
Forum Furni
A new Forum Terminal item of furniture was brought in during the switch from old Group homepages to new Group forums. The furniture would include an emblem of the group badge on the front. As well as this, other group-exclusive items such as group gates, flags and seating that coordinated with the group colours were introduced.
Unity client
When Flash was discontinued and the Unity client was introduced, Group Forums were not included as an initial feature. This section of the user interface currently reads as "Under Construction".
Old Page Tools
You could have added the following to your groups: Widgets, Stickers, and Notes.
Group Homepages: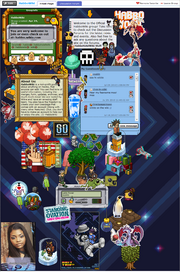 Group Homepages were dedicated pages for Groups to make themselves unique and display information such as the number of members, as well as allow for posts to be made in a special Group Forum.
Widgets:
The info widget shows the group name, the creation, the date, badge, description, and its tags. It includes a guestbook to which users can leave messages. It can be locked so that members can only post on the guestbook. A widget called members lists all the members of the group. Seeing a red heart next to a player's name means that the player added the badge as a favorite. Silver stars symbolize adminship of a player.
Notes:
Were stickers with text which could be placed on the homepage, these could be used to show special information about the group, such as ranks for an army group. Notes could be customized to look like speech bubbles, a notepad, a sticky note, a metal-type look, or the default look. Habbo Club members could customize notes from two additional options.
Group Furniture
Any user can buy Group Furniture for any groups they are a part of. The group furni features the groups colours during the time of its purchase, and when clicked on shows the groups information and a Join button.
| Name | Image |
| --- | --- |
| Group Flag | |
| Group Side Flag | |
| Group Fence Large | |
| Group Bench | |
| Group Cote | |
| Group Fence Small | |
| Group Fence Corner | |
| Group Table | |
| Group Tile | |
| Group Flag (1) | |
| Group Tile | |
| Group Flag (2) | |
| Group Gate | |
| Group Crow's Nest | |
| Group Upper Sail | |
| Group Lower Sail | |
| Group Pennant | |
| Group Divider | |
| Group Stool | |
| Group Banner | |
| Group Carpet | |
| Group Forum | |