Arctic
Jump to navigation
Jump to search
For solid gold arctic furniture please see the page: Pot O' Gold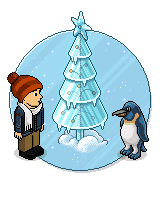 The Arctic furniture was part of the Christmas 2008 campaign consisting of furniture covered in snow and ice. It is a classic range that reappears every December along with other Christmas furniture. The range consisted of yet more Christmas Trees just like Christmas and Christmas 2007 but iced versions.
Unlike the other Christmas ranges released previously this range has some items that stay fresh all year round such as the Camp Fire, Hot Tub and Snow Seat.
The campaign ran throughout December 2008 and players received a free Penguin daily.
Furniture
Catalogue Furniture
| Name | Image | Motto |
| --- | --- | --- |
| Geyser | | Have your very own Old Faithful this holiday season. |
| Hot Tub | | There's nothing like the rush of soaking in a hot tub and then jumping into an ice cold ocean! |
| Cube Tree | | Who says you can't plant ice seeds? |
| Ice Patch | | Slippery when wet... |
| Icy Lantern | | "Let it glow, let it glow, let it glow..." |
| Icy Wall | | Build your fortress of ice and snow... |
| Icy Table | | What a cool table! |
| Icy Divider | | Cozy up to this icy divider. |
| Icy Divider Corner | | Use some snow to cap off your divider. Get it? Snow... Cap... Snowcap! |
| Icy Chair | | Make sure you're wearing your long johns or you'll freeze your little pixels off... |
| Snow Storm | | Baby it's cold outside! |
| Snow Seat | | Be sure to wear pants... |
| Fish Hole | | Mmmm... fishy... |
| Icy Teleporters | | The best transportation in the Arctic! |
| Campfire | | Gather around for some spooky stories! |
| Snowy Posters | | Oh the weather outside is frightful... |
| Icy Xmas Tree | | A Christmas tree made of snow. Make sure it stays outside with Frosty. |
Penguins
Main article: Penguins
From December 1 Habbos could log in every day to receive a new daily Penguin. The Penguins were not tradeable and were only available on the day they came out, although some have been available again since.
| Day | Image | Name |
| --- | --- | --- |
| 1 |    | Emperor Penguin |
| 2 |    | Executive Penguin |
| 3 |   | Infected Penguin |
| 4 |    | Clown Penguin |
| 5 | | Bunny Penguin |
| "'6'" |    | Disco Penguin |
| 7 |     | Ballerina Penguin |
| 8 | | Magic Penguin |
| 9 |     | Beautiful Penguin |
| 10 |    | Musketeer Penguin |
| 11 |    | XC Penguin (later renamed to Ski Penguin) |
| 12 |    | Pilot Penguin |
| 13 |   | Hockey Penguin |
| 14 |    | Summer Penguin |
| 16 |     | Cowboy Penguin |
| 17 |     | Luchador Penguin |
| 18 |    | Robot Penguin |
| 19 |      | Fluorescent Penguin |
| 20 |      | Punk Penguin |
| 21 |      | Skater Penguin |
| 22 | | Ninja Penguin |
| 23 |     | Sumo Penguin |
| 24 |     | Superhero Penguin |
| 25 |     | Chistmas Penguin |
| 26 |     | Boxer Penguin |
Campaign
Badges
| Name | Description | Image |
| --- | --- | --- |
| Snowball of DOOM | pwn'd a Staff member at SnowStorm during xmas '08 | |
| Happy Snowball | Two eyes made out of coal... pixel coal | |
| Mr. Frosty | xmas08 penguin games | |
| Quest Tree of 2008 | It's like the one from 2006... just... colder. | |
Achievements
Public Rooms
As with Halloween 2008 some public rooms changed their appearance during the month to fit in with the theme.
Storyline
All Hail the Emperor!!!
The Emperor Penguin has arrived...
The Emperor Penguin is the tallest and heaviest of all Penguin species. The main diet of this Penguin is fish. These penguins are extremely social animals and very sensitive to climate change. Their scientific name is Aptenodytes forsteri but is better known as "Ruler of All Penguin-kind!" Their main habitat is the Antarctic Tundra but for some unknown reason, they've decided to spend their winter holidays in the Hotel!
Meet the Emperor Spokespenguin
Be some of the first Habbos to get up close and personal with our avian guests! Join CrestHawk as he interprets for the Emperor Penguin and assists in answering some of your penguin related questions. Starting at 4pm (PT) head on over to The Emperor Penguin Meet & Greet room. If at first you cannot get it during the hour-long meet & greet, not to worry! The room will be emptied every 5-10 minutes so we can keep new faces and questions moving through the room
Fish Market Soars
Penguin markets some fishy business
In his green and black business jacket and purple-striped tie, the Executive Penguin has moved onto Sleet Street. Whether it be the fish market or fish n' chips, he wants to buy as many fish shares as possible. He's also got his flippers on the furni shares as Executive Furniture is available only today in the catalog.
The Fish Market
Be the first team to put as many fish as you can into your collection area in the fish-flipping game of The Fish Market. Don't get caught with the bad fish or your fish shares will be deducted from your team as the Executive Penguin pockets the profits.
The Rules
Teams must work together to collect the most fish onto their ice patches.
Teams can take fish from other team's collection.
Teams can move hungry cats to avoid eaten fish.
One Point for each whole fish, -2 points from a team for each cat-nibbled fish.
The Prize
Team with the most points wins the game. Each member of a winning team will receive the Snowman Badge.
Do not discard any fish to the side, the Executive Penguin is a frugal bird and does not care to waste the use of financial resources.
Baby, it's cold outside

It's up to my [stray]pixels out there.
Another month in StrayPixels and another competition theme has just passed through the very capable hands of our great pixels pushers! This past month they were all asked to take a moment in history and make it Habbo. The numbers are in, votes tallied, and we made sure there were no hanging chads. So who won? Our winning entries this month were from xSixteen, LaNiqua, and Nadavy. If you see them around the hotel say, "Holy smokes you won. Good job", then go do something else, come back and say "... haven't I seen you here before?". Their work will go down in the pages of Habbo History...well, it will be on the StrayPixels group page for a month at least.
Is it just me.. or has it gotten a little chilly in here lately?
Decembers theme is: I Need A Warm Sweater! : Winter Clothes
The Sound Of Penguin
Multiple sounds of penguins break the winter silence as the funny birds waddle into Habbo.
After a blistery, chilled weekend of Arctic Winds, a Winter Wonderland has settled onto Habbo Hotel. As this freak winter storm blew into the Hotel, Habbos found themselves sampling the new frozen Arctic Furniture available now in the catalogue. They also found some of the Public Rooms were covered in ice and snow.
With this unexpected snowfall and cold temperatures, a penguin arrived by a small iceberg. It's the Emperor Penguin. "Honk." The Emperor Penguin says his iceberg was split off from a main ice block in the Arctic and several of his penguin friends were scattered out to sea during the huge snowstorm.
"Honk." After the Emperor Penguin showed his concern for his flightless friends, he said: "they aren't far behind me and should be arriving soon." Following this information, an ice alert sounded at the Habbo Pier hoping the penguins can hear their way to safety.
To help, make sure you log in everyday to help receive a penguin to safety. Please make sure you have verified your email address. Each day, a new penguin will arrive looking different with a unique personality.
As the different penguins arrive daily, be sure to check out the Penguin Events and Competitions announced on the group page.
In the distance, penguin calls echo across the icy tundra. Be sure to dress up warm as we welcome our dressed up friends.
A CHOOOOO!
Don't worry. I think it's just a head cold.
It looks as though the nasty virus that ran rampant during Halloween has reared it ugly head once more and our newest ... somewhat oozy... penguin friend seems to be its newest host. Aside from the goop dripping everywhere this penguin is actually quite pleasant.
He's got a mean recipe for macaroni and sardines if you care to ask him. Although, we aren't really sure if this little guy is still contagious or not.. so be careful when you give him a hug. Oh and watch where you step... just um, trust us on that.
Escape the Infected
Think falling furni.. but the furni is covered in feathers and ooze. Oh, and... you don't want to try to sit.. you want to avoid. Ok. So it's not like falling furni at all. Survive as long as you can in the grid of ice by avoiding the Infected Penguins as they are placed in the game area. Head over to the Quarantine room to join the fun!
The Rules
Traverse the grid and avoid getting blocked in by Infected Penguins
The Winner is the Habbo that manages to not get trapped
The Prize
Have fun and good luck ooze dodging!
Flipped Comedy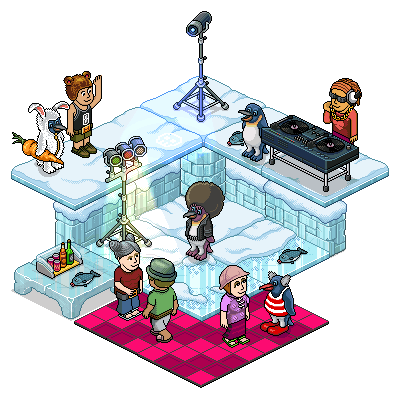 Playing practical jokes, this jolly, rotund penguin loves to entertain and make Smilla laugh.
His jokes more disturbing than funny, the Clown Penguin has a weird sense of humour making him one of the most loathed of all the penguins. In his big red shoes and crazy, madman hair, this clown of a bird even waddles funny when he laughs.
Make Smilla Laugh
Prove your comical genius by performing on stage and Make Smilla Laugh. Impress Smilla with jokes and pranks while performing on stage at the Icy Penguin. Each proven jokester who makes Smilla LOL will receive the Snowman Badge.
If performing on a live stage telling jokes is not your thing, the Clown Penguin is looking for a place to practice his comedy. Build an arctic funhouse for the clown.
The Rules
Build Arctic Funhouse for the clown penguin. Think fun!
Please keep your room opened and unlocked.
The Prize

It may be cold outside, but the Clown Penguin is leaving his audience in stitches. Enough hot air?
Winners
Spokespenguin

(Small Room)
g00dni9ht

(Large Room)
Penguin Identity Complex
Harvesting Carrots Since 2008
Most of the penguins we've seen so far have cool talents and unique personalities. Unfortunately, the Bunny Penguin is severely confused. Raised in a zoo by a family of rabbit's since birth, Bunny Penguin was recently returned to his natural arctic habitat to live with fellow penguin's. Living under the illusion that he is a rabbit, the other penguin's are kind enough to humor his delusion.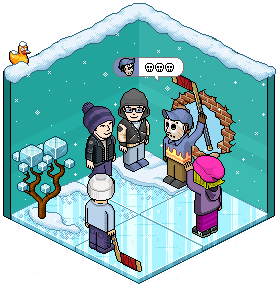 Race for the Carrot
Bunny Penguin needs your help! Join Race for the Carrot and race to the refrigerators to collect a carrot! This is similar to the usual 'fridge race' games you might of played before.
Carrot Farming When all contestants are lined up, Habbo staff will announce the start of the race (no line jumpers!) then everyone will race to the fridge to get a carrot. You have 3 minutes to bring back as many carrots as possible. Once you get a carrot, run back to the red line and select any 'dance' to drop the item. This counts as one point. The user who brings the most carrots back across the line wins! Winners will receive the Snowman Badge!
The Rules
Build a carrot farm for Bunny Penguin!
Please keep your room opened and unlocked.
The Prize
Winners
DuckyWood
:yoxluke
The Prima Ballerina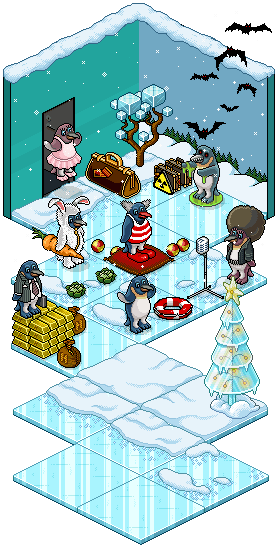 With a grand jeté, the prima ballerina leaps onto the Theatredome stage...
The South Pole Ballet Company arrived in town today for their holiday production of The Nutcracker. You may have noticed the ballerinas warming up around the hotel.
The production has been getting rave reviews around the globe. The only problem is, with all the commotion around the sudden invasions of all these unexpected penguins, the Hotel Staff didn't receive the notice that the ballet would be performing in Habbo.
We have been scrambling to prepare proper dressing rooms for all these dancers and most have been taken care of.
Unfortunately, Vaganova - the prima ballerina of the production - is living up to her title and does not seem to be satisfied with any room we prepare for her.
"Do you know who I am? The Prima Ballerina. Do you know what that means? I am the best dancer and deserve the best!" said Vaganova.
"Yes, Miss Ballerina; Whatever you say, Miss Ballerina." I said hopelessly.
I need your help, Habbos!
Build the Prima Ballerina Dressing Room
In the Limited Edition of the catalogue, I have added a collection of pink twirly goodness. I'm sure there is more than enough to construct a beautiful, elegant and comfortable dressing room for Miss Prima Ballerina.
I would do it myself, but so far I am haven't been successful and besides I'm having a hard enough time keeping the rest of ballerinas happy. She insists on having two dressing rooms - 1 big room and 1 small room, so 2 winners will be chosen. Please hurry! She needs a place to rest before and after her performances.
The Rules
One submission per Habbo
A ballerina penguin must be in the room (screenshot)
The room must be primarily pink and fit for a Prima Ballerina
The Prize
One large room winner and one small room winner will each receive a RARE pink pillow.
Winners
-petalz
FieryCold
Hocus Pen-ocus!!!
The Magic Penguin has materialized for all to see...
This mysterious Penguin species is obsessed with fantasy, illusion, and all that is magical. They claim they are responsible for making the Antarctic Shelf disappear and can be found in Magician's vanishing boxes and sometimes nest inside top hats. Pengu the Magnificent is the most famous Penguin magician. Naturally their greatest trick is making fish disappear from the dinner table!
Are you clairvoyant? Do you want to be? You can find the Magic Crystal Ball in the catalog! What does your future hold?
Magic Penguin Materializing Furni
The Magic Penguin wants to amaze you in his very own version of a fantastical Falling Furni game. Please join your Penguin host of the day in the Magic Penguin Materializing Furni room. With his astounding antics and intriguing illusions you never know where furni will materialize next!
The winner of each round will receive the Snowman Badge!
For Whom The Bell Snows
I'm a model... you know what I mean...
I don't know about you.. but, when this little waddler scurried his way into the hotel our mouths dropped open in utter... um... envy! Look at that face! That bone structure! That figure! It's no wonder this penguin has spent most of his time here staring at himself in our mirrors.
Word around the flipper is that all the lady penguins go ga-ga for this bell toting "Pitt" of penguins. We are pretty sure he uses the bell to say, "come and get it ladies" ... but we've got no actual proof of that... yet. So, to signify his heart-stopping entry to Habbo this Beautiful Penguin wants a fashion show!
Pretty in Penguin
Come down to the Pretty In Penguin room dawned in your best penguin fashions and be ready to talk about why they are all the rage in the land of flipper and beak.
The Rules
Must be dressed in high Habbo fashion
Dance
When your name is called tell the Pretty Penguin why your outfit is all that.
Winners will be selected based off of the best outfit and explanation
The Prize
The Bells, oh the bells
Wait wait ... that's not all this little "Clooney" wants! Oh no. Your other task is to build him and wonderfully snowy Bell Tower room so that he can sit and just... stare at himself in the ice reflections. Some place that reminds him of home but also just how beautiful he actually is ;)
The Rules
Room must use the new Winter furni line!
Hunchback penguin MUST be in the room you are submitting!
The Prize - One LARGE room and one SMALL room winner will be given a Blue "snowy" Pillow! Wunderbar!
Winners
Xx....U.....xX
arcadia157
Penguin of Honor
All for fish and fish for all!
Defenders of the fish and guardians of the great Antarctic, The Musketeer Penguin is loved and respected throughout the land. Living by the noble code "All for fish and fish for all", a Musketeer Penguin devotes their life to chivalry and the peasant/pheasant penguins. Pride plays a big part of a Musketeer Penguin's life, so proving one's worth to his fellow penguin is common practice. What event's might a penguin with such integrity and honor take part in?
Ye Olde Jousting Competition
Come one, come all! Enter the Ye Olde Jousting Competition today in a test of wits, might and skill!
The Rules
1 vs. 1 Start behind the purple mat near the bottom.
Each player will attempt to push the opponent beyond his purple mat (similar to guest room Wobble Squabble).
Once a player gets pushed beyond his own purple mat, the match is over!
In order to progress or push the opponent, you must click behind him/her. Don't spam click! Or you may find yourself jousting with the fishes.
1 min time limit. Players who remain in a deadlock at the center of the Jousting lane will receive no prize!
The Prize
Snowman badge (Already have the Snowman Badge? You cannot receive a 2nd badge and the prize will not change... so give others a chance!)
Penguins are Populating the Ski Slopes!
The Ski Penguin has swished her way into our Habbo lives...
The Ski Penguin is a nearly sleepless bird. Always on hyper-drive, this Penguin thrives on adventure, pulse-pounding excitement, and of course fish. Ski's favorite past times are skiing and skydiving and anything else extreme. She answers to "Penguinie Extremie" and if you're ever looking for her, she's probably on the ski slopes!
Ski Penguin's Super Slalom
The Ski Penguin has some simple rules for her Super Slalom:
1 No Effects during the race, please. This might distract the race officials.
2 Tackle all obstacles in your path.
3 The first to stand next to and turn on their Campfire wins! (If you are not racing, do not mess with the Campfires!)
That's it!
So join your host - the ever so talented Ski Penguin - along with CrestHawk in the Ski Penguin's Super Slalom room. The winner of each race will receive the Snowman Badge! In the event of a tie both winners will get the Snowman Badge.
Mountain Ski Lodge
This extreme Penguin needs a place to rest her ski legs. So what she needs is the perfect Mountain Ski Lodge so she can relax before her next downhill ski run.
The Rules
Room must use the new Arctic Winter furni line!
The Ski Penguin MUST be in the room you are submitting!
Please keep your room built until the winners are announced!
The Prize
Winners
Anterior
Vintalie
Flight Of The Penguin
Thawed out Biggles flies in from a distant past.
During the recent ice melt that is still bringing penguins on icebergs to Habbo Beach, a dive-bombing discovery was made as Aptenodytes Biggles waddled onshore. Otherwise known as the Pilot Penguin, this WWI flying ace recently thawed out after falling into the water back in 1914. Still, a jolly soul, he likes nothing more than taking to the skies in his biplane, soaring high above the clouds and dive-bombing enemy seals.
Chocs Away!
Guide the most fish to your landing pad in this fish-falling game of Chocs Away!
The Rules
Guide fish moving on rollers to your landing section.
Rollers can be turned to switch direction in guiding fish to your section.
Fish and furniture can not be moved around in the room.
Please note: If you have already won the Snowman Badge in another Penguin game, please keep others in mind who haven't had a chance to win it.
The Prize
Habbo with the most fish on their landing sections wins the game. Each winner will receive the Snowman Badge.
As the Pilot Penguin polishes his flight goggles in preparation for his next flight, make sure to leave a few fish for his travels.
Yoho, yoho, a Penguin's life for me!
Arrrrg mateys! Are ye ready to meet 'The Plunderer'?!
Thanks to global warming, the fish supplies of this Penguin's natural habitat have been dwindling. In response, this species has taken to sailing the Seven Seas in search of fresh fish. Not too long ago their last ship, the Flightless Wonder, was unfortunately lost to Davy Jones' Locker in an Antarctic maelstrom!
Pirate Penguins Man the Cannons
"Ye be seekin' adventure upon the high seas, aye? Searchin' for gold an' trinkets an' all matters of treasure, says I. Only those brave enough –"
Pirate Penguin cut that out! Sorry about that, folks. He's not content with being a ship captain, master swords-penguin, and fearsome scallywag. No, now he has to try his hand at being a Habbo Staff member by commandeering my article!
Anyway, Pirate Penguin also happens to be a fan of Habbo games and he's got a great game in store for you in his Pirate Penguin's Man the Cannons room! Here's how it works:
Two teams sit behind cannons (aka Holodice) across from each other on pirate ships. When I yell "Fire Cannon 1!" the two Habbos against each other in the first seats roll their dice. Whoever has the higher dice has successfully blasted his opponent out of the water. This continues to the next pair of opponents and so on until only one ship is left standing. Anyone left alive, wins the badge!
Just a few rules to follow or Pirate Penguin will send you to Davy Jones' Locker!
No Effects – this may avert the cannon fire in your direction!
Don't fire your cannon until you hear the command.
If you have already won the Snowman Badge in another Penguin game, please do not enter the room. Give others a chance to play.
Spaghetti Roundup
Giddyup partner, there's a new bird in town.
Dreaming of being one of the good guys and watching too many John Wayne movies, Aptenodytes Hickok has galloped into Habbo on his trusty reindeer. Also known as the Cowboy Penguin, he is fast to draw a fish out of his pocket when challenged at the I.C. Coral.
After a long day of wrangling up the slippery, little fish, the Cowboy Penguin sometimes tires of the tasteless morsels needing a little seasoning to spice up his taste buds. Spaghetti has always been a favorite of this cowboy bird.
Spaghetti Western
Serve yourself with falling spaghetti in this noodle-wrangling game of Spaghetti Western. Run to the ice patch before all the food dwellers get there before you. 3 Habbos can fit on an ice patch. Will the final 3 be you? 3 Habbos on final ice patch from each game will receive the Snowman Badge.
If spaghetti wrangling is not your thing, the Cowboy Penguin needs a shiny badge to show off who runs this cold and desertless place.
The Rules
Design shiny badge for the cowboy penguin. Think law, think tough!
Please use the below template for designing the badge. 40x40 pixel size.
The Prize
One winner will receive the Happy Face Snow Badge
The Habbo Cold Front Quest!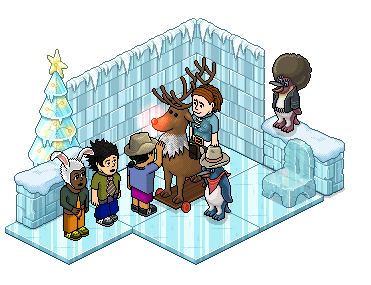 It's time to zip up your jackets and take part in this chilly winter quest...
There have been rumors that Musketeer Penguin and Executive Penguin have been trying to negotiate a price to purchase Habbo Hotel. Well, the rumors are true. They have told me their old homes have become uninhabitable and due to the icy façade the Hotel has taken on they'd like to make an offer so they can turn the Hotel into their very own virtual habitat.
With the Hotel turning to ice, has anyone stopped to wonder where these Penguins are actually coming from? Have you asked yourself why they're here or why it has gotten so cold in the Hotel? And what made the Penguins' South Poll habitat so hostile that the Penguins don't want to go back? Well now is your chance to investigate this great mystery!
To begin this Quest please enter the Icicle Lights room on the Winter Wonderland guest floor. Follow the instructions in each sticky note you come across. The path will be laid out before you. Make sure you have a pen and pad of paper – or an open Word document - with you to write down all the clues as you travel. All quest related rooms can also be found on The Habbo Cold Front Quest floor. This quest will be active until Friday December 19th at 5pm PT / 8pm ET.
Once you have completed the Quest please answer the questions below. All those who answer all the questions correctly will get the special Xmas 2008 badge by Monday December 22nd.
Good luck and be sure to bring your mittens - it sure is cold...
Poll Answers
 ""Arctic""
 ""Oasis""
 ""5"" 
 ""Frozen Forest"" 
 ""Close the doors of the icy teleporters!""

Ultimate Spinning Piledriver!
The most acrobatic penguin of them all.
With a taste for danger and an outfit to match, Luchador Penguin is ready to take on any opponent. Training for 26 hours a day (yes...you read that right), Luchador Penguin spends all his hard earned time practicing body slams, sleeper holds, spinning lariats and his patented Atomic Final Buster! Just don't be in the path of Luchador Penguin when he gets momentum. He's an unstoppable freight train looking for a target!
Championship Wrestling
One on one wrestling competition. Enter the Championship Wrestling Room and use your acrobatic prowess to outsmart the rival and knock 'em out of the ring!
The Rules
2 players. Each enter into the ring.
When staff calls start, each user will bump into each-other, attempting to knock the other in the red mats.
Rollers will make the event challenging.
2 minute time limit. Good luck!
The Prize
The Habbo that remains in the ring longest wins! Each winner will receive the Snowman Badge. Please do not enter this competition if you already have the Snowman Badge. Give others a chance!
Danger, All Habbos, Danger
Run for the hills. Robots are amongst us!
Created by the Penguins, the Aptenodytes Asimov are everywhere and running amuck evolving and rebelling against the Habbos. Is it part of the real estate takeover? The Robot Penguin has three known directives: Hunt for Fish, Protect the Penguins and crush all Habbos.
Crush All Habbos!
Survive the chaotic madness of the Robot Penguin in this metal stomping game of Crush All Habbos!
The Rules
One Habbo per ice patch.
After Holodice randomizes number, Habbos standing on number-assigned ice patch will be eliminated from game.
Please note: If you have already won the Snowman Badge in another Penguin game, please keep others in mind who haven't had a chance to win it.
The Prize
Five Habbos left standing wins the game. Each winner will receive the Snowman Badge.
The Robot Penguin is configuring it's programmed agenda. Don't become a squished target of this heavy piece of waddling, scrap metal.
Glow, baby, glow!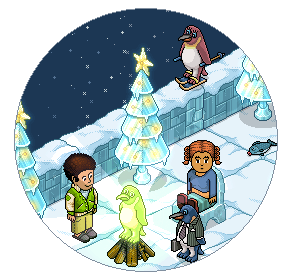 A night light has arrived to show us the way.
This Penguin species gained its unnatural glow from its obsession with scientific experiments and using themselves as guinea Penguins. Fluorescents believe in all scientific - and not so scientific - theories, from Newton's 'Law of Gravity' to Pengori's 'Giant Space Penguins.' Usually found happily exploring laboratories, this little Penguin is affectionately nicknamed 'Night Light.'
Night Light and the Afterglow!
The time has come to prove to this scientific Penguin that you have what it takes to be a scientist. Head on into the Night Light and the Afterglow game room to partake in this battle of brains, wit, and mouse-clicking fingers!
Each round, Habbos will be split into two teams of three. One team will be told to turn on the scientific machines while the other team will be told to turn them off. Each round will last for 1 minute. After the minute has passed the team with the most machines either turned on or off will win.
No Effects – this may scare the GLOW off our little friend here!
Don't change the status of the machines until I say "BEGIN".
If you are waiting in line DO NOT change the machines. If the current round's participants tell me that they are not changing the machines I will kick the entire room.
If you have already won the Snowman Badge in another Penguin game, please do not enter the room. Give others a chance to play.
The Arctic Ninjas Cometh
Speed and stealth, the path to the fish.
Stalking prey, invisible to others, lurking in the darkness...LOOK OUT BEHIND YOU!
OK, that was just a test but you had better lookout. You never know where the Ninja Penguin might jump out and snatch a fish away! Protecting the arctic from fish bandits, the Ninja penguin utilize the best of modern penguin weaponry...such as Peng-Chucks, Pengu-stars and Kata-guins. Perhaps the Penguin Ninjas had something to do with the Ninja vs. Samurai fiasco a few months ago? Hmm, suspicious.
Pushing His Weight Around
The greatest of the great fish eaters.
The Sumo Penguin is an icon of the arctic. The only penguin rikishi ever to be crowned as Yokozuna, the Sumo Penguin make themselves powerful through their size and smarts. It is unknown the exact record, but is proclaimed that a Sumo Penguin can consume more than 120 fish in a single minute. However...they are not limited to only fish. When a Sumo Penguin is hungry, it is possible that he can eat anything in his path!
Championship Wrestling
One on one Sumo Wrestling Competition. Enter the Penguin Sumo Dojo room and use your size to outsmart the rival and knock 'em out of the ring!
The Rules
2 players. Each enter into the ring.
When staff calls start, each user will bump into each-other, attempting to knock the other in the red mats.
Rollers will make the event challenging.
2 minute time limit. Good luck!
The Prize
The Habbo that remains in the ring longest wins! Each winner will receive the Snowman Badge. Please do not enter this competition if you already have the Snowman Badge. Give others a chance!
The Sumo Penguin is hungry for competition, start putting on the pixel pounds...the Sumo Competition is coming!
Meanwhile, At The Hall Of Flipper!
Faster than a speeding Herring.
More powerful than Mr. Clean, Mr. Clean. Able to leap two ice cubes in a single bound! That's right, move over all you other caped crusaders out there. Justice has a new name and it squawks! Our newest counter shaded and buoyant friend is one super kind of penguin! His dud's are pretty snazzy too! Unfortunately, all his super powers and snappy fashion sense are going to waste! Why!? Well... have you seen any super villain penguins around here!? I didn't think so! What's a super hero without an evil nemesis to thwart. It's like a bleach without a stain to remove! Or Rudolph without the Humble Bumble Snow Monster to um... head butt!? So lets give this little guy someone to defeat!
Build A Baddie Put your pixel skills to the test and design a new super-evil-grandma running over-lollipop stealing-throwing mama from the train type villain for our spandex laden super hero penguin.
The Rules
Design a new villain PENGUIN
Send your submission in .gif or .png format
Attach your submission TO your email, not a link to an image hosting site
below is a basic penguin that you can use as a starting point if you'd like :)
The Prize
Smiley Faced Snow Ball Badge
Winners
These are the winning images of the competition, the names of the creators are inside the images.
Jab...Jab...Uppercut!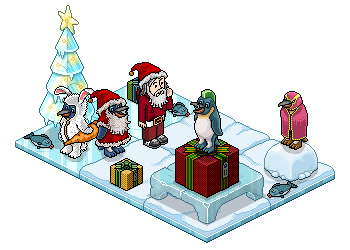 The Champ is here.
Put up your dukes Habbo's! Christmas Penguin is out and Boxer Penguin is coming to town! Boxer Penguin is the World Heavyweight Champion...from 10 years ago. Since then, Boxer Penguin's ego and pride got the best of him. Losing his former glory, he hears only what he wants to hear and disregards the rest. But he still trains day and night on his jab's and uppercuts. Don't feel bad though! Boxer Penguin made millions in Habbo coins selling his own non-stick fish grills!
Heads up Habbos!
If you have collected all 26 penguins, make sure you log in on December 31st. That is the only way to get your special penguin surprise!
Penguin Gift