Builders Club
Jump to navigation
Jump to search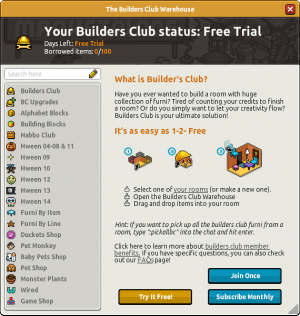 Builders Club is a room design orientated members club on Habbo. It is similar to the Habbo Club, wherein users pay a monthly fee in Credits.
In the same way that Habbo Club offers exclusive clothing, furniture and room layouts, Builders Club offers a vast range of furniture, which remains the property of the member until they unsubscribe, though none of it is tradeable.
It was first released to the hotel on December 4, 2013.
History
The idea behind Builders Club was first piloted as an exclusive Group named Room Builders Inc. This group became a model and pre-cursor to the club feature, it appointed members to the group from a number of applicants, and tasked them with designing rooms for upcoming competitions, much of which ran through most of the 2012 Habbo calendar.
This group, unlike Builders Club, did not have exclusive access to furniture, they instead had to create rooms with their own items, though they could work in teams to pool resources. Late in the campaign, a staff member would drop required items into the group rooms, retaining ownership but allowing members to design with them. The feedback received from this prototype group went on the shape the Builders Club feature.
Members commented that access to a wider furniture base would have been beneficial, one that would not require spending large amounts of credits, which is very costly. There are consistent lines of furni in Builders Club, as well as seasonal furni being added and removed alongside the dates of the current campaign.
Alongside the Builders Club programme, a set of 11 Achievements were introduced showcasing your length of time as a Builders Club member.
On 12 December 2013, upgrades were introduced to the catalogue, where users could purchase additional furni limit.
On 15 January 2014, the Building Blocks were first added - the first exclusive Builders Club range.
On 1 April 2014, the floor editor was first introduced for Builders Club members.
On 16 December 2014, additional furni ranges and more building blocks (including Alphabet Blocks) were added to Builders Club.
At first, the only way to pay for Builders Club was via SMS messages, where it would charge to your mobile service. From 6 June 2014, it became possible to buy it from the Catalogue for 85 Coins and 85 Diamonds or the Habbo Shop in local currency.
Cost
3 months BC - £26.99 GBP / $27.99 USD
31 days - £10.00 GBP / $9.99 USD
14 days - £5.00 GBP / $4.99 USD
Features
Free Trial
50 Furni limit
The room is locked while it contains "borrowed" furni, meaning only the owner can enter
All changes to the room shape is permanent, even after your trial ends
Commands
:pickallbc - picks up all the Builders Club furniture in a room
:floor - opens up the Floor Plan Editor, a Builders Club exclusive feature
Benefits
Furniture Lines
Wired
Game Shop