Trade
Jump to navigation
Jump to search
Trading is a way of transferring Furni from one player to another. Players on Habbo trade every day to get furni that they need, or even to give some furni away to someone. The most common type of trading is buying/selling - where Credits are the main payment for furni. Trading relies on the prices of furni - which will usually increase when a higher volume is bought. Players are allowed to trade all sorts of items on Habbo. Nearly all items of furni are tradeable on the Hotel, with the exception of Pixel Furni and a few Super Rares. There are 9 trade boxes on the trade system, so players are able to trade 9 different items at one given time.
Trade System
The trade system has been through a lot of changes throughout the development of Habbo. The main problem was because people would go to the maximum extent to find a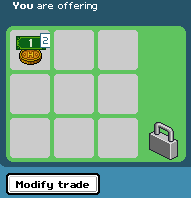 way to scam through trade. Once they had found a way to scam through trading, it went viral and everyone knew.
With the v30 update, a new, safer way to trade was also introduced. This new system based on two features, which were the Trading Pass and double verifying. The idea behind the Trading Pass is simple, if you have not earned the Trading Pass you are unable to place an item inside the trading screen. The criteria to obtain a Trading Pass are:
Verifying your e-mail address
The account must be at least 3 days old;
You must have been online for more than 1 hour in total.
The second feature made it so, with each trade, Habbo will count down from 3 before asking you to confirm your trade in order to make sure that the trade is correct and no quick swaps have been made.
In February 2016 Habbo changed the trading experience, meaning any coins traded would go straight to the purse instead of staying in the inventory like previous years.
Places to Trade
Within Habbo there are many rooms which were created specifically for trading furni and coins, including Trade Cities, Coin Shops, Furni Shops and general Trade Rooms.
Trade Cities are places built by Habbos where players buy and sell things via chat (for example, 'Selling Tubmaster - 2 credits'). If a user can't find a piece of Furni in any of the shops around Habbo, then it is usually a good idea to visit a Trade City. A lot of users will spam the room with their message advertising that they are selling a piece of furni. The layouts of trade cities are normally the same - with a pyramid of Club Sofas and a VIP section to the right of the room.
Coin Shops are easy to find on-client and, although there are different types available, each of them involve buying an item of furni from the owner in exchange for Credits. In coin shops, the owner may have a set price for each of their items or they may ask for your offer, which means they would like you to state how much credits you are willing to trade for the item. You can find various types of coin shops, for example general ones which sell a range of furni for different prices, ones which only sell Rares (or other specific types of furni) and ones where all the furni cost the same price (1 credit, 2 for 1 credit shops).
Furni Shops are rarely found on Habbo, but they share the same idea as Coin Shops and were used before credits were available to trade. You will enter a room and choose a furni that you wish to trade, once you reach the front of the queue you will state the name of the furni that you offer to trade for the item and the owner will decide whether or not they wish to accept that offer, this was most common in the original years of Habbo, as users made their own trading currency known as the HC Sofa/Club Sofa.
Trade Rooms work the same as Trade Cities, with the only difference being that the rooms don't follow the same layout and aren't as popular. The same as Trade Cities, you enter the room and advertise the item you are selling or buying and trade with other users in the room.