Habbo 2020
Jump to navigation
Jump to search

Habbo 2020 is a new Client update expected to be released in 2020. It was necessary after the news that Flash, which the Habbo Client has relied on since the New Habbo update, would be discontinued at the end of 2020. The 2020 Client is built with Unity.
The client will also bring new features and updates to current features. The first new feature to be revealed was user levels which were seen in the first screenshot shared of the client, on 7 October 2019. There are major changes to some systems such as BC, HC and trading, which have caused consternation with some players.
A full list of FAQs can be found here (for Sandbox beta testers) and here (Habbo Help FAQ guide).
The official Beta of Habbo2020 started on 26 October 2020, with 100 Habbos chosen to test out the new system.
The full release has been confirmed to be launched later in 2020, however Habbo have confirmed that many features, furni and functionality will be missing. From the FAQ: "Due to time constraints we've had to prioritise certain features in order to have a playable version of Habbo ready before the removal of support for Flash on major browsers later this year. We're asking for you to bear with us over the coming months while we continue to develop the game and add as many features – existing AND new – as possible."
Below are the updates that have been discovered through Habbo sharing screenshots, Beta testers or via the FAQs.
Trading
There is no direct player-to-player trading on the first launch of Habbo.
All trading will take place through the Marketplace with a separate tab for Private trades, where you can send furni trade offers to people on your Friend list.
There are no free trades or furni-for-furni trade options currently. All trades will cost Credits for both parties, either directly as the buyer or through MP taxation as the seller.
Direct trading will be developed "hopefully for summer 2021".
On 05/11/2020 it was announced by Alyx (global community manager) that the development team are working on a feature that will allow credits to be donated, as a response to fears over the inability to give any payments/rewards/winnings without a free trade system.
On 12/11/2020 the above donation feature was released on the beta hotel. It allows players to donate between 2c and 10c, with 1c being deducted as a fee with every donation. Received donations will go to the "earnings" window, and to send donations an account must be at least level 15.
Vault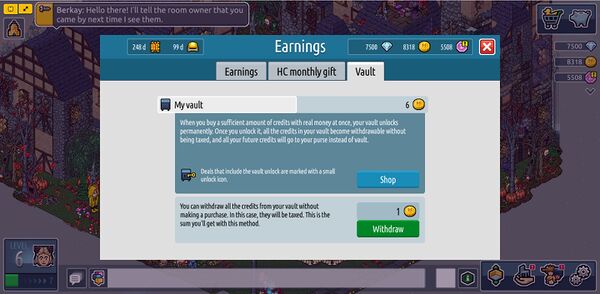 A new feature in Habbo2020, the Vault is similar to a player's Purse. Credits will either go to a player's purse or vault depending on how the credits were received:
Real money credit purchases and voucher code redeems will never go to your vault.
Avatar level progression and achievement rewards always go to your vault, but they are shown and collected in the earnings window first so that you know what you're getting.
Other cases: credits go primarily to your purse, but if your total credit amount (counting both the credits in your purse and vault) goes over 500, the exceeding part goes to your vault instead. The credits already in your purse are not affected, even if they go over the limit.
Credits you withdraw from your vault will go to your purse permanently.
At first, the Vault appears to have an 80% tax on withdrawals - e.g. to withdraw 1c you need a minimum of 6c in your vault. You can only withdraw or 'unlock' the full amount in your vault at once, and the tax percentage depends on how many credits were in your vault.
Any credits that users already have before the launch of the Vault will not be placed into the vault.
To unlock your vault permanently, you must make real-life purchases. Habbo have not confirmed the price, but have confirmed that "when you buy a sufficient amount of credits with real money at once, your vault unlocks permanently".
Earnings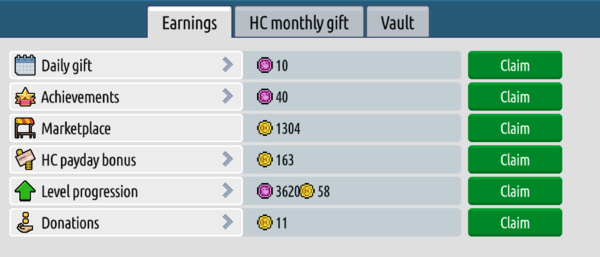 An upgraded feature in Habbo2020, the Earnings feature incorporates all earnings Achievements, Habbo Club gifts and payday bonus, Advent calendars, Marketplace earnings and Level progression. It appears, from screenshots, that you can earn both Duckets and Credits from the methods listed above.
Changes include:
Advent Calendar gifts can only be claimed on the day (currently you can claim the previous few days if you miss them).
Habbo Club gifts can only be claimed on the month you are eligible for them.
Shop
The Shop's 'Premium' section will be where you get your currency and memberships from in Habbo 2020.
Searching for and filtering items in the Shop has been made clearer and easier.
The Shop's layout has been changed to make featured and discounted items easier to see.
Marketplace
There is a 'Recall all' button to the Marketplace where you can recall all items you have for sale in the Marketplace.
There is a bulk listing tool where you can list multiples of the same item at once.
Habbo tweeted: "We've altered the marketplace tax so that it is more progressive. Lower-priced items will be taxed less than they are currently." - however once the Beta launched, it was confirmed that all items would be subject to an "operation fee" of 10% of the item's price, paid upfront when placing an item for sale. The fee is non-refundable, whether it sells or not.
There is a maximum marketplace price of 99,999c.
UI
There is no traditional homepage - the Hotel View will be the landing page once you visit Habbo.com
You can zoom in and out using your trackpad/middle mouse wheel.
Scaling for higher resolutions has been implemented - originally the entire UI was designed with mobile users in mind.
Looks Editor
Instead of icons we now have the names of each body part, and within each section there are icons displayed on the left as sub-categories.
The Wardrobe has its own category now too instead of being on the right side of the editor.
There is an icon with a shopping cart that links to the clothing section of the Shop which makes it easier to buy new clothes instantly.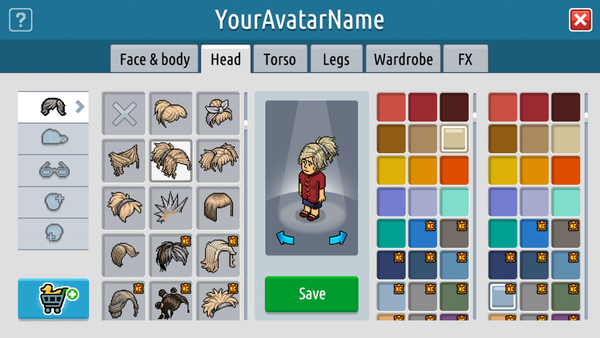 Pets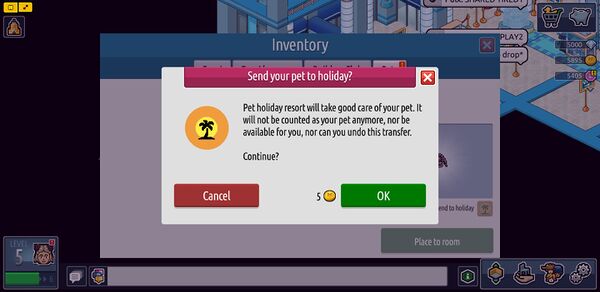 You can only own a maximum of 50 pets.
There is a limit of 5 pets in a room.
There is a new "Pet Holiday" feature which costs 5c, where you can pay to send your pet "for a holiday". It is irreversible - e.g. you do not get your pet back.
Groups
Once you buy a Group you can no longer edit its name or badge.
Group membership limits will fluctuate depending on the level of those within it - adding a higher level Habbo to your group will increase its capacity by more than adding a new, low level Habbo.
Achievements
Habbo 2020 has a much neater and clearer way of showing you the achievements you have and the progress you've made with them. There are also new achievements for all Habbos to complete.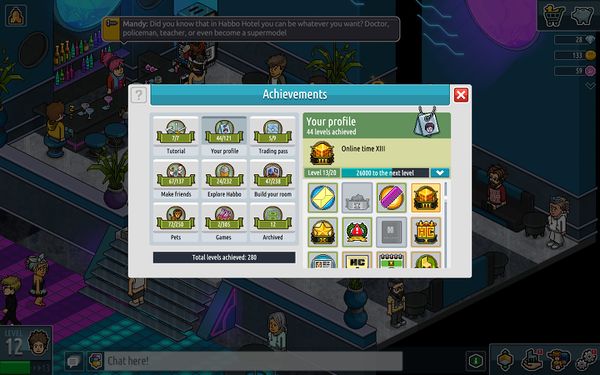 Star Gems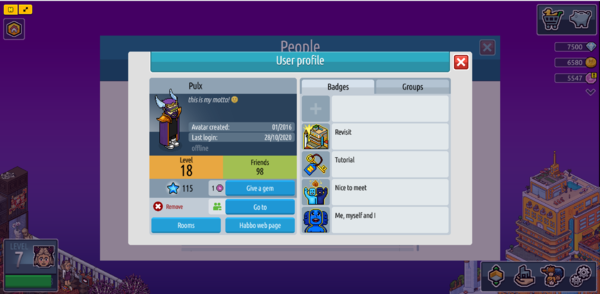 A new feature of Habbo2020, Star Gems are a feature which replaces the existing Respects system. You can give them to Habbos via their user profile. They cost 1 Ducket each and you can get a series of New Achievements from giving and receiving them.
Non-functional items
The following items have been confirmed as non-functional for the official launch of Habbo 2020. Habbo have confirmed they are planning to implement these in future. Some of these have since been found to be functioning in the Beta version.
Stickie notes
Stickie poles
Badge display cases
Black holes - working on Beta
Tents
Mini-game systems (snow war, hockey etc.)
Monster plants
Room dimmers / mood lights / background colour furni - Background Toner has limited function on Beta, only one colour
Camera photo wall items
Furni with customisable colours - group furni (in group colours) working on Beta
Water floating furni - pool items working on Beta
Windows - working on Beta
Step-on state switches
One-way teleports
Lovelocks
Jukeboxes
Trax
Effect givers
Mannequin furni
Fireworks
Chatter furni (furni that produce randomised lines of text.)
Rentable spaces within rooms
Billboards
Multi-user reaction furni (furni that changes when more than one Habbo interacts with it.)
Furni that produce sound effects
In-room embedded videos
Cuckoo Clocks
Dice
Beta Users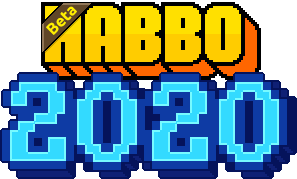 Habbo 2020 was first tested by Sulake employees and a group of 72 players who logged onto the beta version of the new client through Sandbox.
Puhekupla received and confirmed a list of players from Habbo staff who were chosen to be the first testers - many had worked with Habbo staff in the past. The players chosen were:
Credit to Puhekupla for this information:
Habbo.com.br

User
Status
Metaforz
User
Diva.Alicezita
User
Abigair
User
RodrigoLapy
User
westhim
User
-MeusDocumentos
User
Daliila.S
User
Elipte
Builder
Habbo.de

User
Status
Bench,x3
Fansite Member
Steueramt
Fansite Member
.Euphemia
Builder
togetherness
Builder
Super-Held
Fansite Member
cybercheck
Ambassador
Miqqii
Builder
rosi999
User
Habbo.es

User
Status
Jorge.
Fansite Member
w!gu3
Ambassador
.: Dj-Crew:.
Fansite Member
KSS
Fansite Member
Fers301
Fansite Member
jaumexpunk-:.
Ambassador
-Barbaruchi-
Ambassador
Juancha23!!
Builder
DjWinix
Builder
GUIDOWEII
Builder
Habbo.fi

User
Status
@[email protected]
Fansite Member
Happitorni
Fansite Member
kivasima
Fansite Member
Moppix
Ambassador
puaveli2
Fansite Member
Sävel
Builder
vara-Kaukoyhtey
Fansite Member
T6767T
Fansite Member
Habbo.fr

User
Status
_Drakiss=Baan
JS Member
motorliilie
Ambassador
hakunamatata1
Fansite Member
BIBI983
Builder
Baenary
Builder / Fansite Member
like-boss=ban
Builder / Fansite Member
the-aurelien56
Fansite Member
Habbo.it

User
Status
kaselli
Fansite Member
Insigned
User
RC-Marco
Fansite Member
Diavoletto96
Fansite Member
eleonoraporta
User
kiary007
User
Marco33
Ambassador
G101
User
=Naples.Devil=
Builder
Venturus
Builder
Habbo.nl

User
Status
Jenneben
Builder
Turti
Ambassador
itselise
Fansite Member
WolvesWisdom
User
ladyrembak
Fansite Member
SanderCools
Fansite Member
sirjonasx
User
wizzie
Fansite Member
-.-DarkSilk-.-
User
.:Red-Bull:.
Ambassador
Habbo.com.tr

User
Status
TolgaGF
Ambassador
bektaş55
Fansite Member
Joker
Builder
SerenaKahlo
Unknown
_Dr.Selin_
Fansite Member
PrensesArzum
Fansite Member
sauve
Builder
Impossible-
Ambassador
.Swiftie.
Builder
CekiciThe
Builder
Habbo.com

User
Status
1
User
DJ-rapand
User
UnderCover.
User
Teschan
User
Andings
Fansite Member
AussieGrown
Ambassador
L0-VE
Ambassador
Hanna.Yeap
Fansite Member
Habtaz
Ambassador
AndyATW!
User
Pulx
Fansite Member
Frission
Fansite Member