Room-O-Matic
Jump to navigation
Jump to search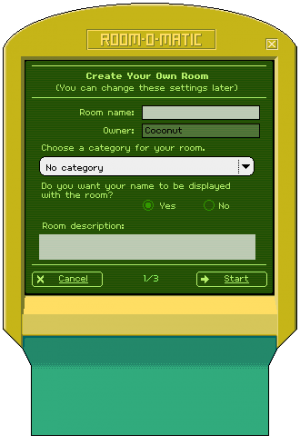 The Room-O-Matic was originally an item of useable Furni placed in public rooms such as Cafe Ole and the Basement Lobby. It functioned as an alternative to the 'Create Room' button, creating a small mini-attraction on Habbo. After the update to Beta, the machines were made redundant, although many stayed in place as a design feature.

On the Room-O-Matic, players could create new, player owned Rooms, choosing the shape, size and name, on the different panels. It was designed to look like a simple console, with green pixelated text and outlines of characters.
Introduction
On the first panel, there was an introduction, introducing the purpose of rooms and even utilisng quotes from Habbos (usually made up) promoting rooms.
Room Information
The second panel enabled players to choose their room's name, category, description and whether they wanted their name to be displayed as the owner. The removal of names was only available as a feature for a few years - after which it was necessary that the owner was displayed. Any rooms without the owner's name were updated.
Room Layout
The next panel was a scroll list with all the available Room Layouts. Every player could see all the rooms, although HC members could create more intricate rooms, generally with staitrs, which normal players could not.
Room Security
On the final panel, players had the opportunity to choose their room security - whether it was on doorbell, passworded or free for everyone to enter. They could also choose on here if all other players had rights, until that feature was removed.
After clicking 'Done' players would then be transported to their new room, leaving the public room they were originally in.
Trivia
The Room-O-Matic should not be confused with the Inf-O-Matic.