New Year 2019
Jump to navigation
Jump to search
The New Year 2019 campaign ran throughout January of 2019, appropriately named as it celebrated the New Year. Throughout this month, only one new piece of furniture and one new rare were added to the catalogue. However, 13 room bundles returned to the catalogue, each of which contained a minimum of one new and exclusive furniture item.
Furniture
Catalogue Furniture
Only one new furniture item was released into the catalogue this month.
| Name | Image |
| --- | --- |
| 2019 NY Countdown | |
Rares
Only one rare item was released during this campaign, a wearable hairstyle.
Room Bundles
These following bundles were re-released throughout the month, each with new and exclusive pieces of furniture.
Exclusive Furni
Each furniture bundle that was re-released throughout this campaign came with at least one exclusive furniture item.
Campaign
13 Furnis Competition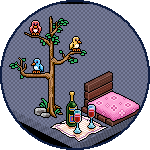 During January of 2019 Habbo launched a new competition named the "13 furnis competition" [1], during which players were given the task to design an entire room using only 13 pieces of furniture. With Valentines taking place the following month, the holiday was used as the theme for the competition.
There were only three furniture items that players had to use in the competition as a requirement, the remaining items used were of the player's choice.
| Name | Image |
| --- | --- |
| Picnic Refreshments | |
| Tatami Chair | |
| Nestled Tree | |
Winners of this competition received an exclusive badge, while all rooms that were included in the top 3 received 31 days of Habbo Club and 7 days of Builders Club.
Winners
The top 3 winners of the competition were:
monkeymanbubby
FHL09
Pilvinen
References