7-11 Cooler
Jump to navigation
Jump to search

The 7-11 Cooler is a campaign item that was uploaded amongst other 7-11 branded items (i.e. Slurpees). In order to gain this item, US and Canadian users (only) had to purchase a Habbo prepaid card from a 7-11 store and then redeem it between March 13th 2009 and April 12th 2009 before the reward was removed permanently. Alongside the 7-11 Cooler, the Ochre Ice Cream Maker was also handed out to one user per day who redeemed a prepaid card (between the dates mentioned earlier). Bizzarely, the branding was never removed from the Slurpees or the Cooler (the store logo is still on the side) despite branding being removed on nearly all other products involved in advertisements - e.g. Lego Sports (Furniture) and some original Posters and Flags.
Releases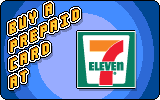 The 7-11 promotion was limited to only Habbo.ca and Habbo.com, thus meaning no other hotels received the Cooler (before the English-speaking hotel merge):
Habbo.ca - Given out during a 7-11 promotion.
Habbo USA - Given out during a 7-11 promotion.