Home Pages
Jump to navigation
Jump to search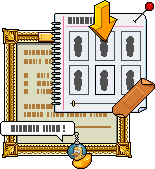 Home Pages on Habbo were a way of expressing your personality with Stickers, notes and what groups players were a member of. Players were able to edit their home pages with stickers, notes and all different kinds of widgets. Other users were able to post in a player's guestbook to leave a message (if they had the widget on their page). You are able to buy stickers for your home page through the web store too. Every so often there was a limited time sticker... When somebody visited, habbo advistised or New furni featuring in a film they would make stickers which were free to buy!
In June 2012, Home Pages were officially removed due to the Guest Book Widget feature being surrounded with moderation issues (publicised by the Channel 4 scandal). They returned to the hotel on August 19th 2012 without the Guestbook feature.
Web Store
The Web Store was where users could buy stickers, backgrounds and widgets for their Home pages to make it personal. To buy stickers from the web store, it costed around 1 - 2 credits, although sometimes there was a promotion where some stickers would come free.
Inventory
The Inventory is where all of a player's notes, backgrounds, widgets and stickers were stored, so they wouldn't get lost. If a player opened their Inventory, they would see different categories on the left hand side; sorted into categories of widgets, stickers, backgrounds and notes. On the right hand side, there were boxes where stickers and other goodies were stored. To place anything new on a page, players had to click 'Edit', before opening their Inventory and choosing the sticker and click 'Place'. The sticker showed up on their home page it was possible to move it around to the desired position. To remove a sticker, widget or note, the wrench icon, when clicked, produced a box asking if the user wanted to remove it.
Widgets
Widgets were an important feature on Habbo Home pages. Widgets were boxes or stickers which showed either how many friends or how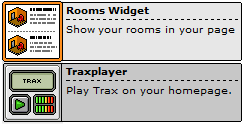 many badges a player had. These widgets included:
Stickers
For a complete overview of stickers see: Habbo Home Stickers
Players were able to buy a variety of stickers from the web store to put on their home page. Sticky notes could be placed and written on to mention friends or a few tips, or even share a small bio. Stickers came in all sorts of categories, ranged from Habbo people to Furni. Habbo people stickers had no head - so in the Profile widget, a Habbo sticker could be placed over the top of

the user's avatar to mimic a costume. Stickers could also be won from competitions held by Habbo staff or given away from a sponsor.

Home Page Stickers were images that Habbos were able to add to their Habbo Home Pages or Group Page to make it look more colourful and interesting. Home Page stickers came in a variety of different shapes, sizes and themes, mostly available to purchase from the web store. However, Habbo sometimes ran competitions where Habbos could win a rare sticker, or given out for a special event. Once a player bought a sticker, they could either place it on their own page (by visiting their inventory on the Edit Page option), or add it to a group page. If they placed it on a group home page, their sticker could be removed by the group owner at any time. Newcomers to Habbo were given some default stickers in their inventories that they can place to make their home page look better.
Some different themes include:
Alphabets
Costumes
Themed Stickers
Various Stickers
Adding Stickers
Once Habbos have bought stickers from the webstore, they were able to add them to their home /group page. To add a sticker, players had to click the edit button in the top left hand of the screen, while on their page. On the 'Inventory' tab, all of the player's available stickers would be displayed, with a preview once they were clicked on, and could be placecd simply by clicking the 'Place' button. The sticker then appeared on the page, giving Habbos the opportunity to then move it around to the right place. To keep the place, players then had to click 'Save Changes'.
Free Stickers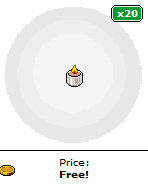 From time to time Habbo put free stickers in the web store for players to collect. They were usually released for special occasions - events such as Habwrecked, or to celebrate Habbo Hotel's birthday each year. Some stickers were limited edition, making them much more popular for players to find and get. It was also possible to get some free stickers by purchasing bulk packs - for example, buy 10 for 5 Credits, rather than 1 Credit per.
Removal of Home Pages
When the Home Pages were removed in July 2012, the ability to decorate pages was naturally, removed as well. Many users in the Habbo community were outraged at this, as they had spent many credits perfecting their pages. Although Paul LaFontaine has hinted at Home Pages returning in the past, he has not commented in it in recent weeks.
Home Page Of The Month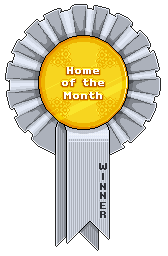 Home Page Of The Month was a monthly competition run by a staff member by the name "0rca". Players had to design the best home page in that month, and then go to the 'Home Page Of The Month' group and post in the discussion forum with their home page link to be in the running to win. Winners of the Home Page Of The Month would receive a sticker for their home page, and were able to join the Home Page Of The Month group. Then, in 2011, 0rca resigned from her role at Sulake, and the Home Page Of The Month stopped running.
Trivia
If a user double-clicked another Habbo on their home page, all the widgets and stickers started spinning around.