Clothing and Appearance
Jump to navigation
Jump to search
Clothing and Appearance is an important part of being a unique Habbo player. Without clothing or appearance, every Habbo would all look the same and rather boring - so by the use of clothing, hairstyles and accessories, players could display their uniqueness by choosing their own style for others to recognise them by, much like humans do in real life. These special features are also seen to be used in certain events, including Cozzie Change.
As the Habbo community has different options on offer, there are different features available. For players who do not pay for Habbo club, get limited options regards to editing their Habbos appearance. Habbo club members, on the other hand, have a much more open and free minded option - they have more items to choose from which makes them a little more unique.
Free Members
Everybody who joins the hotel gets access to the default range of clothing, which has a wide range of variety and colours to allow Habbos to individually select their own preference of clothing. If a player is not a member of the HC club, they will only have access to the free clothing range, which contains a limited number of outfits and colours to choose from.
Habbo Club Membership
Members who purchase HC are automatically introduced to a whole new range of features, including an exclusive range of Habbo Club clothing and colours to choose from. The clothing and accessories that become available contain some crazy items, however, there are also more trendy items of clothing for players to enjoy, as well as some extravagant hairstyles. As an HC member, you can dress your Habbo as you like, you've got a wide range of items to choose from; Bags, Shoes and facial features.
As the hotel updates more and more, the options for HC members increase. Habbo club members are given more and more, it encourages people to purchase this monthly subscription too. Normally basic things like Headbands, shoes and shirts are added; when this happens, an article is usually posted.
History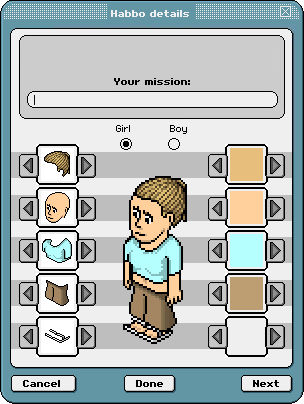 In earlier days, all newly created Habbos were wearing the same look, whether they were male or female. The number of clothing items and colours available was very limited and all outfits were very basic. If you entered specific Public Rooms, your choice of clothing got bigger as, in 2001, if you entered the Cinema you were introduced to various costumes that you were only able to use on the stage. These costumes consisted of Elvis, Mr Darcy, a King, Queen, Female Indian, Angel, Clown, Boxer, Chef and a Viking. This feature was later removed as people found out how to use the costumes in all rooms of the hotel.
Habbo Club introduced new clothing and colour options. No changes were made to clothing until v18 was released. This update came with lots of new clothes and accessories to wear, along with a variety of new colours to go with them. After this update, every once in a while new clothing and accessories would be added. With the v49 update, a new membership was introduced and was referred to as VIP. This was introduced with a Habbo Fashion campaign which included a worldwide competition that required the entrants to design their own Habbo outfit. The winner would be chosen by the singer and actress, Miley Cyrus, and the winner's outfit would be released as 'real' Habbo clothes. The winner of the competitions was Rykz and their outfit was released in v51. Clothing and accessories have been updated regularly since this update.
A little while later, the clothing features were improved even more. Extra colours and designs were released, most of which only available while being a subscriber to Habbo Club. With this, the update of the clothing section was also edited - much more up to date technology; this was also much better to control.