Durex
Jump to navigation
Jump to search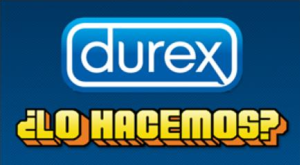 Durex was an event on Habbo.es in 2011.
The event related to the contraceptive brand, aimed at young people to encourage its use among them, as well as the risks of not using it, or its use in a wrong way. During this event a large number of competitions were developed, with exclusive prizes, including promotional furni.
Furniture
Name
Image
Durex TV
Durex Vendor

[Competition Price]

Durex Rug

[Exclusive for staff only]
Badges
| Name | Description | Image |
| --- | --- | --- |
| Placa Tortuga | Maldita Nerea | |
| Grupo Durex | Very Important Thing | |
| Durex | ¿Qué es un VIT? | |
Competitions
One of the competitions consisted of finding different turtles throughout the three official rooms especially created for this event. Once you had located the turtle that corresponded to Maldita Nerea (a Spanish pop rock band), you had to take a screenshot and send it to Sulake to win the Blue Turtle badge.

Two other competitions were related to Facebook, where you had to have your Habbo linked with Facebook to qualify for two prices. On September 9, 2011 you could fill in a form in Habbo to obtain a Durex Vending Machine.
Habbo Group
A special Durex group was made. If you joined the group within 48-72 hours, you acquired a special badge.
Rooms
Trivia
The Durex Vendor is marked as a vendor but it does not give you any hand items.
Clicking on the TV would send you to and external link which is no longer accessible.
Although this campaign is about Durex, the name of the brand itself is blocked and therefore shows bobba.