Me pages
Jump to navigation
Jump to search
Me pages are the pages that a user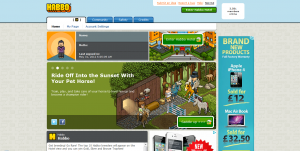 is sent to once they log into their Habbo account. They were introduced in December 2007 (a late development, due to most information being client based before then) and have barely changed in style since. These pages can be accessed by going to www.habbo.com/me (or any other hotel - e.g. www.habbo.fi/me) once you have logged in via the landing page.
The Me page displayed a lot more information (thus making the page incredibly long) before a major update in March 2012. Staff Picks, Minimail and Tags were just a few widgets displayed before the update. The only features that will always remain on this page are the "Enter Habbo Hotel" button and the Inf-O-Matic (information box) for your avatar.
2007 - February 2012 Features
Hot Rooms widget
Latest Campaigns widget
Recommended Groups widget
Staff Picks widget
MiniMail widget
Online friends displayed
Advertisements
User search
Tag search
Group creator
Newsreel
Ability to change your motto
Latest events
Enter Habbo Hotel button
Number of credits in your purse/the catalogue
How many days VIP/HC you had left.
2012 Features
Advertisements
Twitter feed
News reel
Last sign in time
Enter Habbo Hotel button
Your motto - but you cannot edit it via the me page.