Catalogue Games
Jump to navigation
Jump to search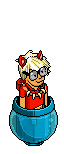 Catalogue Games are a type of game that can be purchased from the catalogue and set up without the use of any additional items (e.g. Wired Games). They have progressed majorly over the years, with the biggest introductions occurring in Habbo Beta (e.g. Battle Banzai and Freeze), but the first Catalogue Games were Chess, Tic Tac Toe, Poker and Battleships - available on Habbo.fi (and to Habbo.co.uk scripters) back in the years 2000-2001. Many of these games provide users with various Achievements and offer people the chance to create Boosting Rooms by combining them with Wired furniture.
There are currently ten different types of Catalogue Games:
Some of these games (which aren't seasonal) can still be located under the "Games Shop" section of the catalogue.