Habbo Track - 110m Hurdles
Jump to navigation
Jump to search
Habbo Track - 110m Hurdles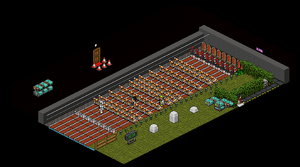 Habbo Track - 110m Hurdles is a game created by Financier (Habbo.com (International)) which featured in the Habbo Games Hub campaign. The aim of the game is to race your opponents to the end of a sports track. Unlike most of the games in the Habbo Games Hub, you couldn't earn a badge, but instead you could win either a Bronze/Siler/Gold Medal effect (similar to the game Shuffle-Ball).
Once a game is ready to begin, the Area gate will open and allow users to get in a certain line for the race. They then must stand in front of the Red Laser Door and wait for the countdown to start (lights will countdown from 5 seconds). Once the Red Laser Doors have opened, players must go over hurdles by sitting on the Orange Picnic Pillows in their line until they make it to the finish line. The first player to cross the line gets teleported to the winners podium and wins the Gold Medal effect, the second receives the Silver Medal effect and the third receives the Bronze Medal effect. Anyone else who fails to cross the line will be teleported back to the queue.
No tricks/cheats can be used to win the game, the only thing a player can do is to ensure that they are ready to click the next Pillow the instant they sit on the previous one (in order to save time).