Pick Me Up
Jump to navigation
Jump to search
Pick Me Up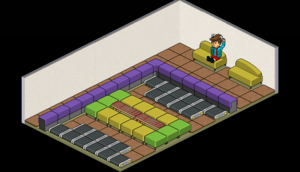 Pick Me Up is an old school Habbo game made by users. It requires various furniture including weapons and the aim is similar to Melting Carpets.
The host needs different types of furniture, ranging between Floors, Rollers and Seats. These are set up in the game area, usually the Rollers are near the edge for glitching and easiness to let players in the game. All squares in the game area should be covered by at least one type of Furni as the host will be picking them up later.

The host allows players into the game, the more the better. The game begins by all Furni being on the floor so players can't lose immediately. The host then informs users of the weapons if there are any, such as Habbowood Spotlight burns all the Furni in that line or a Lamp burns all Furni one space from it. The host starts the game, telling users which Furni they'll be picking up first. The host can then go on to put Furni back down if they wish or pick more up, making it harder for the players. The host then gives the final player a prize.
The players enter the game area, as many as can fit. The game begins and the players are informed of the weapons and which Furni will be picked up first, it's their job to ensure they don't touch the floor; if they do they're out. The players can go anywhere in the game area providing they don't stand on the floor, they can block each other and trip people up. The aim is to be the last player to be in the game area who hasn't touched the floor.
Quick Keywords
No keywords.