Footsteps of the Ancients
Jump to navigation
Jump to search
Footsteps of the Ancients

thumb

Release date:
July 2012
Season:
N/A
Availability
Available from:
Catalogue
Builders Club
In the Footsteps of the Ancients was a campaign with a small furniture range on Habbo that lasted for 3 weeks. The campaign started on July 9th 2012, and consisted of three room competitions where Habbos could win themselves Badges. If a player wanted to enter these room building competitions, they had to purchase a set of Furni from the catalogue and enter the room into the correct category. Once building was over, all Habbos had the ability to vote for their winners. As well as this, there was a set of Quests for players to complete to win various badges (pictured below). Each week of the campaign, there was a different place that Habbos would be exploring. This included Savannah, Desert and Jungle themed quests and badges. Along with these, there was also a different Hotel View to match the theme.
Alongside this campaign the Ancients furni line was released.
Furniture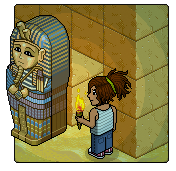 | Name | Image | Cost |
| --- | --- | --- |
| Quackatoa | | 30 or 30 |
| Mighty Frank Statue | | 30 or 30 |
| The Hand Of The Ancients | | 30 or 30 |
Effects
| Name | Image | Cost |
| --- | --- | --- |
| Totem Torch Effect | | 1 or 1 |
| Totem Levitating Effect | | 1 or 1 |
| Mummy Effect | | 1 or 1 |
| Torch Effect | | 1 or 1 |
| Totem Rain Effect | | 1 or 1 |
| VIP Knife in the Back Effect | | 1 or 1 |
| Decapitated Effect | | 1 or 1 |
Quests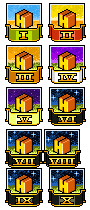 Alongside the Quests, another set of badges was redeemable by fulfilling different tasks such as purchasing Furni or finding hidden buttons, Habbos could win a total of four different badges which pieced together to create the Ancients map.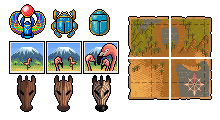 During this campaign, new furniture became available to purchase from the Catalogue. These new items were only available until the end of the campaign, and came in 3 themes - Desert (Egyptian), Jungle and African Savanna.
Controversy
There was a major controversy regarding the Room Building competition results, as the voting system was introduced for the first time with this competitions. The winner of all 3 building competitions, and many of the 9 runners-up were popular Habbos who owned Mazes or Casinos, and simply had the required furni added in. As a result of the many complaints, Sulake CEO Paul LaFontaine hit back on Twitter declaring that the voting system would not be used again, and the final round (Tree Fort) was set up for the top 10 winners to all receive the same recognition, which was eventually modified to the other 2 rounds.
Gallery