Habbox General Management
Jump to navigation
Jump to search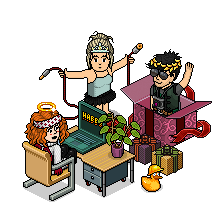 The Habbox General Managers are the senior management team at Habbox who manage the overall workings of Habbox on a daily basis. The General Management team make sure Habbox is running smoothly, from day-to-day activities such as making sure the websites are up to date, events and radio are hosted to making sure the community is happy and growing (to name but a few tasks). They also oversee all changes to Habbox from new website versions to department management and run Habbox-wide campaigns throughout the year such as the Easter Eggstravaganza and the Habbox Summer Spectacular.
The General Managers working with owner Jin who still manages some technical aspects. Directly under the General Management are the Department Managers, who are in constant contact with the General Managers to ensure everyone is updated on their department status, plans, ideas and day-to-day activities.
Over Habbox's history there has been several different structures of General Management, with roles such as International, Forum, Technical and Staff being used on and off over the years. There are currently three General Managers, Ozad, FlyingJesus and lawrawrrr.
General Managers
Traditionally, Habbox has had several Assistant General Managers and one General Manager, who oversees everything, however this was changed in August 2019 to balance workload across the team and reward the hard work and dedication of the former Assistant General Managers.
| General Managers | Start Date | End Date | Length of tenure |
| --- | --- | --- | --- |
| FlyingJesus | 17-Nov-2019 | Present | Ongoing |
| Ozad | 06-Aug-2019 | Present | Ongoing |
| lawrawrrr | 28-Jul-2015 | Present | Ongoing |
| Sho | 06-Aug-2019 | 09-Nov-2019 | 95 days (3 months, 3 days) |
| Wispur | 08-Oct-2014 | 26-Jul-2015 | 291 days (9 months, 18 days) |
| xxMATTGxx | 05-Jun-2011 | 08-Oct-2014 | 1221 days (3 years, 4 months, 3 days) |
| Hecktix | 06-Apr-2011 | 05-Jun-2011 | 60 days (1 month, 30 days) |
| xxMATTGxx | 03-May-2010 | 06-Apr-2011 | 338 days (11 months, 3 days) |
| Sammeth. | 01-Mar-2010 | 03-May-2010 | 63 days (2 months, 2 days) |
| nvrspk4 | 01-Sep-2008 | 01-Mar-2010 | 546 days (1 year, 6 months) |
| ---MAD--- | 19-Jun-2007 | 01-Sep-2008 | 440 days (1 year, 2 months, 13 days) |
| 8Freak8 | 19-Mar-2006 | 02-May-2007 | 409 days (1 year, 1 month, 13 days) |
| properclone | 18-Jan-2005 | 23-Apr-2006 | 460 days (1 year, 3 months, 5 days) |
| sierk | Unknown | 18-Jan-2005 | |
General Manager (Site)
lawrawrrr, the current General Manager (Site) looks after Habbox's sites (Habbox, HabboxWiki and HabboxForum) from both a technical and a content point of view, providing updates, new features and tweaks to make everyone's lives easier. She also closely works with the Forum department in the day-to-day running of the Forum.
General Manager (Campaigns)
Ozad, the current General Manager (Campaigns), leads on Habbox's big events, including Habboxmas, Habboxween, Habbox Easter Eggstravaganza, Habbox Summer Spectacular as well as our monthly badge events on client. He also works closely with managers on big moments and initiatives for their departments.
General Manager (Community)
FlyingJesus, the current General Manager (Community), looks after all the people at Habbox, staff, members or the wider Habbo community to make sure everyone is enjoying themselves, able to find what they need, as well as working on new ways to motivate, recruit and give back to our staff and members.
Former General Management Positions
From 2003 until November 2006, Habbox was run by "Site Managers". These (Assistant) Site Managers often held general roles and though in practice they had responsibilities, official titles designating responsibility did not emerge until May 2005 when the four then-Assistant Site Managers (JackHb, 8Freak8, bi!!y, and doraemonkiller) were renamed to Forum, Webpage Design, HabboxTV, and Rare Values, respectively. These four positions along as Assistant Site Managers for (News) and (Radio) were discontinued after having titles switched to (Assistant) General Manager in November 2006. These roles, including those of (Assistant) General Manager positions which are no longer in use can be found listed below.
In the past, there have also been other Assistant General Manager roles, including the "general" position without an area of focus as well as Assistant General Manager (International), (Operations), (Forum), and (Technical) each of which are no longer positions at Habbox. The role of Assistant General Manager (Technical) was replaced by a small team of Habbox Site Coders and a Technical Manager. Previously there were multiple
Between 2011 and 2013, the role of (Assistant) General Manager (Content) was made redundant - being replaced by the role of (Development) between late 2011 until early 2012. However the role was brought back in 2013 due to the lack of direct support in the Content departments, the role of (Assistant) General Manager (Development) was then made redundant.
After becoming General Manager, on the 18th October 2014, Wispur decided to remove the role of "Assistant General Manager (Staff)" on a trial basis and merge it with his normal duties as General Manager. This was reintroduced in September 2016, where Expling took on the role for roughly 2 months before transferring to Content AGM in October 2016 - his responsibilities were more community facing, taking a lead on recruitment and staff activity. Since his transfer, he was not replaced and so the role was once again made redundant.
Assistant Site Manager (Forum)
Assistant Site Manager (Webpage)
Assistant Site Manager (Habbox TV)
Assistant Site Manager (Rare Values)
Assistant Site Manager (News)
Assistant Site Manager (Radio)
Assistant General Manager (International)
Assistant General Manager (Operations)
Assistant General Manager (Technical)
Assistant General Manager (Development)
Assistant General Manager (Forum)
Assistant General Manager (Staff)
Assistant General Manager (Content)
Assistant General Manager (Community)
General Management Role Changes
2019
2017
2016
23-Aug-2016 - Expling becomes Assistant General Manager (Staff)
28-Aug-2016 - Welshcake resigns as Assistant General Manager (Content)
25-Oct-2016 - Expling transfers to Assistant General Manager (Content)
2015
2014
2013
2012
30-Jan-2012 - HotelUser resigns as Assistant General Manager (Development)
2011
2010
2009
2008
2007
2006
17-Jan-2006 - 8Freak8 becomes Assistant Site Manager
01-Feb-2006 - bi!!y renamed Assistant Site Manager (Radio)
19-Mar-2006 - 8Freak8 becomes Site Manager along with properclone
26-Mar-2006 - Seacat becomes Assistant Site Manager (News)
16-Apr-2006 - Smiddy1234 becomes Assistant Site Manager (Rare Values)
23-Apr-2006 - properclone steps down to Assistant Site Manager
28-May-2006 - Surname becomes Assistant Site Manager (Community)
30-May-2006 - JackHb resigns from Habbox
25-Jun-2006 - Surname resigns from Habbox
02-Jul-2006 - (Assistant) Site Managers get their famous lime green names on the forum
20-Jul-2006 - Seacat becomes Assistant Site Manager (Forum)
03-Aug-2006 - properclone resigns as Assistant Site Manager
03-Aug-2006 - Baving becomes Assistant Site Manager
20-Nov-2006 - Site Manager role gets renamed to General Manager
30-Dec-2006 - joshuar becomes Assistant General Manager (International)
2005
18-Jan-2005 - properclone becomes Site Manager, sierk and jrh2002 are no longer officially Site Managers though continue to own and run the site and forum, respectively
29-Jan-2005 - Xoor is no longer Assistant Site Manager
25-Mar-2005 - 8Freak8 becomes Assistant Site Manager
03-Apr-2005 - Icebox12 becomes Habbox USA Site Manager
05-May-2005 - JackHb renamed Assistant Site Manager (Forum)
05-May-2005 - 8Freak8 renamed Assistant Site Manager (Webpage Design)
05-May-2005 - bi!!y becomes Assistant Site Manager (HabboxTV)
06-May-2005 - doraemonkiller becomes Assistant Site Manager (Rare Values)
04-Jun-2005 - Jacko2kn3 is no longer working for Habbox
16-Oct-2005 - 8Freak8 renamed general Assistant Site Manager
29-Oct-2005 - bi!!y renamed general Assistant Site Manager
01-Nov-2005 - 8Freak8 resigns from Habbox
04-Dec-2005 - doraemonkiller resigns from Habbox
2004
25-Oct-2004 - properclone becomes Assistant Site Manager