Habbox Summer Spectacular 2020
Jump to navigation
Jump to search
Habbox Summer Spectacular 2020

Since:
2007
Dates:
07 August 2020 - 16 August 2020
Theme:
History
Previous Year:
2019
Next Year:
2021
In 2020, the Habbox Summer Spectacular took place between August 7th and August 16th. The theme for this year's competition was History; which saw the four teams' mascots as Vikings, Pirates, Greeks and Cowboys.
The Blue Team were named as the winners of the tournament, while Red Team placed second, Black Team third and Green Team fourth.
Teams
On July 19th, the Team Leaders for each of the four teams were announced as the following[1]:
A week later, applications for all Summer Spectacular parcitipants to join a team were opened[2]
Habbox Help Desk
A new design of the Habbox Help Desk was created in line with the historical theme of Summer Spectacular, and prominently featured the four team colours. It was designed by the manager and assitant manager at the time, Stealth and Jarkie, as well as Cerys, Oivind and Ozad[3].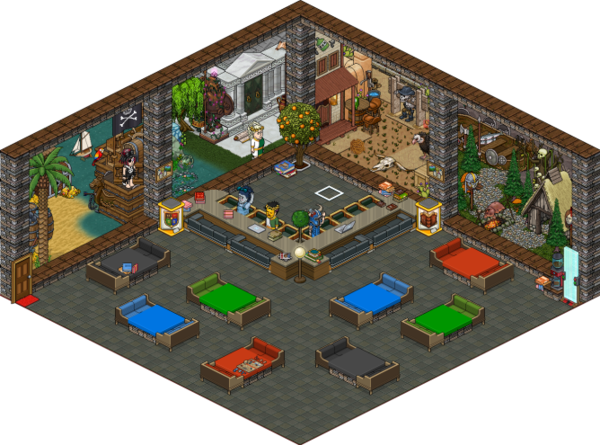 Prizes
Tournament Winners
In each on-client event the top three of the round would all win points - the player in first place would receive 5 points, 2nd place would receive 3 points and 3rd place would receive 1 point. Points from on-client events, department campaigns, Forum competitions and on-air HabboxLive competitions were accumulated to determine the winners of the tournament.
The top five scorers from each team would receive prizes in the form of credits and Forum VIP. The prize the top scorers received varied based on where their team placed at the end of the tournament, prizes given were as follows:
Player
Place
Prize
Blue Team
Hx.Ben
1st
400c + 3 Months VIP
Natty_Nat_Nat
2nd
300c + 2 Months VIP
__tbl
3rd
200c + 1 Month VIP
IAmDaBlack
4th
100c + 2 Weeks VIP
GoldenOtt
5th
100c + 1 Week VIP
Red Team
Chipmunks
1st
300c + 2 Months VIP
FlyingJesus
2nd
200c + 1 Month VIP
RazzleMyDazzlee
3rd
100c + 2 Week VIP
chieflemona
4th
75c + 1 Week VIP
Ducklopholiac
5th
50c + 1 Week VIP
Black Team
Ekelektra
1st
200c + 1 Month VIP
Cerys
2nd
100c + 2 Week VIP
lawrawrrr
3rd
75c + 2 Week VIP
cameron446:
4th
50c + 1 Week VIP
nic01e
5th
25c + 1 Week VIP
Green Team
,jamiexo
1st
100c + 2 Weeks VIP
LucyFaye
2nd
75c + 2 Weeks VIP
Stealth
3rd
50c + 1 Week VIP
Oivind
4th
25c + 1 Week VIP
Ozad
5th
10c + 1 Week VIP
Daily Top Scorer
For each day during the tournament, the player would scored the highest amount of points would receive a prize of 100c[4].
Top Overall Scorers
The top 10 overall scorers from the competition were awarded a separate prize in the form of HabboxForum tokens. The top 10 scorers were as follows[5]:
Awards
On 28th August, the annual Habbox Summer Spectacular award ceremony was held in recognition of those who participated. The following awards were voted for by the community, with voting first being opened on 28th August. The awards given out in 2020 were as follows[6]:
Best Events Host
Nominee
Status
Cerys
Won
LucyFaye
Nominated
__tbl
Nominated

Best DJ
Nominee
Status
GetAClue (DJ Clue)
Won
Ducklopholiac (DJ Duck)
Nominated
lawrawrrr (DJ Fire)
Nominated
Best Department Campaign
Nominee
Status
HabboxLive (Jungle Run)
Won
Competitions (Ancient Chinese Trivia)
Won
Values (Tomb Raider)
Nominated

Best Team Leader
Nominee
Status
,jamiexo
Won
__tbl
Nominated
Ducklopholiac
Nominated
Best Team Cheerleader
Nominee
Status
IAmDaBlack
Nominated
Rusted!
Nominated
someboyrafa
Won
Unluckiest Player
Nominee
Status
Cerys
Nominated
Kier...
Won
ExtraKen
Nominated
Worst Sporting Habbo
Nominee
Status
FUNISMYME
Nominated
Sir.Jorgen
Won
Stealth
Nominated

Sorest Loser
Nominee
Status
Ozad
Nominated
Sir.Jorgen
Nominated
Stealth
Won
Best Newcomer
Nominee
Status
Amboru
Nominated
chieflemona
Won
GoldenOtt
Nominated

Funniest Member
Nominee
Status
Ducklopholiac
Won
FlyingJesus
Nominated
IAmDaBlack
Nominated
I Love Points more than my own Mother!
Nominee
Status
FlyingJesus
Nominated
Hx.Ben
Won
IAmDaBlack
Nominated
Worst Queue
Nominee
Status
Ducklopholiac - Attack
Won
FlyingJesus - Don't Get A Maggot
Nominated
ozad - Pod Racing
Nominated

Best HxSS Song
Nominee
Status
"Anything but that ding dong song"
Nominated
Fire Saga - Ja Ja Ding Dong
Won
Niko B - Who's That What's That
Nominated
References
Gallery