Habbox Summer Spectacular 2018
Jump to navigation
Jump to search
Habbox Summer Spectacular 2018

Since:
2007
Dates:
10 August 2018 - 19 August 2018
Theme:
Fantasy
Previous Year:
2017
Next Year:
2019
The 2018 Habbox Summer Spectacular was announced a month before the tournament's launch, with the theme also being announced as Fantasy[1]. Each team was assigned a fantasy race: these being Mermaids, Elves, Dragons and Fairies - in keeping with the team colours.
Teams
On July 26th, the teams, team leaders and mascots were announced.[2]
Habbox Help Desk
Prior to the tournament beginning, a new Habbox Help Desk layout was revealed in keeping with this year's theme. The room was designed by Shonly.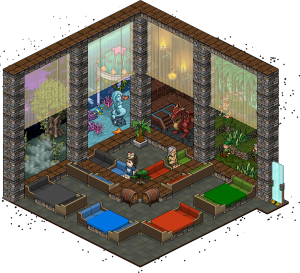 Prizes
In each on-client event the top three of the round would all win points - the player in first place would receive 5 points, 2nd place would receive 3 points and 3rd place would receive 1 point. Points from on-client events, department campaigns, Forum competitions and on-air HabboxLive competitions were accumulated to determine the winners of the tournament.
The top five scorers from each team were as follows:
Top Overall Scorers
Following the end of the Summer Spectacular, the top overall scorers from the tournament were announced [3]. All participants in the top 10 received a different prize.
Awards
The 2018 Habbox Summer Spectacular Awards were announced on 19th August, and later took place on 2nd September. The ceremony saw 13 prizes be awarded to participants from the years' tournament.
Unluckiest Player
Nominee
Status
ExtraKen
Nominated
Ozzinator
Won
,knucklehead
Nominated
corina35
Nominated
Best HabboxLive DJ
Nominee
Status
Ruth-On-Toast
Nominated
DJ-Tripjay
Won
King-Tom
Nominated
IngridSwag
Nominated
FUNISMYME
Nominated
GetAClue
Nominated

I Love Points more than my own Mother!
Nominee
Status
Ruth-On-Toast
Won
habbo-atilla
Nominated
TiberiusTiger
Nominated
Samanfa
Nominated
Bunnies!
Nominated
cameron446:
Nominated
Biggest Moaner
Nominee
Status
Ozzinator
Won
Beagal
Nominated
Dulphys
Nominated
Deactivate!
Nominated
cameron446:
Nominated
Luckiest Player
Nominee
Status
Samanfa
Won
corina35
Nominated
ProbablyLucas
Nominated
habbo-atilla
Nominated

Best HxSS Anthem 2018
Nominee
Status
#heretolose
Won
Little Mix - Black Magic
Nominated
Fall Out Boy ft. Demi Lovato - Irresistible
Nominated
Fall Out Boy - Centuries
Nominated
Worst Sporting Habbo
Nominee
Status
Ozzinator
Won
Beagal
Nominated
Stealth
Nominated
IngridSwag
Nominated
Deactivate!
Nominated
cameron446:
Nominated
Best Newcomer
Nominee
Status
IngridSwag
Won
habbo-atilla
Nominated
corina35
Nominated
References
Gallery