Habbox School
Jump to navigation
Jump to search

Habbox School was an official Habbox room owned by despect. It was Harry Potter themed and was used for advertising different Habbox departments. Each department was represented by a classroom.
Launch
Habbox School was opened on May 28th 2018 with Harry Potter themed events and competitions happening over the weekend starting from the 26th. A new forum arcade game - Harry Potter Galleon Game - was launched and whoever held the top score by the end of the 28th was declared the winner.
A two part comic was also released which told the story of The Boy Who Made Habbox, written by FlyingJesus and illustrated by ExtraKen and LUCPIX.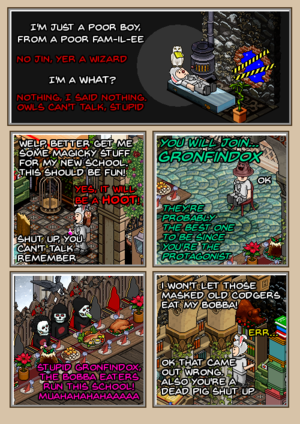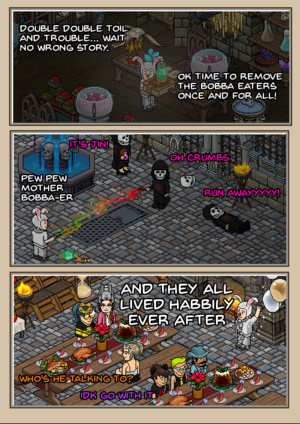 Timetable
The timetable of events for the launch on the 28th was as follows:
| No. | Time | Lesson |
| --- | --- | --- |
| 1 | 6pm | Enchanted Meet & Greet with Managers/lessons in all classrooms |
| 2 | 7pm | Mystic Harry Potter quiz with Professor Toast |
| 3 | 8pm | Magical School photos with Professor Belli |
| 4 | 9pm | Black Arts Cozzie Change with Death Eater Jesus |
| 5 | 10pm | Marvellous Visit from Mystic Jesus (fortune telling & giveaway) |
| 6 | 11pm | Deadly Escape with Professor Corndawg |
The room was temporarily added to the Habbox Official Rooms list, but fell out of use after the weekend was over.
Gallery