Habbox.com Version Seven
Jump to navigation
Jump to search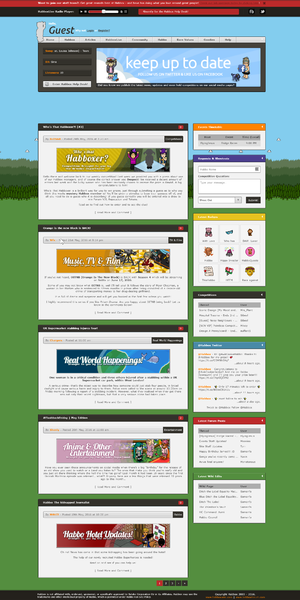 Habbox.com Version Seven was the seventh iteration of the Habbox main website. It was released in Public BETA on 6 July 2015, after a 3 year development. Early plans began in June 2012.
Beta
A Closed Beta was announced for department managers on 28 March 2015, and was mainly intended to find the majority of bugs before a public release was available.
On release of the Public Beta on 6 July 2015, a forum was created with the title V7 Feedback & Discussion, intended for members to comment their thoughts and report bugs they might find.
Delayed Release
Version 7 was delayed several times during development, most notably in 2012 after the Content Manager at the time, Zuth, leaked the site design to the public after a confrontation with General Manager xxMATTGxx involving his dismissal from the role. This led to a complete redesign and the project was halted.
Other delays were forced by recurrent staff changes to the Site Coders team, brought on by real life commitments.
HabboxLive Integration
With Version 7, members seen the long-awaited integration of HabboxLive.com with the main site.
A merge of both sites was proposed many times beforehand, and early stages of development began late in Version 6 by the Assistant General Manager (Development) at the time, HotelUser, along with some members of the Graphics Department. These early plans were halted however, with the production of Version 7 beginning shortly thereafter.
Features

Clicking on the rocket icon at the bottom of the page changed the theme of the site to a space theme. Hovering over the icon also showed the credits of the designers and developers.
Credits