Lost Monkey
Jump to navigation
Jump to search

Lost Monkey was a free app released by Sulake for Apple and Android devices in September 2011. You could download the Lost Monkey app from various app stores and play through a range of different challenges in order to level up. The app was compatible with the iPhone 3GS, 4, and 4S, iPod Touch 3rd Gen (or later), and iPads running a minimum of iOS 3.0, in addition to Android devices. The app consisted of minigames that, upon reaching certain levels, would reward one's Habbo account with a range of various furni, badges for each achievement, and a pet monkey, had their Habbo account been registered in the app.
After the discontinuation of the app, monkeys were released as a permanent pet that can be bought through the Catalogue, and players are able to purchase the Lost Monkey furniture that had been rewarded from the app.
Mini-Games
Upon successfully downloading the app to a compatible device, playing the game was simple. The app itself was primarily comprised of three minigames, titled Jungle Jam, Banana Drama, and Copy Writer. By playing these games, the player would gain levels. Upon obtaining a certain amount of points while in any particular level, they would receive a piece of furniture or a badge on Habbo.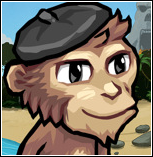 Jungle Jam
Players tap two bongos as various fruit fall towards them. A target is located on the bongo head. The objective is to tap the bongos precisely when the fruit hits the middle of the target. Tapping it right on time rewards the player score multipliers, while missing erases the score.
Copy Writer
A typewriter is shown with three keys: X, Y, and Z. At the top of the typewriter is a piece of paper with different letter combinations consisting of X, Y, and Z (e.g. YXX). The goal is to tap the keys in order of the letters shown on the paper, then swiping it afterwards.
Banana Drama
A 9x9 grid consists of a range of items: bananas bunches, hourglass, wooden crates, snakes, bomb shells, and rotten bananas. Players must tap the ripe banana bunches to fill up four slots on the left. Once filled, the crate must be tapped to box the items. Tapping the hourglass allows players to gain extra time. The snakes, bombs, and rotten bananas are not desired and should be swiped away.
Overworld
These three minigames could be accessed from within the overworld, where the player could control or interact with the titular monkey.
An energy bar at the top of the screen contained stats relating to the monkey, e.g. whether monkey was tired or not. If their Monkey's energy level was below 30, their monkey would refuse to play any games at all. Players could restore the monkey's energy by giving it bananas purchased from the vending machine with the in-game money. If a player ran out of money, they either had to wait until their energy bar refilled itself or purchase coconuts with real-life money. Buying coconuts allowed players to buy energy drinks, which also made the Monkey's energy go back to full strength. Once a player had reached level 10, they would receive a pet monkey on Habbo in their choice of fur color.
Additional Information
If a player updated the application via their iTunes app tab, they were able to receive a special Halloween furni, the Lost Monkey Pumpkin. Habbo also launched another game called Niko that similarly involved an animal having to complete levels; this did incur a cost after the first six levels, but didn't come with a pet like Lost Monkey.
Discontinuation of the Game
In June 2014, Habbo announced that they were removing both Lost Monkey and Niko from all online stores, making them no longer purchasable. The apps, however, are still accessible to anyone who had downloaded them, and retain any achievements and badges that the player has earned. Players were given until the June 23, 2014 to connect their Habbo account to the app in order to claim and receive any badges or furniture that they had won, although microtransactions within the apps are no longer available.
Furniture
| Name | Image |
| --- | --- |
| Banana Tree | |
| Big Rock | |
| Monkey Pond | |
| Banana Drink Machine | |
| Palm Tree | |
| Crystal Skull | |
| Jack In The Box | |
| Pumpkin | |
| Totem Poll | |
| Bananas | |
Badges
Below are all of the badges that were rewarded to players for leveling up a Monkey. A player would only receive these badges if they had linked their Habbo account to their account on the Lost Monkey App.
| Badge | Level |
| --- | --- |
| | For leveling your monkey up to Level 1 |
| | For leveling your monkey up to Level 2 |
| | For leveling your monkey up to Level 3 |
| | For leveling your monkey up to Level 4 |
| | For leveling your monkey up to Level 5 |
| | For leveling your monkey up to Level 6 |
| | For leveling your monkey up to Level 7 |
| | For leveling your monkey up to Level 8 |
| | For leveling your monkey up to Level 9 |
| | For leveling your monkey up to Level 10 |