Black Laser Portal
Jump to navigation
Jump to search

The Black Laser Portal is a rRare that was uploaded alongside various other V7 Rares. Globally, it is the second most common of the Laser Gates being just behind the Purple Laser Portal with its release occurring on 8 different hotels. It entered existence as a mildly common rare on Habbo.com (International) due to it being handed on Habbo.ca, Habbo.com, Habbo.com.sg and Habbo.co.uk as rewards. On Habbo.com.sg it was given out as a Habboween prize in early November 2005 and it was handed out during 'Credit Action' campaigns on Habbo USA in 2008 and on Habbo.co.uk in 2007. The Black Laser Portal was the 2nd Laser Gate to be released after the White Laser Portal and is the only one to have been sold in the Catalogue on Habbo.dk.
Sightings/Releases
The Black Laser Portal has been spotted on 13 hotels in total, but only released on 9. Here is a complete list of all sightings/releases:
Badge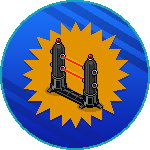 Everyone who bought the Black laser Portal as Classical Rare after 2010 also received a badge.