Sky Spaceship Door
Jump to navigation
Jump to search

The Sky Spaceship Door(also known as the "Light Blue Spaceship Door") is a Rare that was uploaded amongst various other V7 Rares. They entered circulation on Habbo.com due to them being sold in the catalogue on Habbo.com.sg in November 2007 which is an unusual entrance for such a Rare item, but if they were only in the catalogue for a few hours and if they were unpopular, it could explain why not many appeared amongst the community. The English-speaking hotel merge, mass deletion of accounts, accounts being banned and the fact that the Singaporean community was the smallest English-speaking community could also explain why so few have been seen on the hotel. The Sky Spaceship Door is not to be confused with the Blue Spaceship Door which is a darker Blue.
Releases
The Sky Spaceship Door has been spotted on 2 hotels in total (thus making it one of the most uncommon Spaceship Doors globally) and released on both of them. Here is a complete list of all releases:
Badge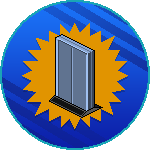 Everyone who purchased the Sky Spaceship Door as Classical Rare after 2010 also got a badge.