Habbo.dk
Jump to navigation
Jump to search
Habbo.dk
Opened
December 2004
Closed
April 2015
Country
Denmark
Hotel Managers
Kimstar (2011 - 2012)
GucciMama (2004 - 2011)
Radar (2008 - 2009)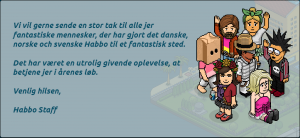 Habbo.dk (formerly known as habbohotel.dk) was the Danish version of Habbo Hotel. It was first established in December 2004 and was one of the oldest hotels, until it closed down 29th of April 2015 - it was also the 13th hotel to open. The Danish Habbo-community was not massively populous in the last two years of its lifespan, due to all dices of the hotel being locked. This happened because the Danish Ministry of Taxation (otherwise known as SKAT) said that minors were spending their money on online "gambling," was illegal. This caused a lot of users to quit in pure outrage, which cost Sulake a lot of money.
The Danish hotel has been a pilot to a few furniture releases (with the most well known being the Diner furniture range) - a few examples include 3 Black Romantique items and 3 Asian furniture items which were added during the V11 upgrade. Habbo.dk is also the only hotel (apart from Habbo.com (International)) which has the Doric Rock Pillar in circulation.
In total, 67 badges have been created solely for use on the Danish hotel.
Habbo Fansites
Habbo.dk has been one of the smaller communities with the biggest fansites in Scandinavia. Many of the fansites became so popular, that versions of the fansites were made for the Norwegian (Habbo.no), and the Swedish (Habbo.se) hotels as well. Because of this popularity, these fansites got the ability to arrange huge events and competitions, and almost every user online would join in. These competitions were held every weekend, becoming almost more popular than the hotel itself. When fansites became nearly more popular than the hotel itself, Habbo.dk had to arrange their events around fansites to gain more activity, basically a closer co-operation than usual.
Closure of Habbo.dk
In January 2015 Habbo.dk announced its closure after having been open for nearly 11 years. All the users that decided to continue playing on a different hotel would get six months of Habbo Club and six months of Builders Club. Many of the popular fansites had tons of activity days after the Habbo.dk closure and all of the Danish fansites closed down with the hotel.
Staff Members
Only 34 staff members and 43 moderators have worked solely on Habbo Denmark in it's 11 year lifespan. Here is a complete list of staff members:
Johanna - Advertising Sales Coordinator (Aug 2009 - Apr 2010)
Bono - Advertising Sales Coordinator (Jul 2008 - Feb 2009)
Asteriasrubens - Community Coordinator & Moderator (Dec 2013 - Jan 2014)
Majesstic - Community Coordinator & Moderator (Feb 2013 - Oct 2013)
VidaZor - Community Coordinator & Moderator (apr 2013 - Nov 2013)
Flylow - Community Coordinator Back-Up (Feb 2013 - Jul 2013)
Aedlesommerfugl - Community Coordinator (Sep 2012 - Oct 2012)
AloeVeraEngel - Community Coordinator (Jun 2011 - Feb 2012)
Hjemmom - Community Coordinator (Apr 2012 - Sep 2012)
KimStar - Community Coordinator (Jun 2010 - May - 2011)
KrissyDK - Community Coordinator (Feb 2012 - Apr 2012)
Helmer - Community Manager (Jan 2005 - Apr 2006)
MissJ - Community Manager (May 2006 - Mar 2008)
MissZenobia - Community Manager (Nov 2009 - Jun 2010)
Zerobyte - Community Manager (Apr 2009 - Dec 2009)
Minna - Business Manager (Jul 2011 - Nov 2011)
NordicLight - Business Manager (Dec 2010 - Apr 2012)
CountZer0 - Country Manager (Mar 2009 - Jan 2010)
DonK - Country Manager (Nov 2005 - Nov 2008)
Radar - Site Producer Assistant (Aug 2007 - Aug 2008)
MissZenobia - Site Producer Assistant (Sep 2009 - Oct 2009)
Teknul - Site Producer Assistant (Sep 2006 - Aug 2007)
GucciMama - Site Producer (Nov 2004 - Apr 2011)
KimStar - Site Producer (Jun 2011 - Feb 2012)
Radar - Site Producer (Aug 2008 - Feb 2009)
Hallonkiwi - Community Coordinator & Moderator (Jan 2014 - Apr 2015)
Odysse - Community Coordinator & Moderator (Nov 2013 - Jan 2015)
Skybrud - Community Coordinator & Moderator (Sep 2014 - Apr 2015)
Xebal - Community Coordinator & Moderator (Feb 2013 - Apr 2015)
Hellacopter - Community Coordinator Back-Up (Nov 2013 - Apr 2015)
Pellavalilja - Community Coordinator Back-Up (Apr 203 - Apr 2015)
SmileyPie - Community Coordinator Back-Up (Oct 2012 - Apr 2015)
Superukko - Community Coordinator Back-Up (Nov 2013 - Apr 2015)
Vedenhaltija - Community Coordinator Back-Up (Jun 2014 - Apr 2015
MOD-BondSuperPuma (Mar 2011 - May 2011)
MOD-Ginger (Jun 2011 - Mar 2012)
MOD-Nideh (Jan 2012 - Feb 2013)
MOD-Suiseki (Jul 2009 - Mar 2011)
MOD-Agurk (Mar 2006 - Dec 2007)
MOD-Aqualung (Mar 2006 - Oct 2008)
MOD-Avurt (Dec 2006 - Dec 2007)
MOD-Belze (Mar 2006 - May 2008)
MOD-Boggnasker (Nov 2008 - Dec 2010)
MOD-BondSuperPuma (jun 2009 - Mar 2011)
MOD-Daffi (Jun 2008 - May 2011)
MOD-Denver (Mar 2008 - Jan 2009)
MOD-DM (Dec 2005 - Sep 2006)
MOD-Dobbel (Dec 2008 - Mar 2010)
MOD-Duane (Jan 2009 - Oct 2010)
MOD-Extjacobfyr (Mar 2012 - Jan 2013)
MOD-Gaffy (Aug 2008 - May 2011)
MOD-Hrextgitteb (Mar 2012 - Februar 2013)
MOD-Hrextlot (Nov 2010 - Apr 2011)
MOD-Itrinity (Nov 2010 - Mar 2012)
MOD-Jayden (Aug 2010 - May 2011)
MOD-Kersey (May 2007 - Dec 2007)
MOD-Kritin (Jun 2012 - Feb 2013)
MOD-Ladyexthel (Nov 2010 - May 2011)
MOD-Laine (Jul 2011 - Aug 2011)
MOD-Lulu74 (Jul 2009 - Mar 2010)
MOD-Moab (Nov 2005 - Apr 2006)
MOD-Mummimor (Dec 2005 - Jun 2009)
MOD-Oleszq (Apr 2009 - Jun 2011)
MOD-Ondan (Jun 2011 - Feb 2013)
MOD-Orwell (Feb 2007 - Jun 2011)
MOD-PANDA (Jul 2011 - Feb 2013)
MOD-Pol (May 2010 - Jun 2011)
MOD-Prelude (Sep 2006 - Sep 2008)
MOD-Romo ( Jan 2009 - Apr 2009)
MOD-Shuko (May 2008 - Dec 2008)
MOD-Smilla (unknown - Nov 2007)
MOD-Teknul (unknown - Jun 2011)
MOD-U.P. (Dec 2008 - Feb 2010)
MOD-Yuck (Nov 2010 - Feb 2013)
MOD-Zephyr (Nov 2005 - Sep 2006)
MOD-Zmusling (Jan 2009 - May 2011)