Jade Spaceship Door
Jump to navigation
Jump to search

The Jade Spaceship Door is a Rare that was uploaded amongst various other V7 Rares. Internationally, it is one of the least common Spaceship Doors (alongside the Violet Spaceship Door and can only be found on Habbo.com. It entered existence on Habbo.com due to it being sold in the catalogue on Habbo.co.uk in 2008, and due to this catalogue release it quickly became a common Rare. The Jade Spaceship Door has also been spotted in a staff member's room on Habbo Sweden.
Sightings/Releases
The Jade Spaceship Door has been spotted on 2 hotels in total, but only released on one. Here is a complete list of all sightings/releases:
Habbo.se - Spotted in "Aliens" owned by BozzaNova.
Habbo.co.uk - Sold in the catalogue on St. Patrick's Day in March 2008.
Habbo.com - Credit Promotion in 2009
Habbo.com Credit Promotion
Buy Habbo Prepaids At Select Stores To Get A RARE Jade Monolith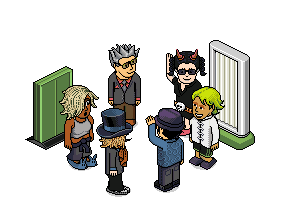 It's the LAST CHANCE to get a never-before-seen Jade Monolith!
The summer is here and the temperature is rising...so much that we've got a HOT deal for you! Starting now, when you buy a Habbo prepaid card from the below listed retailers you can get a RARE never released Jade Monolith...or the very hard-to-come-by Green Solarium. In order to take advantage of this momentous occasion, you must purchase your Habbo prepaid card from Safeway retailers such as Safeway, Vons, Pavillion's, Dominick's, Tom Thumb and Randall's.
The Ultimate Summer Prepaid Promo
Redeem a prepaid card from the aforementioned Safeway retailers starting June 12th at 12:01am PT / 3:01am ET until June 23rd at 12:01am PT / 3:01am ET you will get:
125 Coins and a Jade Monolith for a $25 prepaid card
If you're having trouble locating the Prepaid Cards at your local Safeway retailer, feel free to give the folks working that day a little lesson about Habbo. They won't forget the next time someone comes in asking for Habbo prepaid cards! And like we said earlier, the Jade Monolith is an unreleased piece of furniture on Habbo.com. Who knows what sort of astronomical value it could be worth?!
You will receive the item the following business day (Monday through Friday - not including holidays) by 6:00 PM PT after code redemption.
Be sure to check out our COINS page to see an updated list of retailers where you can get Habbo Prepaid Cards. You can also find a local Safeway retailer near you with this Store Locator!