Habbo.no
Jump to navigation
Jump to search
Habbo.no
Opened
29 June 2004
Closed
29 April 2015
Country
Norway
Hotel Managers
Kimstar (2011 - 2011)
MissCayenne (2008 - 2011)
QueenSibidi (2007 - 2008)
LadyStarlight (2009 - 2012)
Habbo.no (formerly known as habbohotel.no) was the Norwegian version of Habbo Hotel. It first opened in June 2004 and was one of the oldest hotels until it closed down 29th of April 2015.. The hotel was the most active hotel in Scandinavia from about 2006 - 2013 and only a small handful of Staff ever worked solely on this site. The hotel was only accessible between 6 am - 2 am, The reason for this was that a lot of parents complained to Sulake that their kids wouldn't sleep and ended up playing all night and struggled to get to school in time in the morning.
Habbo.no was never a pilot hotel for furniture items and Client Updates. The only exception to this was that Habbo.no was the first hotel to get V7. There was also two examples of a furniture item being sighted on this hotel before anywhere else which was the Yellow Rose (Valentines 2007) and the Pink Marquee.
In total, 95 badges were created solely for use on the Norwegian hotel.
Closure of Habbo.no
After being a huge Norwegian community for 11 years, Habbo.no announced in January 2015 that the hotel would close down on the 29th of April 2015. All the members were promised six months of Habbo Club and Builders Club if they choose to continue on a different hotel. A badge was also given out to Norwegian members on Habbo.com in May 2015.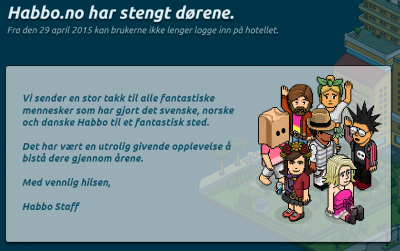 Fansite Community
Just like Habbo.dk, Habbo.no had a big fansite community, most of the official competition held in the hotel were created by the most popular official fansites with big competitions held in co-operation with the officla fansites every weekend. In certain periods all the fansites combined would have nearly more activity than the hotel itself.
Here's the list of all the official Habbo.no fansites and its owners.
Shocknews.no (Helro91 and X)
iHabbo.no (Zaruzet and Trunderpotet)
Zabbo.no (Smack!, DamnDude, MorsPike and Odd.Kr)
SOL-Hjelpesentral.no (Molty, Maleborg, Snipp, Chaxx, and Werner)
HabboNordic.no (Nikolai, XX-Bandido and Sunfox)
Staff Members
There has been a total of 37 Staff members and 43 Moderators working for Habbo.no over the years. Here is a complete list of them:
| Username | Role | Start Date | End Date |
| --- | --- | --- | --- |
| Johanna | Avertising Sales Coordinator | Aug 2009 | Apr 2010 |
| Bono | Advertising sales Coordinator | Jul 2008 | Feb 2009 |
| Flylow | Community Cordinator Back-Up | Feb 2013 | Jul 2013 |
| Asteriasrubens | Community Coordinator & Moderator | Dec 2013 | Jan 2014 |
| Hallonkiwi | Community Coordinator & Moderator | Jan 2014 | Apr 2015 |
| Majesstic | Community Coordinator & Moderator | Feb 2013 | Oct 2013 |
| Odysse | Community Coordinator & Moderator | Nov 2013 | Jan 2015 |
| Skybrud | Community Coordinator & Moderator | Sep 2014 | Apr 2015 |
| VidaZor | Community Coordinator & Moderator | Apr 2013 | Nov 2013 |
| Xebal | Community Coordinator & Moderator | Feb 2013 | Apr 2015 |
| Hellacopter | Community Coordinator Back-Up | Nov 2013 | Apr 2015 |
| Merenhaltija | Community Coordinator Back-Up | Jun 2014 | Apr 2015 |
| Pellavalilja | Community Coordinator Back-Up | Apr 2013 | Apr 2015 |
| SmileyPie | Community Coordinator Back-Up | Oct 2012 | Apr 2015 |
| Superukko | Community Coordinator Back-Up | Nov 2013 | Apr 2015 |
| AloeVeraEngel | Community Coordinator | Jun 2011 | Feb 2012 |
| Dyrebaremoll | Community Coordinator | Sep 2012 | Oct 2012 |
| Hjemmom | Community Coordinator | Apr 2012 | Sep 2012 |
| Kimstar | Community Coordinator | Mar 2011 | May 2011 |
| KrissyNO | Community Coordinator | Feb 2012 | Apr 2012 |
| MissCayenne | Community Manager | Mar 2008 | Feb 2011 |
| SirThomas | Community Manager | Oct 2004 | Oct 2007 |
| Melilot | Customer Service & Moderator | Apr 2006 | Jan 2007 |
| SisterAct | Site Producer & Customer Service | Jan 2007 | Oct 2007 |
| Minna | Business Manager | Jul 2011 | Nov 2011 |
| NordicLight | Business Manager | Dec 2010 | Apr 2012 |
| Counterzer0 | Country Manager | Mar 2009 | Jan 2010 |
| DonK | Country Manager | Jun 2007 | 2008 |
| Maisarina | Project Manager Launch Operations & Country Manager | May 2003 | May 2007 |
| MissZenobia | Site Producer Assistant | Sep 2009 | 2009 |
| Radar | Site Producer Assistant | Aug 2007 | Aug 2008 |
| Zangetsu | Site Producer Assistant & Moderator | Jun 2005 | Oct 2007 |
| Aurora | Site Producer | Jun 2005 | Aug 2007 |
| LadyStarlight | Site Producer | May 2007 | Feb 2012 |
| QueenSibidi | Site Producer | Oct 2007 | Dec 2008 |
| SisterAct | Site Producer | Jan 2007 | Jun 2007 |
| ViKaren | Site Producer | Jun 2005 | Aug 2007 |
| MOD-Ametrin | Moderator | Aug 2006 | Feb 2011 |
| MOD-Ginger | Moderator | Nov 2011 | Jun 2012 |
| MOD-Panda | Moderator | Nov 2010 | Feb 2013 |
| MOD-Stotale | Moderator | May 2011 | Feb 2013 |
| Mod-Amico | Moderator | Jan 2006 | Mar 2007 |
| MOD-Anjana | Moderator | Apr 2010 | Feb 2011 |
| MOD-Banc | Moderator | Jan 2011 | Feb 2013 |
| MOD-Callee | Moderator | May 2009 | Feb 2011 |
| MOD-Coolext | Moderator | Mar 2012 | Jan 2013 |
| MOD-Draga | Moderator | Jan 2011 | Dec 2011 |
| MOD-Eiyon | Moderator | Jan 2011 | Feb 2013 |
| MOD-Emoexthelen | Moderator | Jan 2011 | Feb 2011 |
| MOD-Ern | Moderator | Jan 2006 | Jul 2006 |
| MOD-Esskay | Moderator | Jul 2010 | Nov 2010 |
| MOD-Hotate | Moderator | Apr 2008 | Mar 2010 |
| MOD-Idelu | Moderator | Jan 2011 | Feb 2012 |
| MOD-Isang | Moderator | Jan 2011 | Feb 2013 |
| Mod-Itrinity | Moderator | Jan 2012 | Oct 2012 |
| Mod-Ittasis | Moderator | Nov 2010 | Jun 2012 |
| MOD-Jayden | Moderator | Jul 2008 | Jul 2009 |
| MOD-Kinaitra | Moderator | Jun 2005 | Feb 2011 |
| MOD-Kris | Moderator | Jan 2006 | Jun 2009 |
| MOD-Kritin | Moderator | Nov 2011 | Jan 2012 |
| MOD-Laine | Moderator | Jan 2011 | Apr 2012 |
| MOD-Melilot | Moderator | Apr 2006 | Jan 2007 |
| MOD-MissSwe | Moderator | Nov 2006 | Sep 2009 |
| Mod-MrSwe | Moderator | Dec 2006 | Apr 2008 |
| MOD-Nideh | Moderator | Jan 2012 | Feb 2013 |
| MOD-Omald | Moderator | Nov 2010 | Feb 2013 |
| MOD-Ondan | Moderator | Jan 2012 | Feb 2013 |
| MOD-Oruntves | Moderator | Jan 2011 | Feb 2013 |
| Mod-Robin | Moderator | Sep 2009 | Sep 2009 |
| MOD-Rumble | Moderator | Jan 2006 | Feb 2011 |
| MOD-RUndenhippe | Moderator | Nov 2010 | Jul 2011 |
| MOD-Starext | Moderator | Mar 2012 | Feb 2013 |
| MOD-Tami | Moderator | Oct 2007 | Nov 2008 |
Gallery