BehindHabbo
Jump to navigation
Jump to search
Hang on, we're still working on this one!

This page is currently under construction, so please don't panic while we write and update the content belonging to this part of the Wiki.
Please don't accept this information as fully accurate until it has been completed. Thanks!
You can help by contributing the information you have on this Habbo topic, but please ensure the content is relevant and accurate. When you feel this page contains sufficient content, please remove the construction banner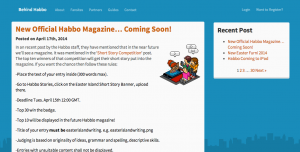 Behind Habbo was an unofficial fansite of Habbo.com. It was first opened in 2013 and was owned by Skandair. It is still not clear when BehindHabbo closed down and to this day we have no confirmation to suggest that BehindHabbo is no longer a fansite, however BehindHabbo's social media accounts such as Facebook and Twitter have been quiet and posts were last made several months ago.