Battle Ball
Jump to navigation
Jump to search
Battle Ball
No. of players:
Unlimited
Released in October 2005, Battle Ball, most commonly abbreviated as 'BB', was a free game embedded inside a Public Room on Habbo Hotel. In the older versions of Habbo, tickets were purchased to play. However the idea of ticketing was scrapped in the newer version of Habbo where it became free to play to entice more players as Battle Ball slowly diminished.
Information
Battle Ball was one of the four main games on Habbo, the other three being lido diving, wobble squabble and snowstorm. To play Battleball, you would need two teams but could have up to four teams, a red team, a blue team, a green team and a yellow team. All you have to do in Battleball is to bounce over the squares with your space hopper. You must bounce over a square three times to 'lock' it and then it cannot be stolen by members of opposing teams and also gains your team a point. There are special items or 'weapons' available within Battleball matches and can be used to your teams advantage and score you more points. There are two different ways of winning a battleball match, one is by making all the squares on the certain stage locked, and the other is to wait for the time to run out.

There are many tricks that can help your team win a Battleball game such as 'fast-locking,' which is where a player locks tiles in a square shape on the board and then all of the tiles within that square that have not already been locked, automatically lock in your teams colour.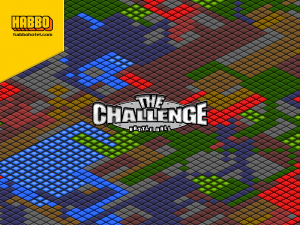 The Battleball game was removed from Habbo along with Snowstorm for a period of time as Sulake decided to concentrate more on improving other parts of the hotel.
The Challenge
During the release of Battle Ball, a campaign to promote the release of the game titled The Challenge was advertised. This gave users the opportunity to win a Battle Ball Badge for a week, and as many weeks they competed at the top of the leader board. This was awarded to the top 20 with the most points on the leader board of that week, followed later by the all-time leader board.
Arenas
There are many different Battleball Arena's to give habbos a change from playing on the same arena every time.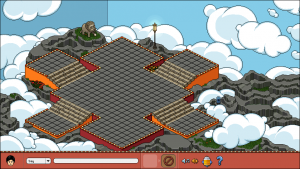 Powerups
Battle Banzai
On September 21, 2010, Habbo released a spin-off to Battleball, called Battle Banzai. The new game still uses the same concept of Battleball, but is instead played in guest rooms instead of a public room. By transferring this game to guest rooms, it allows the owner of the room to host the game control it. Owners can create a personalised playing area with themed furni which was also also released.