Red Amber Lamp
Jump to navigation
Jump to search

The Red Amber Lamp is a Classical Rare. It was first released into Hotels in August 2003, and from then on it has been re-released a numerous amount of times. It has also been given away in various competitions and credit promotions and was spotted in Habbo staff rooms.
The Red Amber Lamp has two others in its set, which includes the Yellow Amber Lamp and the Royal Egyptian Lamp, also known as the Blue Amber Lamp.
Release Dates
It was given as a prize on Habbo.fr, Habbo.nl, and Habbo.no (during the Credit Action campaign), however, the dates for these are unknown.
Sightings
The Red Amber Lamp has been spotted in the following hotels in staff rooms. However, there is no record of the item being released.
Badge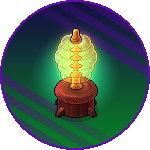 Every user who purchased the Red Amberlamp in 2019 also received a badge.
According to Habbowidgets, 109 Habbos on Habbo.fr have this badge.
According to Habbowidgets, 61 Habbos on Habbo.it have this badge.
Trivia
The Red Amber Lamp was initially spotted in Festa Junina by Reeed before its release in 2013.
On January 22nd 2005, the Red Amber Lamp was released along with a number of other super rares, normal rares and seasonals in a catalogue page called Palsternakka for around five minutes.