Merge Compensation
Jump to navigation
Jump to search
Merge Compensation was given out to Habbos when the English speaking hotels merged. Because different hotels had released different rares at different times the merge caused many issues in terms of how much each rare was worth afterwards, in order to act against this and to prevent mass-selling pre-merge the staff issued Merge Compensation furni so that drops in furni price wouldn't cause someone to lose all of their worth.
Gift
After merging their accounts and moving over to the newly merged hotel, users would receive a gift from the hotel management with merge compensation furniture inside.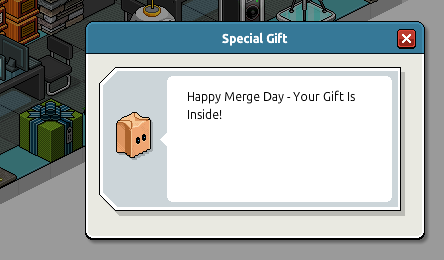 The Merge Compensation gift contained a range of furniture items, some with less likelihood of being received than others and so some being considered rarer as a result. The Ultramarine has since become the rarest item, followed by the various colors of carp, while the ultimate machines remain plentiful and cheaply listed in the marketplace.
Very few of these gift boxes remain as Habbo's were keen to see what items they had been awarded in the merge. However, only a few months following the merged users began reporting faults with their gift opening such as displaying "error: 1" when the user clicked 'open'. Habbos were advised to use the Help Tool to request staff to open it for them.[1] Very few of these gift boxes remain on the hotel, though a few examples can still be found.
The merge gift is of the default present typestyle and with a hidden sender (hotel management), in this way, it appears similar today to the 2002 gift from Ione. It is likely that any gifts that remain will not open and it's unclear whether they are able to be opened by staff now after more than 10 years have passed since the merge.
Known Examples
Furniture
| | | |
| --- | --- | --- |
| Black Carp | Queen of the River | |
| Blue Carp | Queen of the River | |
| Golden Carp | Queen of the River | |
| Green Carp | Queen of the River | |
| Red Carp | Queen of the River | |
| Silver Carp | Queen of the River | |
| Red Ultimate Machine | Merge Compensation Item | |
| Blue Ultimate Machine | Merge Compensation Item | |
| Yellow Ultimate Machine | Merge Compensation Item | |
| Ultramarine | Merge Compensation Item | |