Redeemables
Redeemables
Release date
January 2007
Redeemables are items that can be redeemed for prizes or gifts. There have been many different forms of points used in various campaigns released over the years that entice users to complete certain objectives, logging in, purchase of credits, etc. in return of redeeming it for an item. In other words to simply put it, this is a take on the prize shop you normally find at an arcade or an amusement park.
Super Saver Subscription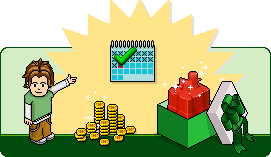 Super Saver Subscription (which was originally going to be called the Mad Money subscription) is a monthly credit subscription on Habbo, which was released in 2011. Super Saver Subscription currently costs $4.99 per month, for this you get 35 credits and 1 gift point. These Points can go towards exclusive furni that you cannot buy with Credits. However, many Habbos found a way around this and just bought credits and traded them for these exclusive pieces of furni since they're tradable.
35 Credits to your account each and every month at a discount.
A Gift Point that lets you get exclusive gifts only available to subscribers each month.
One time sign up- no having to go through the process each month.
Easy to join, easy to cancel with no hidden start up or cancellation charges.
All items cost 1 gift point to acquire.
| Name | Image | Description |
| --- | --- | --- |
| Deluxe Lemon & Lime Bath | | For extra fruity and smooth skin! |
| Deluxe Sitting Room Lamp | | Light up your life |
| Deluxe Lemonade Pitcher | | A cool glass of lemonade best after a hectic game of squash. |
Clickable Furni
These are furni that have appeared for various campaigns. The aim was for players to click use or double click the items. Each item has a certain number of hits a user needs to achieve to be able to win the prize inside.
| Name | Image | Description | Hits | Prize |
| --- | --- | --- | --- | --- |
| Crackable Egg - Level 1 | | Beginners egg, takes 1,000 taps to crack the prize out. | 1,000 Hits | White Area Furni |
| Crackable Egg - Level 2 | | Some new surprises! Takes 5,000 Taps to Crack | 5,000 Hits | Penguins |
| Crackable Egg - Level 3 | | All new prizes and some rare, will take some cracking to get there. 10,000 - taps to crack. | 10,000 Hits | Ducks |
| Crackable Egg - Level 4 | | Only gives out the best prizes and you wont find the top prize anywhere else, 20,000 taps to crack. | 20,000 Hits | Easter Island Frank, Easter Island Head, Blue Submarine |
| Rainbow Pinata | | Walk under this with the Pinata stick effect to break. 100 whacks required. | 100 Hits | Lost Tribe Guitar, Country Guitar, Diner Guitar, Cubie Guitar, Battle Banzai Guitar, Alhambra Guitar, Gothic Guitar, Steam Punk Guitar, Sci Fi Guitar, Streets of Bobba Guitar |
| Ultra Rare Pinata | | Walk under this with the Pinata stick effect to break. 100 whacks required. | 100 Hits | Lost Tribe Guitar, Country Guitar, Diner Guitar, Cubie Guitar, Battle Banzai Guitar, Alhambra Guitar, Gothic Guitar, Steam Punk Guitar, Sci Fi Guitar, Streets of Bobba Guitar |
| Habbo 15 Prize Balloon | | What's inside? | 1 Hit | Duckets, Habbo Club Membership, Builder's Club Membership, Habbo 15 Rare Prize Balloon |
| Habbo 15 Rare Prize Balloon | | What's inside? | 1 Hit | Maroon Amber Lamp, Maroon Classic Pillar, Maroon Dragon Lamp, Maroon Elephant, Maroon Fountain, Maroon Ice Cream Maker, Maroon Laser Portal, Maroon Marquee, Maroon Oriental Door, Maroon Parasol, Maroon Pillow, Maroon Powered Fan, Maroon Sleeping Bag, Maroon Smoke Machine, Maroon Spaceship Door |
| MINI Pumpkin Pack | | A nice selection of some very useful crafting ingredients! Which one will you receive? | 1 Hit | Sink, Skele, Rock Seat, Guitar, Haunted Chandelier, Bubble Bath, Spiked Skull, Bloody Duck, Habboween Pumpkin, Skeleduck, Gory Duck, Duck, Valentines Duck, The Lost Skull, Manhole, White Candle, Blood Drips, Cabin Firewood, Anti-Dither Shampoo, Cabin Stone and Wood Tiles |
| MEGA Pumpkin Pack | | An awesome selection of some hard-to-find crafting ingredients! Which one will you receive? | 1 Hit | Afro Duck, Lamancha Goat, Guillotine, Evil Raider, Demonic Frank, Sam-Ta Cherub, Saintini |
| Mystic Crystal | | What's causing all of this? Let's click to get inside! | 1.5 Million Hits | Mystic Duck |