Yellow Powered Fan
Jump to navigation
Jump to search

The Yellow Powered Fan is a Super Rare which was uploaded amongst other V7 Rares. The Fan was released in 2 different ways onto the .com hotel, both via the UK hotel. It was handed out as a prize to D3ANO-118 in 2007 due to a Habbo Bands competition, thus making him the sole owner of such a Fan until it was given out more recently as another competition prize. UK hotel manager Lost_Witness also handed some of these Fans out on Habbo UK's birthday alongside other Super Rares. This item was also spotted on the 4 other English speaking hotels but was never handed out, hence its incredibly rare value on Habbo today. Due to its rarity, it is the second most expensive Powered Fan in the hotel (after the Brown Powered Fan).
The Yellow Powered Fan has the motto "Turn it on and enjoy the cool breeze."
Known Owners
Here are confirmed owners and known examples of the Yellow Powered Fan on Habbo.com.
Owner
Quantity
Updated
Notes
Room - (Clicking link will open room in the client)
amandalyn09
1
04-Dec-2019

NFS

ashjames
1
06-July-2020

Active

YouAreBrave
4
15-Aug-2021

Active

skaterlmair
1
14-Dec-2020

NFS

!pindz!
1
15-Aug-2021

Banned

Okapia
1
12-Feb-2021

Active

Total
9
Releases and Sightings
The Yellow Powered Fan has been spotted on 16 hotels but only handed out on 7. Here is a list of all sightings/releases:
Releases
Sightings
Badge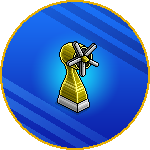 Everyone who bought the Yellow Powered Fan as Classical Rare after 2010 also received a badge.