Habbo Trophies
Jump to navigation
Jump to search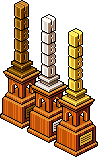 Habbo Trophies are a set of three super rare trophies on Habbo. They come in the colours connoting to first, second and third as many sets do and are called the Bronze Habbo Trophy, Silver Habbo Trophy and Gold Habbo Trophy. In appearance, each has the letters, H, A, B, B and O on vertically to spell Habbo.
Value & Status
Historically a high accolade rewarded to competition winners and in recognition to certain Habbos from staff, these trophies were spotted on the UK hotel as early as 2004. The majority of them given by staff were gold, as they were often reserved as the top prize, earning the furniture a high status in the hotel.
To this day, no official releases have ever occurred for these items, though they have appeared in the catalogue accidentally (see below). They are a staple in Casinos as showcase items and in the the super rare traders market. All three can regularly be seen in the marketplace and are purchased often enough to retain an average price.
They have been most recently given out in significant numbers as prizes for members of Room Builders Inc, 2013. During this campaign, around 50+ Bronze and about 40 Silver were awarded as prizes, denting the average Marketplace values ever since.
Release Controversy
These trophies were involved in two controversial releases on the UK hotel, both in the year of 2005.
Palsternakka Incident
The Gold Habbo Trophy was available for a short time during a controversial release of this and other super rares in the Habbo Catalogue for 15 Credits in January 2005 (Though the Silver and Bronze versions were not available to buy).
See: Palsternakka incident
11-11-2005 Incident
Later in 2005, all three of the Habbo trophies were available to buy for the first time together in the Catalogue. This was during another accidental release where a trophy page with the three types listed, caption-able and date-stamped on a now infamous date, 11-11-2005. Many were frantically bought by Habbos at the time before it was taken down. Despite rumours that the trophies would be deleted by Moderators, any purchased remain in the hotel until this day.
See: Habbo Trophies Release incident
Gallery