Area
Jump to navigation
Jump to search
Area is one of the oldest furni ranges. It has been changed many times over the years due to it being one of the oldest furni ranges and the graphic style of Habbo changing. When it was first introduced to the Hotels, originally named 'Silo' as it was meant to function as simple, office style furniture (however players now favour the Executive range instead). Area furniture is no longer available to buy in the Shop.
Originally, Area was only released in a shiny brown colour, but was updated to the default turquoise with the update to V11, in September 2006 in the Finnish hotel (study desk) and the Swiss hotel (bar stool and safe). Soon after that the other colours were added across the hotels.
Release Overview
Black - Switzerland, 2006
Beige - some parts in China, July 2007. The sofa was first released as part of a package deal in US, August 2007. The final parts/whole range (gate, barchair, safe) were released in Australia, September 2007.
Pink - Barstool spotted in 'Fansite Drop In', room by UK manager Ludus. Full range first released in Canada & US, April 2007.
Blue - First released in US and Canada, January 2007.
Green - First parts released in Russia, the German hotel followed quickly, releasing half of the items , followed by US/Canada with full collection.
Yellow - Safe/minibar and the barstool first released in Germany, November 2006. More parts released in Easter 2007 on the Finnish hotel, and the full range (excepting the small table) was released in November 2007 in Singapore.
Furniture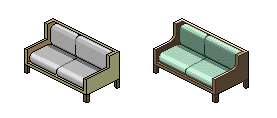 Name
Colours Available
Image
Bar Stool

Turquoise
White
Blue
Green
Beige
Yellow
Red
Pink
Black

Occasional Table

Turquoise
White
Blue
Green
Beige
Yellow
Red
Pink
Black

Safe Minibar

Turquoise
White
Blue
Green
Beige
Yellow
Red
Pink
Black

Sofa

Turquoise
White
Blue
Green
Beige
Yellow
Red
Pink
Black

Armchair

Turquoise
White
Blue
Green
Beige
Yellow
Red
Pink
Black

Dining Chair

Turquoise
White
Blue
Green
Beige
Yellow
Red
Pink
Black

Single Bed
No other colours available
Double Bed
No other colours available
Bookcase
No other colours available
Coffee Table

Turquoise
White
Blue
Green
Beige
Yellow
Red
Pink
Black

Corner Shelf

Turquoise
White
Blue
Green
Beige
Yellow
Red
Pink
Black

Area Master Desk
No other colours available
Screen
No other colours available.
Gate

Turquoise
White
Blue
Green
Beige
Yellow
Red
Pink
Black
Trivia