Alpine Heights
Jump to navigation
Jump to search

Alpine Heights is a furni range and Easter campaign that ran throughout April 2020. It is themed around backpacking and camping.
The new furniture released included a new catalogue furniture range, new clothing, the Mermaid and Siren Crackable Rocks, four New Rares, the Fortune Duck Limited Edition Rare two new Room Bundles and three returning bundles. Like during most seasonal campaigns the older Easter furni returned to the catalogue in the Easter Comeback section.
On the first day of the month Habbo announced an update where because of a dependency issue between the Flash Client and the new Unity Habbo 2020 Client some avatars would not appear in Public Rooms and instead would appear as a Red Pod. This was of course an April Fools joke.
The month was also unique because of the COVID-19 pandemic in real life which inspired some games and events, including the 'balcony bash' live event hosted by the Official Fanistes. A great number of older users who did not use Habbo as much as they once did returned for a reunion party on April 18.
Other events that happened during the month incude the [WAH] Welcome to the Alpine Heights! games and the 2020 Habelections.
Furniture
Catalogue Furniture
| Name | Image |
| --- | --- |
| Camping Essentials | |
| Camping Blanket | |
| Climbing Rope | |
| First Aid Kit | |
| Fishing Line | |
| Salmon Run | |
| Jar of Critters | |
| Heather Patch | |
| Heather Rock | |
| Whitewater Kayak | |
| Mountain Flats | |
| Mountain Slopes | |
| Cairn | |
| easter_c20_picnicfood name | |
| Spring Rapids | |
| Mountain Rocks | |
| Camping Teepee | |
| Waypoint Rocks | |
| | |
| Mossy Fence | |
| Water Logs | |
| Camping Snacks | |
| Fallen Leaves | |
| Skinny Tree | |
Clothing
| Name | Image |
| --- | --- |
| Binoculars | |
| Survival Backpack | |
| Explorer Sash | |
| Life Vest | |
| Yoga Pants | |
| Yoga Top | |
| Sports Shades | |
| Sporty Hair | |
| Graduation Cap | |
Crackable Rocks
Two crackable rocks were available for 5 Credits and 5 Diamonds each. There were two different versions with different items inside, the darker Siren Rock and lighter Mermaid Rock. To crack the rock Habbos would need to equip the hammer effect and then they would receive one of four items. They would then need to equip the magic wand effect to 'clean' the item. For both rocks there were three common items and one rarer gold clothing item. The percentage for receiving a common item were 31.25% for each item and for the gold item it was 6.25%.
Mermaid Rock
| Name | Image |
| --- | --- |
| Mermaid Rock | |
| Light Royal Protector | |
| Royal Protector | |
| Light Jade Dragon | |
| Jade Dragon | |
| Light Easter Goose | |
| Easter Goose | |
| Light Imperial Robes | |
| Imperial Robes | |
Siren Rock
| Name | Image |
| --- | --- |
| Siren Rock | |
| Dark Relic | |
| Light Relic | |
| Dark Earth Pony | |
| Earth Pony | |
| Dark Master Monument | |
| Master Monument | |
| Dark Imperial Crown | |
| Imperial Crown | |
Rares
Unlike typical New Rares which are usually 25 Credits and 25 Diamonds the Hop Costume was available for 35 Credits and 35 Diamonds.
Limited Edition Rare
The Fortune Duck was released on 27 April. There were 504 units available for 250 Credits each, and they all sold out within 81 seconds.
Room Bundles
New Room Bundles
Returning Room Bundles
Campaign
Live Fansite Event: Time for a Balcony Boogie!

On April 8th the Official Fansites hosted a live event where Habbos partied and chatted from balconies, inspired by similar gatherings happening in the real world at the time. Each fansite, including HFFM, HabboBites, Habbox, HabboRPG and HabboQuests, hosted for one hour with live music over their radios. Every user who went to one of the parties received a badge.
2020 Habelections
The Habelections were announced on April 3rd with an outline of the structure and timeline of the campaign and information on how Habbos could nominate themselves. The President's role would be to be the President of Fun and create competitions for the month of May 2020.
The prizes were a badge for all canidates, one week of Builders Club and Habbo Club for the final three, and the President woudld receive one month of Builders Club and Habbo Club a trophy and another badge.
| Name | Image | Name | Image |
| --- | --- | --- | --- |
| Habelections 2020 - Final 10 | | Habbo President of Fun May 2020 | |
On April 13th, the 10 canidates were announced as:
AeroChicken98
Corlay
xTearsAndScarsx
Coisinho
kalesalad
D-Graeb
Clatter
C5
Enlarger
Pulx
Over the next days Habbo released articles about them. On April 18th, the polls were opened and Habbos could go to the Hall of Habbo to vote for their top 6. The final 6 canidates participated in a live debate on April 22nd and on April 23rd the polls opened again to vote the top 3.
The final 6 canidates (and the percentage of the top 6 votes they received) were:
Pulx (32.5%)
kalesalad (24.3%)
Clatter (15.4%)
Corlay (10.9%)
C5 (8.9%)
AeroChicken98 (7.9%)
This was followed by another live debate, with the final poll taking place on April 28th. Pulx was announced as president on April 29th after reciving 44.4 of the vote. Kalesalad received 36.9% and Clatter 18.7%. Pulx's position will be from 29th April - May 31st 2020.
Room Competition: Design the Habelection 2020 Debate Hall

Alongside the Habelection competition there was a competition to design the debate hall for the two live debates that would occur during the campaign. The top three halls received a Great Farm Bake Bundle and 10 runners-up received 14 days of Builders Club. Everyone who entered received a badge and a Citrine Seal.
The winner whose room was chosen was Oivind.
The other halls in the top three were designed by crazy-babiesand Kuan_
The 10 runners up were:
afif06
amro45
Hrrc
robodragon
SmokedBacon
sofie372
Shaleeka
Comiks
asia-g
[WAH] Welcome to the Alpine Heights!
The Welcome to the Alpine Heights were a series of games for Habbos to receive badges and a Rainbow Egg clothing accessory.
| Name | Image |
| --- | --- |
| Rainbow Egg | |
| Name | Image | Name | Image |
| --- | --- | --- | --- |
| Hiking through the Alpine Heights | | Relic Hunter I - Earth Pony | |
| Relic Hunter II - Easter Goose | | Relic Hunter III - Jade Guardian | |
| Relic Hunter IV - Royal Protector | | Relic Hunter V - Master Monument | |
The Secret of the Alps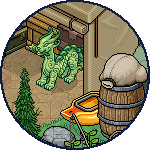 Walking by the river you have found two artifacts that look suspiciously similar to the relics you are looking for... Could this be a lucky strike or a sign that the Alp gods are on your side? Time to find out!
Looking for the Mystic Tree You found a secret track, that's suppose to take you yo the Mysitc Tree. The only way to find out is to make it to the other side before the timer ends.
Defend 'til the End! Rumours fly and everyone in town is now aware that you have one of the relics with you. You're now on a mission of trying to escape from the people that are chasing you, while you find a safe place to hide.
Sneaky Business It's clear to see that you are not the only one who is looking for the ancient relics. Unfortunately a group of backpackers have found the Jade Guardian before you had a chance to... It may not be the nicest thing to do but you'll have to sneak into their campsite and steal the relic from them in order to complete your quest.
Keep Calm and Carry on Kayaking You are close to completing your quest, you've overcomed every obstacle in your way and you know for a fact that a small river and a few goats won't stop you.
When in doubt, help out. It's been days since you found the last relic, and you are starting to wonder if you should just give up... What if the fifth relic dissapared a long time ago and you're just wasting your time?
You're about to go back to your campsite when you see a hurt hike laying on the ground. You decide to give him a hand before you go back.
The Ultimate Pixel Race
The Ultimate Pixel Race was a tournament involving four races. From April 30 to May 3 one race a day would open at a certain time. The first 10 Habbos to complete the race would receive their name on a leaderboard, and after all four races the 10 Habbos with the most points would win a trophy. There was also a badge for completing each race.
| Name | Image | Name | Image |
| --- | --- | --- | --- |
| Completed the Iceland Cup race! | | Completed the Forest Cup race! | |
| Completed the Galaxy Cup race! | | Completed the Country Cup race! | |
Gallery