ING Trophy
Jump to navigation
Jump to search
 Hang on, we're still working on this one!

This page is currently under construction, so please don't panic while we write and update the content belonging to this part of the Wiki. 
Please don't accept this information as fully accurate until it has been completed. Thanks!
You can help by contributing the information you have on this Habbo topic, but please ensure the content is relevant and accurate. When you feel this page contains sufficient content, please remove the construction banner
ING Trophy
Release date
June 2008 (Habbo.nl Only)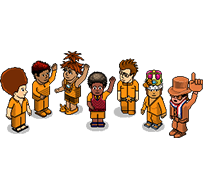 The ING Trophy is a furni in Habbo.nl and given out in 2008 during the European Championships. The trophy could be won in two ways: via a form in the Stadium and the ING Supporters battle
Stadium
Especially for the EK 2008, The Stadium was turned into the ING EK Stadium. Habbo's who visited the room could win one of the 10.000 ING Trophies by going into the stadium and fill out a competition form. the first 10.000 habbos who submitted the form with the correct answers won a ING Trophy.
ING Supporters Battle
The ING Supporters Battle was the overall name for 3 competitions. Habbos had to be in a group in order to win. The 4 groups had to compete against each other, everytime they won a competition they received points.
Groups
Pixels United
The Cheerleaders
Bizznizz Bobo's
Habboranjes
First Competition: Come up with a Yell
Habbo's had to come up with a Yell for their team. The winners were chosen individual for their teams
| Winner | Team | Yell |
| --- | --- | --- |
| -Sander!7 | Pixels United | Glory, Glory Pixels United!..UNITED *klap,klap,klap* UNITED *klap,klap,klap* |
| Emmerrrrrrr | Bizznizz Bobo's | Bizznizz Bobo's gaan het maken, Bobo's doen oranjezaken! |
| ..Margot... | Cheerleaders | B-lange-ij-z-ondergoed, Cheerleaders zijn bijzondergoed! |
| red-razor | Habboranjes | De Habboranjes weten het wel, plezier maken dat is het beste spel! |
Second competition
Last Competition: The Coziest Floor
The last competition consisted of 2 categories.
Group Competition
The supporters group had to build and organize something in their group room The Group room that staff members Nimiq and Crowley liked the most got 4 points. the second room got 3 points and so on..
| Winners | Points |
| --- | --- |
| Habboranjes | 10 Points |
Individual Competition
Not only had the group build a group room, also the individuals in the group had to build a themed room. The staff choose the a room per group that suits the group room the best. The owners of the winning rooms won a ING Trophy. These were given out in the ING EK Stadium.
| Winner | Group |
| --- | --- |
| !!!!t!m0!!!! | Habboranjes |
| -Katrien-Druk- | Cheerleaders |
| ---sybren--- | Pixels United |
| Over-sight | Bizznizz Bobo's |
The final winners of the ING Supporters Battle were the Habboranjes
Badge
| Name | Description | Image |
| --- | --- | --- |
| ING Badge | Alle Habbo's die zich voor 30 juni 2008 hadden aangesloten bij de Habboranjes | |
Trivia
The badge was only temporary, it has been deleted.
Although it's a habbo.nl exclusive furni, it does exist in habbo.com, and can be found in the HWC 2014 Press Room from KitchenNinjette
Gallery
See Also