New Rares
Jump to navigation
Jump to search
 Hang on, we're still working on this one!

This page is currently under construction, so please don't panic while we write and update the content belonging to this part of the Wiki. 
Please don't accept this information as fully accurate until it has been completed. Thanks!
You can help by contributing the information you have on this Habbo topic, but please ensure the content is relevant and accurate. When you feel this page contains sufficient content, please remove the construction banner
New Rares
Release date
2010 - Present
After Collectibles failed to gain interest of users a new type of rare, referred to as New Rares, were introduced in 2010 and have continued to this day. These rares are released for about 24 hours at a time and usually tie-in to a monthly campaign, returning to the original style of one-off, unique rares in a similar manner to the Classical Rares, rather than a set like the Collectibles. New Rares come with a unique badge and - with a couple of exceptions - they are available for 25 Credits and 25 Diamonds.
Another form of New Rares are Classical rares (Not to be confused with the Classic Rares), these are old rares which were released in some hotels first, but later released into the catalogue for 25 Credits and 25 Diamonds with a badge. A good example of a Classical rare is the Pink Laser Portal which was unreleased for a long time and had an unknown origin, but was later released in January 2020 in the catalogue of Habbo France, Habbo Spain, Habbo Brazil, Habbo Turkey and Habbo Finland. However it is still unknown how it was released in Habbo United States.
2010
2011
2012
Habbo-Lympix was released in August 2012 and included two new rares.
Haunted Castle
The Haunted Castle rares were released in October 2012 and originally contained two items - a Cannon and a Magic Mirror. The next two items, which replaced the Cannon and Mirror, were added to the catalogue on the 26th October 2012.
2013
Steampunk
Steampunk was released in March 2013 and with came three rares. The Furni had to be purchased with both Credits and Duckets to add to the rarity of the items.
Banzai Rares
Banzai Rares were a small set of Rares released in the Catalogue during April 2013 as part of a small event centred around the Habbo game "Battle Banzai". Codes were first discovered hinting of these rares on the 17th April 2013, alas it wasn't known what the complete set would look like until a few days later when a Banzai-themed room building competition was released. Disappointingly for some, all of the Banzai Rares turned out to be recolours of normal Banzai furniture. All of the rares were released at a price of 25C and they have all subsequently decreased in value.
| Name | Image |
| --- | --- |
| Rare Bear Head | |
| Rare Banzai Robo | |
| Rare Banzai Sphere | |
Palooza Rares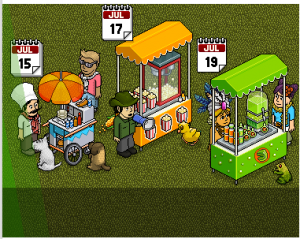 Palooza Rares were items of furni released during the Habbo Palooza campaign which ran throughout the summer months, the category included 3 similar items in forms of stands for festivals. They were released for 8 hours each time and they became available on the 15th, 17th and 19th July 2013. They were all sold for 25 Credits each time.
| Name | Image |
| --- | --- |
| Hot Dog Vendor | |
| Popcorn Stand | |
| Bubble Juice Stand | |
Pirate Rares
Pirate Rares was a Catalogue line specifically made for the for the Pirate campaign during August 2013 and it was home to the 3 rares released by Habbo to expand the new range. Likewise to most other Catalogue rares, they were released with a price mark of 25 Credits each and were available in unlimited quantities.
The items were released over a 5 day period and brought a unique-style to Habbo with the release of creatives pieces. Originally, players thought that the Kraken Habbo released would resemble Iku-Turso that was already a Collectible from The Lost World Collectibles range that were released years previous. Unlike some 25 Credit rares, the Pirate Rares have done well in terms of value mainly sustaining and exceeding their release price apart from the Kraken.
| Name | Image |
| --- | --- |
| Navigators Desk | |
| Poseidon Statue | |
| Kraken | |
Back to School Rares

The Back To School Rares was a Catalogue line specifically made for the for the Back To School campaign during September 2013.
| Name | Image |
| --- | --- |
| Rare Gilded Desk | |
| Rare Gilded Chair | |
| School Gates | |
2014
| Name | Image |
| --- | --- |
| Robot Dinosaur | |
| Spa Wheelchair | |
| Elegant Lamp | |
| Gold L0-V3 Machine | |
| Antique Camera | |
| Luxury Dressing Room | |
| Fortune-Teller Machine | |
| Death Egg-Star | |
| Lagomorph Sphinx | |
| Cottontail Effigy | |
| Ditch the Label Equality Machine | |
| Yggdrasil Tree | |
| Viking Chess Piece | |
| Bronze Football Trophy | |
| Silver Football Trophy | |
| Gold Football Trophy | |
| My Little Unicorn Balloon | |
| Head in the Hole Board | |
| Yellow Duck Balloon | |
| Blue Duck Balloon | |
| Pink Duck Balloon | |
| Yellow Java Cafe Stand | |
| Blue Java Cafe Stand | |
| Pink Java Cafe Stand | |
| Yellow Hot Air Balloon | |
| Blue Hot Air Balloon | |
| Pink Hot Air Balloon | |
| Yellow Carousel Horse | |
| Blue Carousel Horse | |
| Pink Carousel Horse | |
| Buffalo Statue | |
| Old Fashioned Till | |
| Covered Wagon | |
| Ghostly Gallows | |
| Lab Desk | |
| Professors Bookshelf | |
| Habbo TV Projector | |
| Solar System | |
| Colorful Candy Skull | |
| Creepy Cranium Fireplace | |
| Skull Fountain | |
| Graveyard Trap | |
| Ping Pong | |
| Octo-Claus | |
| Shark Santa Throne | |
| 2015 Archway | |
2015
| Name | Image |
| --- | --- |
| Dark Hippo | |
| Grey Hippo | |
| Ultra Light Hippo | |
| Bluesky Hippo | |
| Violet Hippo | |
| Purple Hippo | |
| Game Hub Hippo | |
| Red Hippo | |
| Coral Hippo | |
| Salmon Coloured Hippo | |
| Beige Hippo | |
| Gold Dipped Hippo | |
| Pistachio Hippo | |
| Green Hippo | |
| Emerald Hippo | |
| Chlorophyll Hippo | |
| Grandfather Clock | |
| Forgotten Toy Chest | |
| Cosmos Telescope | |
| Sakura Tree | |
| Koi Fish Pond | |
| Brazilian Hot Air Balloon | |
| Wooden Ofuro Tub | |
| RoboRat | |
| Electro-Sheep | |
| Overseer Blimp | |
| Bubblegum Fountain | |
| Lollipop Tree | |
| Candy Throne | |
| Magical Candy Unicorn | |
| Global Satellite Screen | |
| X-Ray Scanner | |
| Hector the German Shepherd | |
| HabboCopter | |
| Ammonoidea Fossil | |
| Plesiosaurus Fossil | |
| Raptor Fossil | |
| Triceratops Fossil | |
| Archaeopteryx Fossil | |
| Gothic Toilet | |
| Lost Tribe Teleports | |
| Lawnmower | |
| Bling Billiards Table | |
| Maneki-Neko | |
| Romantique Clock | |
| Blue Bicycle | |
| Plate of Snails | |
| Street Artist Display | |
| Demonic Frank | |
| Saintini | |
| Evil Raider | |
| Sam-Ta Cherub | |
| Bryan the Horseman | |
| Antique Crockery Cupboard | |
| Bobba Juice Rack | |
| Coffee Machine | |
| Deluxe Refrigerator | |
| Pot O' Gold | |
| Solid Gold Penguin | |
| Solid Gold Hot Tub | |
| Solid Gold Christmas Tree | |
| Solid Gold Geyser | |
| Solid Gold Table | |
| Solid Gold Chair | |
| Solid Gold Cube Tree | |
| Solid Gold Campfire | |
| Solid Gold Seat | |
| Solid Gold Lamp | |
| Reindeer Topiary | |
| Seal Topiary | |
| Rabbit Topiary | |
| Penguin Topiary | |
| Bear Topiary | |
| Squirrel Topiary | |
| Clock Tower | |
| Ornate Winter Sleigh | |
| Bavarian Christmas Photo Stand | |
| Rudolf the Red-Nosed Reindeer | |
| Name | Image |
| --- | --- |
| Sheep Balloon | |
The Habbo 15 Rare Prize Balloon was released during the Habbo 15 campaign. It included one of 15 maroon re-colours of some of the original Classic, V7 and V11 Rares
2016
| Name | Image |
| --- | --- |
| Snazzy Star Decoration | |
| Purple Spaceship Door | |
| Gold Winter Pine | |
| Snowboarding Ace Statue | |
| Gold Lamp Post | |
| Pro Ice Skater Statue | |
| Gold Hydrant | |
| Freeze Veteran Statue | |
| Gold Corner | |
| Ice Hockey Pro Statue | |
| Graphite Marquee | |
| Name | Image | Badge |
| --- | --- | --- |
| Monkey Balloon | | |
The Love at Carnivale campaign introduced four new rares:
| Name | Image | Motto | Badge |
| --- | --- | --- | --- |
| Luminous Love Oyster | | One gigantic pearl included. | |
| Lustrous Peacock | | Shows attention to de-tail. | |
| Floral Lion | | Marches with a pride. | |
| Blossom Volcano | | The lava smells gorgeous. | |
| Name | Image | Motto | Badge |
| --- | --- | --- | --- |
| Bonnie the Cheerleader | | Bonnie has a new hobby: professional cheerleading | |
| Brazilian Smoothy Maker | | Made with the freshiest ingredients in South America | |
| Gym Maniac | | There IS such a thing as too much exercise | |
| Vegan Vending Machine | | For avoiders of meat | |
| Name | Image |
| --- | --- |
| Azure Chest Of Light | |
| | | | |
| --- | --- | --- | --- |
| Fruit Bat | | 21st March 2017 | |
| Python | | 22nd March 2017 | |
| Chameleon | | 23rd March 2017 | |
| Sloth | | 24th March 2017 | |
| Chinchilla | | 25th March 2017 | |
| Tree Frog | | 26th March 2017 | |
| Chipmunk | | 27th March 2017 | |
| Name | Image | Badge |
| --- | --- | --- |
| Star Explorer Helmet | | |
| Sentinel Helmet | | |
| Interstellar Cruiser | | |
| Cryo-Bed | | |
Gilded Statues
| Name | Image | Badge |
| --- | --- | --- |
| Gilded Chimera Statue | | |
| Gilded Hydra Statue | | |
| Gilded Minotaur Statue | | |
| Gilded Centaur Statue | | |
Ancient Relic Chest
| Name | Image |
| --- | --- |
| Ancient Relic Chest | |
| Ancient Greek Artefact | |
| Greek Toga | |
| Ancient Greek Artefact | |
| Wreath Crown | |
| Ancient Greek Artefact | |
| Hermes' Winged Helmet | |
| Ancient Greek Artefact | |
| Hermes' Winged Sandals | |
| Ancient Greek Artefact | |
| Hoplite Helmet | |
| Name | Image | Badge |
| --- | --- | --- |
| Solid Gold Monkey Statue | | |
| Courtyard Fountain | | |
| Mask of the Cursed | | |
| Desert Kingdom Throne | | |
September 2017
| Name | Image | Badge |
| --- | --- | --- |
| Elegant Crown | | |
| Name | Image | Badge |
| --- | --- | --- |
| Davy Crockett Cap | | |
| Frontier Braids | | |
| Name | Image | Badge |
| --- | --- | --- |
| Victorian Horse Carriage | | |
| Victorian Music Box | | |
| Victorian Lion Statue | | |
2018
| Name | Image | Badge |
| --- | --- | --- |
| Sheep Balloon | | |
| Rooster Balloon | | |
| Dog Balloon | | |
Valentine's 2018
| Name | Image | Badge |
| --- | --- | --- |
| Four Poster Bed | | |
| Heart Dress | | |
| Name | Image | Badge |
| --- | --- | --- |
| Bunny Hat | | |
| Mammoth Bunny | | |
| Bunny Mask | | |
| Bonzai Fountain | | |
The Movie Madness campaign included four new rares:
| Name | Image | Badge |
| --- | --- | --- |
| Film Star's Trailer | | |
| Mobile Film Camera | | |
| Director's Buggy | | |
| Catcopter | | |
Habbo in the House ran throughout May 2018 and included one new rare:
| Name | Image | Badge |
| --- | --- | --- |
| Deluxe Vacuum Cleaner | | |
| Ball-Jointed Doll | | |
| Name | Image | Badge |
| --- | --- | --- |
| Seahorse Mask | | |
| Sea Turtle | | |
| Diver Helmet | | |
| Coral Kingdom Vanity Mirror | | |
| Name | Image | Badge |
| --- | --- | --- |
| Wavy Locks | | |
| Frohawk | | |
September 2018
| Name | Image | Badge |
| --- | --- | --- |
| Long Wavy Locks | | |
| Zen Garden Fountain | | |
| Name | Image | Badge |
| --- | --- | --- |
| Axe to the Head | | |
| Cyber the Cyborg Dog | | |
| Vampire Grimace | | |
| Antique Chemistry Set | | |
| Name | Image | Badge |
| --- | --- | --- |
| Nordic Fringe | | |
| Dozing Fox | | |
| Logger's Dungarees | | |
| Nordic Antlers | | |
| Name | Image | Badge |
| --- | --- | --- |
| Snowy Owl | | |
| Imperial Dancer's Dress | | |
| Feathered Crown | | |
| Illuminated Winter Fountain | | |
2019
| Name | Image | Badge |
| --- | --- | --- |
| Long Wavy Locks | | |
| Name | Image | Badge |
| --- | --- | --- |
| Romantic Messy Bun | | |
| Romantic Bathtub | | |
| Romantic Curly Hair | | |
| Romantic Sofa | | |
| Romantic Waistcoat | | |
| Romantic Record Player | | |
| Frilled Skirt | | |
| Puppy Present | | |
| Name | Image | Badge |
| --- | --- | --- |
| Two-Tone Curls | | |
| The Bonnie Blonde Mobile | | |
| Horned Cap | | |
| Rose Pink Smoke Machine | | |
| Rocker Boots | | |
| Rose Pink Parasol | | |
| Messy Bangs | | |
| Name | Image | Badge |
| --- | --- | --- |
| Enchanted Fox Outfit | | |
| Rainbow Forest Chicken | | |
| Fairytale Forest Wreath | | |
| Fairytale Forest Swing | | |
| Name | Image | Badge |
| --- | --- | --- |
| Medusa Hair | | |
| Luxury Tiled Bath | | |
| Minotaur Horns | | |
| Senator's Bed | | |
| Comic Mask | | |
| Tragedy Mask | | |
| Ancient Greek Chariot | | |
| Name | Image | Badge |
| --- | --- | --- |
| Rainbow Curls | | |
| Lady Gaia | | |
| Rainbow Shades | | |
| Gem-Studded Owl | | |
| Name | Image | Badge |
| --- | --- | --- |
| Celestial Dress | | |
| Name | Image | Badge |
| --- | --- | --- |
| Butterfly Dress | | |
| Aqua Crystal Fountain | | |
| Feathered Cowl | | |
| Sunlight City Biosphere | | |
| Name | Image | Badge |
| --- | --- | --- |
| Impermeable Raincoat | | |
| Little Bear | | |
| Teddy Dressing Gown | | |
| Buffy | | |
| Name | Image | Badge |
| --- | --- | --- |
| Witch Hair | | |
| Warlock Locks | | |
| Weeping Willow | | |
| Demon Lord Wings | | |
2020
| Name | Image | Badge |
| --- | --- | --- |
| Street Royalty | | |
| Sleep Time | | |
| Gothic Fancy Dress | | |
| Neon Punk Outfit | | |
| Solar Utopia Outfit | | |
| Frank's Tux | | |
| 20th Birthday Throne | | |
| Birthday Ballroom Candles | | |
| Vintage Sofa | | |
| Name | Image | Badge |
| --- | --- | --- |
| Cybernetic Faceplate | | |
| Cyberpunk Robo-Wings | | |
| VR Machine | | |
| Vintage Armchair | | |
| Name | Image | Badge |
| --- | --- | --- |
| Pumpkin Outfit | | |
| Possessed Hair | | |
| Housekeeper's Hourglass | | |
| Melting Work of Art | | |
| Name | Image | Badge |
| --- | --- | --- |
| Winter Bear Accessories | | |
| Bear Backpack | | |
| Cosy Hammock | | |
| Ancient Oak Table | | |
| Name | Image | Badge |
| --- | --- | --- |
| Dragonfly Wings | | |
| Inuit Outfit | | |
| Elven Ice Fountain | | |
| Enchanted Sword | | |
2021
| Name | Image | Badge |
| --- | --- | --- |
| Royal Bear | | |
| Wisteria Arch | | |
| Vintage Coffee Siphon | | |
| Sunrise Cloud Hat | | |
| Name | Image | Badge |
| --- | --- | --- |
| Romantic Corset | | |
| Spring Fever Waves | | |
| Ornate Wire Grandfather Clock | | |
| Chilly Bunny | | |