Dragon Throne Rare
Jump to navigation
Jump to search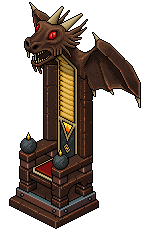 The Dragon Throne Rare was released on the 27th May 2011, following on from the new furni range it coincided with - Drago.
Upon release the Dragon Throne Rare was named the 'Rare Dragon Throne' as it was apt with its release category and was a throne featuring a dragon. However, this was changed soon after and ever since it's been known as the Dragon Throne Rare, or more often shortened down to Dragon Throne.
Unlike many other rares, the Dragon Throne Rare was on sale to buy for a combination of Credits and Pixels. Many players believed that the price tag originally was too much for what the item was - a chair. It went on sale for 75 Credits and 2000 Pixels for a number of days before being removed forever. Over the years, the Dragon Throne Rare has increased in price as it has become rarer and more sought after in Halloween, Gothic and Fantasy type rooms.
Badge

Every user who purchased the Dragon Throne Rare also received a badge.
According to Habbowidgets, 798 Habbos have this badge.
2011 Scam
In 2011 players caught on to an ingenious scam found with Dragon Throne Rares and V Guitars. Many players began selling Dragon Throne Rares as a multiple deal, such as 2 Dragon Thrones for 80 Credits when they were worth over 60 Credits each at the time.
The scam occurred when a player put a Dragon Throne Rare into the trade followed by a V Guitar - the trade would glitch and the box would say 2 Dragon Throne Rares were in. Players would click accept and were given one Dragon Throne Rare and one V Guitar.
Luckily, if a player hovered over the boxes in the trade it would come up that a V Guitar was in the trade and not the Dragon Throne Rare.
With players contacting Habbo, some were given the Dragon Throne Rare they were scammed back, and it came about due to the two items having the same identity number for the furni.
Habboween Quest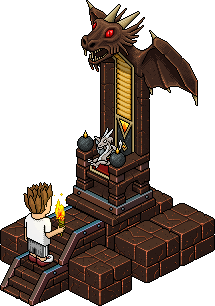 In October and November 2011, Habbo released a quest for players to complete in order to win a Dragon Throne Rare. Participants had to make it to the end of the quest collecting all the letters throughout - if they were successful they received the Habboween badge and the mysterious Headless Horseman effect that lasted them 2 months.
An error occurred with the original badge therefore a new one had to be created for the prize which meant a delay in receiving it.
After the quest players found that the Bartleby's true name was indeed BARTLEBY. 25 entrants were randomly chosen and they won the badge alongside the effect and the Dragon Throne Rare.
Winners
Erz
Mutinous
Anania.
BamitsbobStar
Cody97
Penetron
Xemnas
Eurkle
Karting92
OfficialWisked.
US-Pride
LawlCopters
Coleen.
Hotvitagen
Abx
Loop77
-:Errorz:-
Urigirll
Rimbabara
Worm
Jay-n-Kay
Joliviera
Naudia
Hayley-Naruto
L0veprincess