Infobus
Jump to navigation
Jump to search
For the Infobus poster see: Infobus (Furni)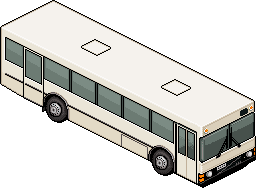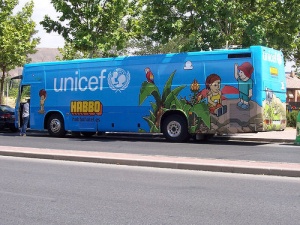 The Infobus was a feature of a Public Room named the Infobus Park. Although the park was open all year round, the bus remained closed unless opened by staff to host information sessions or discussions. A poll feature was often enabled while the inside the bus was open, for user response. The Infobus was used primarily by non-profit organizations to raise awareness for various campaigns, with the exterior of the bus changing for each campaign. The experts (staff of the organisation) led the discussion inside and were distinguished by a special badge. It is unknown how many times the bus opened in each country, however depending on the event and the Client Update it was released with, the Infobus held 15 or 30 Habbos.
Other promotions of the Infobus included the Infobus (Furni) that appears as a model of the real Infobus on the wall; this used to be a promotional poster but was then changed.
Redesigns/Campaigns
For every campaign there was a different design both inside and outside the bus. There were over 100 campaigns across all the hotels.
Australia
| Reach Out! | Rock the Schools Tour 07 | Rock the Schools 2010 |
| --- | --- | --- |
| | | |
Badges
| Name | Description | Image |
| --- | --- | --- |
| Reach Out! | | |
Brazil
Fundação Abrinq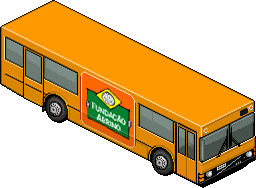 Badges
No Badges were used in the brazilian infobus

Canada
O.P.P (Ontario Provincial Police)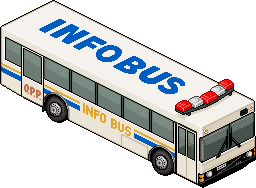 Badges
| Name | Description | Image |
| --- | --- | --- |
| O.P.P Badge | | |
Finland
EOPH / Netari / HUBU / MLL / Mantelli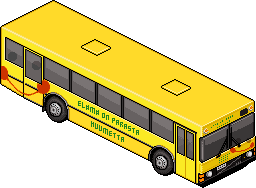 Badges
| Name | Description | Image |
| --- | --- | --- |
| HUB | | |
| Manteli | | |
| Netari | | |
| EOPH | | |
| Netari | | |
| MLL | | |
France
| Unicef | Fil Santé Jeunes |
| --- | --- |
| | |
Badges
| Name | Description | Image |
| --- | --- | --- |
| Unicef | | |
| Fil Santé Jeunes | | |
Germany
Powerchild / BKE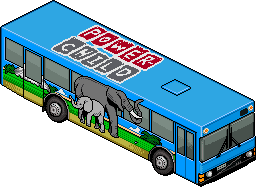 Badges
| Name | Description | Image |
| --- | --- | --- |
| Powerchild | | |
| BKE | | |
Italy
Unicef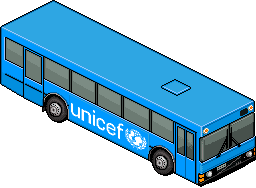 Badges
| Name | Description | Image |
| --- | --- | --- |
| Unicef | | |
Netherlands
Stichting tegen zinloos geweld / Childright / Pestweb / Artsen Zonder Grenzen / Warchild / C.O.C / Sterkamp / Politie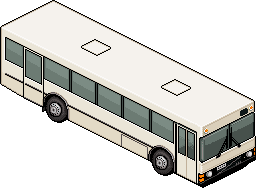 Badges
| Name | Description | Image |
| --- | --- | --- |
| Stichting Tegen Zinloos Geweld | | |
| Childright | | |
| Pestweb | Pestweb | |
| Artsen Zonder Grenzen | | |
| WarChild | Warchild | |
| Habbo Tolerance badge | Habbo Tolerance badge | |
| Infobus Expert | Infobus Expert | |
| Politie | Infobus Expert Politie | |
Spain
| Cibervoluntarios | Chaval / Comisariado Europeo del Automóvil | Unicef | Protegeles |
| --- | --- | --- | --- |
| | | | |
Badges
| Name | Description | Image |
| --- | --- | --- |
| Cibervoluntarios | | |
| Chaval | | |
| Comisariado Europeo del Automóvil | | |
| Unicef | | |
| Protegeles | | |
Sweden
| Unicef | Ungdomsförbund |
| --- | --- |
| | |
Badges
| Name | Description | Image |
| --- | --- | --- |
| Unicef | | |
| Ungdomsförbund | | |
Switzerland
| Schtifti | Pro Juventute |
| --- | --- |
| | |
Badges
| Name | Description | Image |
| --- | --- | --- |
| Schtifti | | |
| Pro Juventute | | |
United Kingdom
| FRANK | NHS |
| --- | --- |
| | |
Badges
| Name | Description | Image |
| --- | --- | --- |
| Infobus | | |
| FRANK | | |
| Childline | | |
| Way Too Much Information | | |
| Bullyproof | | |
| Arms against cervical cancer | | |
Gallery
Trivia