Super Saver Subscription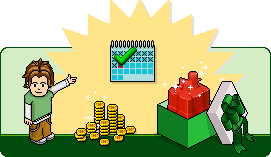 Super Saver Subscription
(which was originally going to be called the Mad Money subscription) is a monthly
credit
subscription on Habbo, which was released in 2011. Super Saver Subscription currently costs $4.99 per month, for this you get 35
credits
and 1 gift point. These Points can go towards exclusive furni that you cannot buy with Credits. However, many Habbos found a way around this and just bought
credits
and traded them for these exclusive pieces of furni since they're tradable.
Why buy Super Saver Subscription?
35 Credits to your account each and every month at a discount.
A Gift Point that lets you get exclusive gifts only available to subscribers each month.
One time sign up- no having to go through the process each month.
Easy to join, easy to cancel with no hidden start up or cancellation charges.
Super Saver Subscription Rewards
All items cost 1 gift point to acquire:
| Name | Image | Motto |
| --- | --- | --- |
| Deluxe Lemon & Lime Bath | | For extra fruity and smooth skin! |
| Deluxe Sitting Room Lamp | | Light up your life |
| Deluxe Lemonade Pitcher | | A cool glass of lemonade best after a hectic game of squash. |
Super Saver Subscription links
Super Saver Subscription on Habbo.com