Habbo Council (2005)
Jump to navigation
Jump to search
This page is about the 2005 Habbo Council. For information on the 2012 Council, please click here.
The Habbo Council was a group of Habbos, Habbo Staff and Hobbas, selected by Callie, the Hotel Manager, to collect feedback from Habbos and pass on suggestions and ideas to Habbo management. The members were all selected by Callie, and the winners of Mr and Mrs Habbo 2004 were invited to join as well. The Council was formed in early 2005 and lasted for much of the year. By the time Callie had left Habbo in 2006, the Council had been disbanded and the Drop-In and Council badges removed.
Roles & responsibilities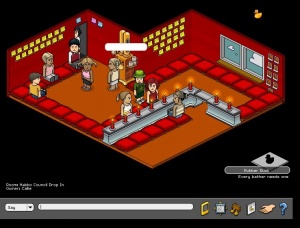 The Council was primarily a discussion group. Members would meet and discuss ideas that had been raised and make recommendations to Habbo Staff about events, competitions and other features. They also had access to a Council Drop-In, where regular Habbos could come and discuss ideas and feedback with the council members.

As Habbox had several of its staff on the council, a page was launched on the Habbox.com website for Habbos to leave submissions in written form, which DJ-3000 and sierk could then pass on to the council.
Council members were also given an exclusive badge to show that they were members of the council.
Council members
| Habbo | Notes |
| --- | --- |
| Moonglowgirl | Mrs Habbo 2004 |
| Budy | Mr Habbo 2004 |
| DollEyes | Hobba |
| Cheezy2 | Fansite staff |
| DJ-3000 | HxHD owner |
| Sierk | Habbox.com owner |
| DBZone | Well-known Habbo |
| _Olam_ | Well-known Habbo |
| Mizki | Hobba |
| :.Matty.: | Well-known Habbo |
| Mystique! | Help desk owner |
| Dave..thatsme | Well-known Habbo |
| Rareboy | Hobba |
| Sken | Hobba |