Call for Help
Jump to navigation
Jump to search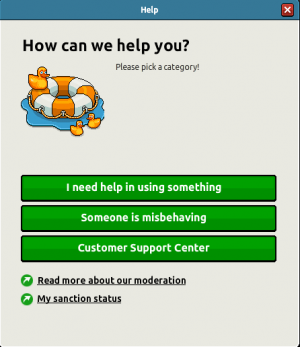 The Call for Help tool is for people that need help with Habbo. Moderators that are on duty will reply back with advice on what to do. The call for help tool is located next to the room info text. If you click 'Help' the call for help tool dialogue will pop up and it will have information on how to get help and what type of help you will need. You are able to get live help or you can research on the FAQ (Frequently Asked Questions) yourself if you think you will be wasting the moderators time. It is also possible to call a Guide Bot who will give you information on Habbo and basic help. It is also possible to report abusive users using this tool. To report someone, click "Find out how to report abuse on Habbo".
Live Help
A lot of Habbos use this tool in their everyday 'Habbo life'. If you are in a situation where you need help as soon as possible, you are able to go to the Call for help tool and click 'Help'. 6 topics will pop up after you have clicked help. Click the topic that best suits your problem. If none of them fit your problem click 'Other Problem' down the bottom of the topics. Once you have picked a topic, you will have to give details about your problem. Once you have finished writing details on your problem, click 'Make a help request' and your help request will be sent to Habbo moderators who will sort out your problem. After a few minutes, you should get a reply to your problem.
Emergency Help
At the bottom of the Help dialogue, you will find a button for emergency help. This button is for emergency abuse only, and it is designed for nearly immediate reviews and immediate response. Use this only if you are determined that something serious has occurred. Once brought to the Emergency Help dialogue, you will be taken to a page just like normally reporting a user. Only, this will send a more immediate request.
Reporting a user

Reporting a user is similar to using the live help system, if you click 'Report a user to the moderators' it will bring up a list of people in the room that you are in,people you have seen or been in a room within the past, as well as the people that are in your room. If you click on that user's name it will take you to the 6 topics but with the Habbos name on it, so you won't have to name the Habbo in your help request. Then write details of your problem with this Habbo and once you have sent your message to the Habbo moderators, they will reply to you as soon as possible.
Receiving Peer to Peer Help
Habbo Helpers are unprofessional options for help. Real Habbo users are there to answer requests. They are the people that have completed their Habbo Talent Track far enough to be eligible to answer help requests.
Guide Bots

Under the section where you are able to report a Habbo, there is a section where it is possible to call a Guide Bot. A Guide Bot is a robot on Habbo designed to help people, especially newer users. Guide Bots have premade speech programmed into them, and this speech appears once a user has said various verbal triggers. For example, if you would like to know about Falling Furni, you would say 'FF' and the guide bot will say numerous lines of a speech about FF, explaining what it is, how it is played and so on. Once in a while the Guide Bots will say information about the controls of Habbo and how to use them. Guide Bots do not reply to everything you say, as they are triggered to certain verbal triggers. It is impossible to call a Guide Bot in a Habbo room owned by someone else, it is only possible to call a Guide Bot in a user's own room. It is possible to kick the Guide Bot at any time.