Habbo.com (USA)
Jump to navigation
Jump to search
Habbo.com

Opened:
September 2004
Closed:
June 2010
Country:
USA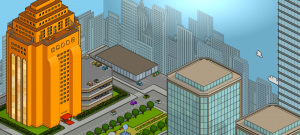 Habbo.com (USA) was the American version of Habbo and was first opened in September 2004, at the same time being deemed the future pilot hotel. This hotel was one of the most popular sites in the Habbo range and was directed at the English speaking American community. The hotel was first managed by brojo.
When Sulake moved their US office in 2006, brojo was replaced by blunique. Shortly afterwards, the long serving Community Manager Jeffoo took over as Hotel Manager after blunique's short-lived term until her departure from Sulake in October 2006. Other Hotel Managers included Kedo, Luna, and later CrestHawk and Loderse. The hotel closed on 10th June 2010 to form Habbo.com (International) and was merged with all other English speaking hotels such as Habbo.com.au and Habbo.co.uk.
In total, 104 badges were created solely for use on the American hotel.
American Hobbas
The Hobba program operated differently in the American hotel than it did in others. Unlike other programs where there were three levels of Hobbas, the American hotel had only Silver Hobbas. Their role was closer to that of welcome Guides than that of a volunteer moderator. In contrast to other hotels, there was no minimum age requirement to apply. Consequently, the Hobba powers were abused, forcing staff to end the program in 2005.
Staff
In total, 25 staff members have been recorded as working solely on the American hotel. Here is a complete list of them:
Blunique - Hotel Manager
Brown-Pants - Community Manager
Hiro-P - Community Manager
Luna - Hotel Manager
Kedo - Hotel Manager
Brojo - Hotel Manager
Jeffoo - Community Manager
CrestHawk - Hotel Manager
Loderse - Hotel Manager
Jandelee - Assistant Hotel Manager
Becs - Community Head
UrbanAchiever - Community Manager
Moiraine - Community Manager
Inari - Community Manager
Lynn - Community Manager
NotMiceElf - Community Manager
iomegadrive - Product Manager
Squib - Community Manager
SuperJatt - Community Manager
Whimsy - Marketing Manager
Chickabiddy - Marketing Manager
MrsWhiskerton - Marketing Manager
LakersGold - Account Manager
Rachel B. - Book-Keeper
Katey M. - Assistant Book-Keeper
Note: Habbo.ca and Habbo.com regularly shared moderation and management staff prior to the merge.