Amber Floor Rug
Jump to navigation
Jump to search

The Amber Floor Rug is a Super Rare item on Habbo. Much like the Army Plasto Chair it is a recolour of an otherwise normal item, long available in earlier versions of the Habbo Catalogue. Its exact origins are unknown, with older players suggesting that it could have begun circulating on Habbo.co.uk as early as 2001. It is simply called 'Floor Rug' like its normal, Catalogue listed counterparts - though is commonly referred to as the 'Amber Floor Rug', 'Gold Rug'. There are a number of theories as to its origins. [1]
Given the similarity of this colour to the normally available yellow Floor Rug, scamming attempts have been common when trading this item, leading users to commonly trade a normal yellow rug alongside the Amber to show authenticity [2]. As a rug and with the dimensions 3x5 tiles, it is not commonly sought after by casinos or arcades. It is commonly used by obscurities merchants or predominantly, collectors. There are no concrete estimates for the numbers in circulation, though it shares a similar rarity to the super rare Parasol.
Release
Catalogue Item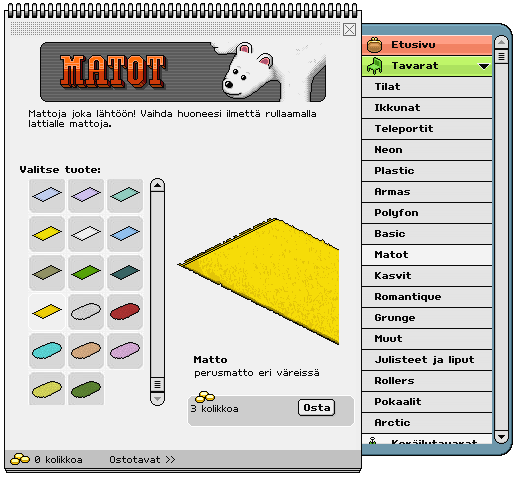 The rug has been said to originate on Habbo.co.uk as a normal item in the Rugs section of the Catalogue. This is because of its availability in the Finnish hotel, spotted in the Catalogue in November of 2008, priced at 3 Credits [3]. It is not currently listed alongside the current Floor Rug colours as of 2013.

Scripting
A lesser supported theory is of its origins is as a scripted item[4]. Though given the prevalence of Habbos who claim that they either spotted it in the Catalogue or remember it as available around the Mei Ling quests, this is less likely. Also noted is the existence of it as an official item on the Finnish hotel, negating the need for such a colour to be scripted into the UK hotel if it had been available at any stage in the catalogue. Similarly, while the Army Plasto Chair originated around 2002 (when scripting was far more widespread), this item originated much later, when successive updated versions of Habbo reduced the variance of available furniture and character scripts.

Mei Ling Campaign Prize
A third possible explanation for its origins is that as a competition prize, given out during the 2006 Mei Ling campaign. Though the majority of evidence for this exists only in hearsay, much like the explanation above. It is not known how many may have been given out if this is the case.

Known Owners
There are 31 confirmed examples of the Amber Floor Rug on Habbo.com. Out of these only 8 are on active accounts.
See Also
References