StrayPixels
Jump to navigation
Jump to search

Overview
StrayPixels were a series of graphic competitions hosted by Habbo Staff on the North American website (Habbo.com). The competition first started in March 2008 and lasted officially until 2012. These competitions required participants to create a graphic design each month that was suited to the various themes given by staff or submitted by fellow Habbos. Graphics were submitted to NotMiceElf and his team of judges who determined the winners and honorable mentions. Winning users were rewarded with a StrayPixels easel (the specific item depended on how many times the user won the competition), a Duck Trophy inscribed by staff, and a rare background for use on the now-retired Habbo homepage.
History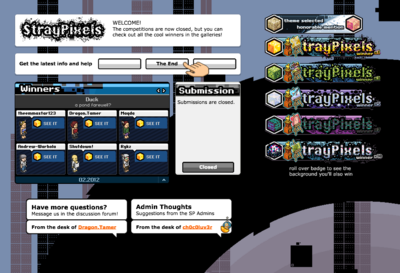 The first round of StrayPixels competitions ran for two years between March 2008 and March 2010. However this ended after the merge of all English-speaking hotels. Only Duck Trophies, badges, and Habbo homepage stickers were awarded to winners during this initial run of the competition.
The second set of StrayPixels competitions ran from July 2010 until September 2011. This was the first time the StrayPixels easels, rare homepage stickers, the 'Honorable Mention' award, and the 'Theme Selected' award badges were given out as prizes. The first competition was unique in that the theme required participants to design the new easels that would be given out as prizes for the StrayPixels Winner x1 easel and the StrayPixels Winner x3 easel. The two 'Honorable Mention' submissions were turned into the flower and octopus designs on the StrayPixels Winner x1 easel, while the winners avilaman, HankMcCoy, and ,CrystalBailey had their designs incorporated into the StrayPixels Winner x3 easel.
Near the end of the StrayPixels competition Habbo decided to switch the judging conditions from a staff panel to user votes through the Habbo Facebook page. Fans who liked the Habbo page could vote for their favourite entries. The winner's submission was then turned into a real furniture item on Habbo. For this competition, you needed to create a new item that fit in with different guidelines. There is only one example of a StrayPixels submission turning into a real item (see Stone Knight), and this form of competition has not returned since.
In February of 2012 it was announced that StrayPixels was coming to an end, largely because notMiceElf was too busy with other staff obligations. To give a good send off, entrants had to design Carl the Duck having a life outside Habbo and the theme was adequately named 'Duck: A Pond Farewell.'
Easels
| Name | Image | Quantity Awarded | Approximate Value (as of 9-2020) |
| --- | --- | --- | --- |
| StrayPixels Winner x1 | | 48 | 15,000 to 20,000 credits |
| StrayPixels Winner x3 | | 7 | 20,000 to 25,000 credits |
| StrayPixels Winner x5 | | 5 | 25,000 to 30,000 credits |
| StrayPixels Winner x7 | | 2 | 30,000 to 40,000 credits |
| StrayPixels Winner x10 | | 2 | 35,000 to 45,000 credits |
Winners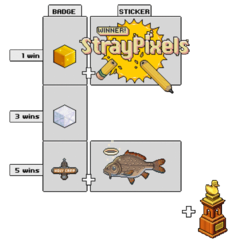 Name
Date Won
Theme

MakeBelieve..
Warmness
Reflects

March 2008
Habbo 2150: StrayPixels Begins

Dragon.Tamer
TheCJ
WarriorSokka

April 2008
Vincent Van Habbo: Classic Art... pixeled

Vyia
Aiko47
MakeBelieve..

May 2008
Medieval Habbo

Warmness
x..Cone..x
xSixteen

June 2008
Night At The Movies: In 6 colors

MakeBelieve..
Screamsicle
Segesi

July 2008
Life Habquatic

x..Cone..x
Warmness
LaNiqua

August 2008
Badges. We don't need no stinking badges: ... wait, yes we do.

MakeBelieve..
xSunny
Nadavy

September 2008
I Once Had Superpowers

Warmness
ZoneX
TombRaider12

October 2008
Zombie Pets
November 2008
History Repeats Itself: Habbo versions of World History
December 2008
I Need A Sweater!: Winter Clothing

xSixteen
MakeBelieve..
Fighters

January 2009
It's All BEHIND You: Backgrounds

Dragon.Tamer
Warmness
RollerKingdom

February 2009
Primordial Ooze: Devolve a Habbo

Enage
Girl..kelly
Bleeders

March 2009
I've Got Room: Design your Dream Public Room

Dignitas
Warmness
Dragon.Tamer
petradog

April 2009
Once Upon A Habbo: Fairy Tales

avilaman
xSixteen
RollerKingdom

May 2009
Box Art: One picture to rule them all

Dragon.Tamer
x..Cone..x
Warmness

June 2009
It's Evolution Baby!: Evolution, not babies

St.Perkele
Fennerd
EpicBrand

July 2009
Back To Basics I: Don't Box Me In

Warmness
Dragon.Tamer
HT-Marc

August 2009
Habbo 1985: Awesome in 8 bits

Fennerd
RollerKingdom
Cali.DE

September 2009
Back To Basics II: SuperSize It

St.Perkele
Warmness
Mr.Flicker.

October 2009
Monsters of Habbo: Grrr!

EpicBrand
Dragon.Tamer
RollerKingdom

November 2009
The End of Habbo: in 16 colours

Mr.Flicker.
Pasiion
naxete.es

December 2009
I Can Do It Better: SnowStorm!

Warmness
RollerKingdom
Mechoulam

January 2010
Roll, Sit, Stay: New Pets

Dragon.Tamer
.-=nimbleX=-.
naxete.es

February 2010
Face It: Habbo Expressions

Mechaxplotation
EpicBrand
dudocks

March 2010
Rest In Pixels: Habbo Underworld

avilaman
HankMcCoy
,CrystalBailey

July 2010
The Prize is Right: Fabric of Art

Rykz
jadehhh
Dragon.Tamer

August 2010
Punch, Kick, Smile: Fighter Portrait

ES-Karlisle
Fredsicle
naxete.es

September 2010
user Submitted: (moe?hawk): Greatest Habbo Fear

Rykz
Mr.Flicker.
RollerKingdom

October 2010
User Submitted: (Beat): Trick or Treat
November 2010
New Hair: In Old Places

Rykz
Mr.Flicker.
avilaman

December 2010
Block Buster: Epic Movie Poster, set 2

Dragon.Tamer
Shutdown!
Mechoulam
HankMcCoy
,CrystalBailey
RollerKingdom

December 2010
Block Buster: Epic Movie Poster, set 1
January 2011
User Submitted: (Warmness): Room With an Isometric View

Andrew-Warhola
pew.pew
Shutdown!
avilaman
snowdragon
Jodes

February 2011
In The Beginning: Mortar and Pixel

Rykz
acuminous
Dragon.Tamer

March 2011
User Submitted (EliteRiches): Photo Shoot Gone Wrong

Shutdown!
Mulge
EpicBrand

April 2011
User Submitted: (cronatoes): Day In The Life of A Hotel Manager
May 2011
User Submitted: (Explosive.Girl): It's ALIIIVVVEEE!

Andrew-Warhola
Dragon.Tamer
Tiigz
Mulge
New-Naruku
RollerKingdom

June 2011
Pack This: Trading Cards
July 2011
Haugwurtz: Magical Habbos
August 2011
User Submitted: (!): Habbo 1800's
September 2011
Black and White: Ruuuuuuuuuuuun!

theemastar123
Dragon.Tamer
Maqda
Andrew-Warhola
Shutdown!
Rykz

February 2012
Duck: a pond farewell?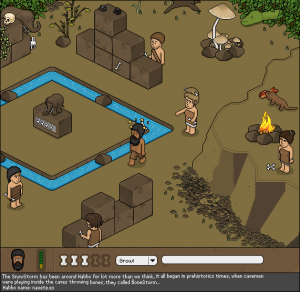 Winners Leaderboard
Name
Times Won
15
13
9
8
6
5

xSixteen
avilaman
Mr.Flicker.
naxete.es

4

Andrew-Warhola
x..Cone..x
Mulge

3

LaNiqua
nadavy
ZoneX
St.Perkele
Fennerd
HankMcCoy
,CrystalBailey
Jadehhh
Fredsicle

2

maqda
theemastar123
X-Avenger
New-Naraku
tiigz
alkamystre
moffins
acuminous
Jodes
snowdragon
pew.pew
Appose
Shaleeka
frugt
ES-Karlisle
dudocks
.-=nimbleX=-.
pasiion
cali.DE
HT-marc
petradog
dignitas
Bleeders
Girl..Kelly
enage
Fighters
Marty-O
Tombraider12
xSunny
segesi
Screamsicle
aiko47
Vyia
WarriorSokka
theCJ
reflects
mechaxplotation
Mechoulam
SMechoulamC

1
Badges
These are the badges given out during the Stray Pixels competitions.

| Badge | Badge Name | Badge Description |
| --- | --- | --- |
| | StrayPixels Jade | Three wins! I own your pixel soul. |
| | StrayPixels Gold | won, I actually won ...once |
| | StrayPixels Honorable Mention | I won honorable mention and all I got was this... badge. |
| | StrayPixels Theme | I sent in a theme for StrayPixels and they actually used it. Suckers. |
| | StrayPixels Circuit | On my seventh win the heavens opened up and this magical badge floated down. |
| | Diamond Pixel | Sparkly Diamond Pixel. A Habbos best friend. x3 StrayPixels Winner |
| | Onyx Pixel | It's like the Gold one.. but better. x7 StrayPixels Winner |
| | Collective Pixel | 4 blocks never looked so... square. x10 StrayPixels Winner |
| | Holy Carp! | Smells fishy... x5 StrayPixels Winner |
| | HOLY FREAKING CARP! | Something IS fishy around here. x15 StrayPixels Winner |