Black Hole
Jump to navigation
Jump to search

The Black Hole (not to be confused with the hand item dispenser or the game under the same name) is a one-of-a-kind furniture item designed to give users more control when shaping their Habbo rooms. It was originally considered to be a fairly exclusive item as only VIP/Habbo Club members were able to purchase it directly from the catalogue. However, any user can purchase them from trading rooms or the Marketplace.
Black Holes have remained in the catalogue since their release date (7th of July 2011) and are located under the "Habbo Club" category alongside the Stack Magic Tile. In the past, it was possible to purchase a 10 x and 20 x Black Hole bundle at the prices 20 Credits and 35 Credits respectively, but this option no longer exists.
The item itself can be placed into one of two states; an "active" state whereby the item is black and impossible to walk on (the most common choice of state and the only one which allows room shaping) and an "inactive" state whereby the item can be both walked over and turns transparent with only the sparkles appearing. There were plans for a 1 x 1 Black Hole to go alongside the 2 x 2 version, but this option never entered the hotel and is assumed to be a staff option only.
Usage in the item have declined during recent months due to the release of the Builders Club command :floor which allows users to completely redesign all aspects of rooms through an in-game editor.
Competitions
With the introduction of the Black Hole various competitions we're launched to promote this new furniture.
Build Around It
How would you use the Black Hole?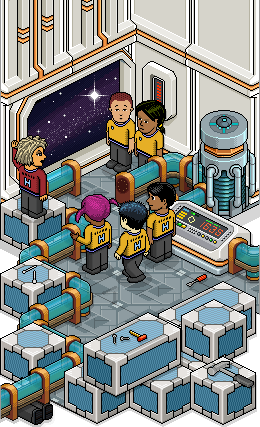 With the new Black Hole feature, you don't have to conform to the layouts given anymore - you can map out your own custom awesomeness -- and we'd love to see it!
Whether you choose to build a house, a game, a stacked castle or a wired wonder, it's up to you - we're just looking for cool and creative use of the new Black Hole feature.
You up for the challenge?
3 SIMPLE STEPS TO ENTER:
1. Build a breathtaking room showcasing the new Black Hole - be creative!
2. Grab a screenshot.
3. Add it to an email addressed to comp[email protected] and put this as the subject: Black Hole
In your email, include your Habbo name and the name of your room, along with the link to your room (you will find it in your room info) - this is very important.
Deadline is Tuesday July 12th at 9am EST (that's 6am in Los Angeles, 2pm in London, 9pm in Singapore, and 11pm in Sydney).
PRIZES: Winners of this competition will receive an exclusive Black Hole design badge along with 3 Black Holes and a Black Monolith Classic Rare
The Black Hole Experience
Make it to the end or be lost forever in oblivion!
We're not sure how many Habbos are going to be skilled enough to make it to the end of this challenge (Puffin, SmoothCriminal and Fozzie all failed multiple times before throwing stuff at their laptops) - but if anyone can do it, it's you guys!
Complete The Black Hole Challenge ››
You'll find the rooms by searching for 'TheBlackHole'.
Your challenge is to venture through the rooms, dodging Black Holes before they suck you into oblivion and collecting letters as you go. The letters will be needed for the second room, so don't forget to write them down!
Pssst! when you unscramble the letters they'll spell out a well known Black Hole that was discovered in the 60's.
Everyone that makes it to the final room successfully will score a new, special Black Hole Experience Badge when they're handed out late next week!
Badges
| Name | Description | Image |
| --- | --- | --- |
| Black Hole level 1 Badge | | |
| Black Hole Experience 2011 | You made it! | |
| Black Art Badge | Thanks for your Black Hole inspired room! | |
| The Black Hole Revisited | | |
Room Architect Achievement
This achievement requires the user to place Black Holes in their room to create different room designs. For each Black Hole placed, progress will increase by one point.
| | |
| --- | --- |
| | Room Architect Level 1 - For creating a room containing 10 Black Holes. |
| | Room Architect Level 2 - For creating a room containing 20 Black Holes. |
| | Room Architect Level 3 - For creating a room containing 30 Black Holes. |
| | Room Architect Level 4 - For creating a room containing 45 Black Holes. |
| | Room Architect Level 5 - For creating a room containing 60 Black Holes. |
| | Room Architect Level 6 - For creating a room containing 80 Black Holes. |
| | Room Architect Level 7 - For creating a room containing 100 Black Holes. |
| | Room Architect Level 8 - For creating a room containing 125 Black Holes. |
| | Room Architect Level 9 - For creating a room containing 150 Black Holes. |
| | Room Architect Level 10 - For creating a room containing 170 Black Holes. |
Gallery
See Also