Loyalty Points
Jump to navigation
Jump to search

Loyalty Points were a form of currency that were awarded by Habbo for the purchase of Credits, a feature added to the hotel on 26th April 2013. Loyalty Points were able to be redeemed for Credits as well as exclusive rare furniture.
One point was awarded for each Credit that was purchased, although if 120 Credits were purchased in one month, an additional 120 Loyalty Points would be awarded on top of any earned already.
In the case of a Double Credits offer, where twice the amount of Credits could be bought for the price of one, the number of Loyalty Points gained still remained the same.
On the 17th of June 2014, Loyalty Points were removed and replaced with Diamonds[1]. The currency system was mostly the same except the rewards were revamped with new furniture, including Credit exchangeable ones, as well an option of Builders Club subscription.
Loyalty Rewards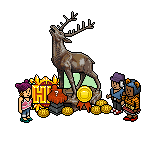 The following items could be purchased with Loyalty Points before the use of Diamonds.
| Name | Icon | Image | Loyalty Points |
| --- | --- | --- | --- |
| Bronze Coin | | | 10 points |
| Silver Coin | | | 50 points |
| Gold Coin | | | 100 points |
| Sack of Coins | | | 200 points |
| Loyal Dragon | | | 300 points |
| Loyal Griffin | | | 500 points |
| Loyal Elk | | | 700 points |
| Loyal Mouse | | | 1000 points |
| Loyal Toad | | | 1500 points |
| Crystal Loyalty Statue | | | 800 points |
| Loyal Dolphin | - | | 240 points |
| Headonistic Pig | - | | 300 points |